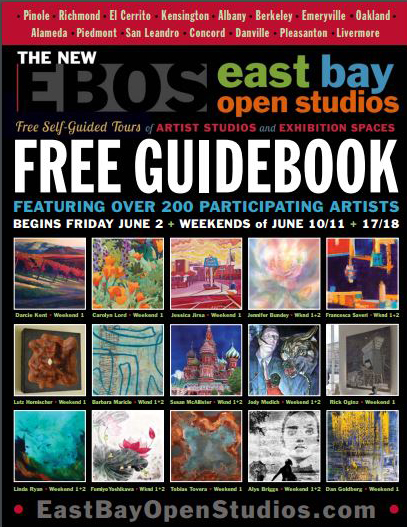 The East Bay Open Studios is alive and well and FLAX is thrilled to be a participating venue, hosting eight different and diverse artists over the course of two weekends!
The Annual East Bay Open Studios Event has been an ongoing tradition in the San Francisco Bay Area for over 40 years. Open Studios are free self-guided tours of artists' studios and exhibition spaces. This year's roster includes over 200 artists in 15 different East Bay cities, comprised of a wonderful mix of emerging artists, mid-career artists, renowned internationally-collected established artists, and every layer in between. Whether you're a first-time collector or a seasoned one, there is something for everyone at EBOS. Printed guidebooks and online directories serve as a guide to the artists' studios and exhibition spaces around the entire East Bay. You can pick up your guidebook at our FLAX Oakland store and at these locations. Pick your favorites, turn on your GPS and away you go!


Here are a few of the artists who will be showing at FLAX for the East Bay Open Studios.
Click on the image to learn more about the artist.

Events Schedule
Be Our Guest*
Friday, June 2 │ 6pm - 9pm │No cost
Opening Celebration + Prview Exhibition
Historical 16th Street Train Station
16th St. and Wood St., Oakland
*To be included on the guest list and to recieve an invitation,
please visit www.EastBayOpenStudios.com/guest
Meet over 100 artists who will be displaying their work.

After-Party following the Preview Exhibition
Friday, June 2 │9:30pm - midnight │By donation.
Same location. Awesome live enternainment and more!
Sponsored by Salle des Artistes.

Weekend 1 Artist Open Studios
All artists are open on these dates. Free to public.
Saturday/Sunday June 10 + 11 │11am - 6pm

Weekend 2 Artists Open Studios
Only some artists are open on these dates. Free to public.
Saturday/Sunday June 17 + 18 │11am - 6pm

For more info visit www.eastbayopenstudios.com