Our workshops alternate between the Oakland and San Francisco stores. They often fill to capacity before the event date, so don't delay – sign up now!
Click here to view our full Calendar of Workshops & Events.
---
Putting Paint to Paper: Intro to Watercolor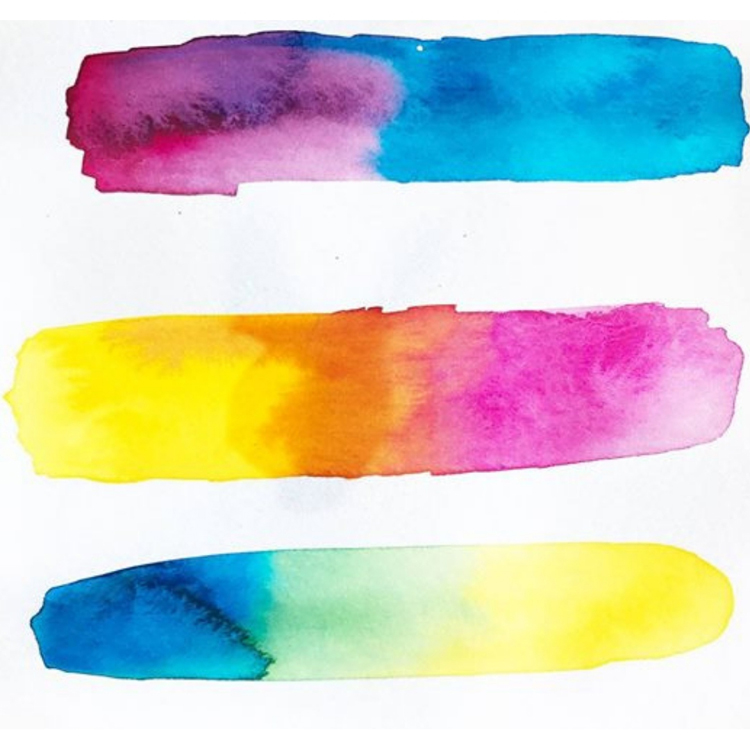 Presented by TRY Studio and Limn Colors
Sunday September 30
1pm - 5pm
Fort Mason Store
Learn about watercolor paint, paper, brushes, and color through hands-on activities demonstrating why paint behaves as it does and how to control it. Understand the materials; practice washes, glazing, and other techniques; then dive into color theory and mixing. Everything you need to know to start painting!
You'll test different pigments, brushes, and paper, and find out what makes each one unique and suitable for specific tasks. Discover how and why watercolor paint behaves as it does as you learn to apply flat, graded, and variegated washes as well as brushing wet-on-wet, wet-on-dry, and dry-on-dry.
We'll share how to get the most out of your palette through a series of color mixing exercises. Learn the real power of a set of carefully chosen primaries, controlled and dynamic mixing techniques, and how to mix non-muddy, clean colors. You'll leave the class with better color intuition to make the mixing process faster and more rewarding.
Most people who think watercolor is too difficult just need a proper introduction to the ingredients and techniques. We can take the frustration out of watercolor, while embracing the lovely, surprising nature of this medium.
ABOUT THE TEACHER: Meet Amanda! She makes paint by hand and her process has given her a deep understanding of color, pigment history and properties, and the materials that shape how watercolor works.
EXPERIENCE & PREREQUISITES: You do not need any prior experience with watercolor, painting, or art of any kind.
CLASS FEE $85 (Early bird Rate, ends Sept 21)
$125 Regular Rate
All materials and equipment will be provided to you and are included in class fee.
CLICK HERE to sign-up!

---
Zen & the Art of Urban Sketching with Zip Lehnus

Sunday October 7
12pm - 3pm
Fort Mason Store
Unhappy with your sketches? Smash that negativity! Make your sketches more effective, and make sketching work for you.
Join us for Zen and the Art of Urban Sketching. This class is about getting outdoors and putting pen to paper. With a hand-picked set of tools and some simple, practical techniques, we'll set out to sketch in a location rich with subjects, like Alcatraz and the Golden Gate Bridge. Sketching is fun—if you do it right. And it's good for you. In Zen and the Art of Urban Sketching, you will learn how sketching is linked to brain plasticity and can enhance your memory, perception and mood. Your instructor Zip Lehnus is a San Francisco artist and science writer. He carries a sketchbook everywhere, and won't shut up about it. This class is for all levels, from experienced artists to complete beginners.
Cost: $55.00 and includes a complete urban sketching kit which is yours to take home so that you can continue your urban sketching practice.
Click Here for more details and to sign-up for this class.
---
Kandinsky Abstracts with Tesia Blackburn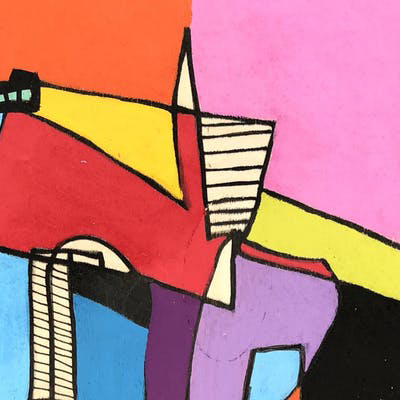 Saturday October 6
12pm - 4pm
Fort Mason Store
Come and paint like the father of the modern art movement. Using a technique I like to call "Lizard Brain" you will create wildly wonderful abstract compositions. Paint them in with paint, gels, collage materials and fabrics.
All materials will be provided including paints, gels and mediums, mixed media materials including fabrics, papers, found objects, as well as aprons, brushes, canvas panels, and all the tools you need.
Cost: $89.00
CLICK HERE to sign-up for this class.
---
Past Workshops & Events
Zen & the Art of Urban Sketching with Zip Lehnus, Sept 9, Fort Mason Store
FLAX Weekend Artist in Residence: April Gavin, Sept 8 - 9, Oakland Store
Introductory Lecture on the New Rive Gauche, September 8, Fort Mason Store
Daniel Smith Watercolor Seminar, August 25, Oakland
FLAX Weekend Artist in Residence: Emily Habansky, August 18-19, Oakland Store
Zen & the Art of Urban Sketching, August 12, Fort Mason Store
FLAX 80th Anniversary & Sale, August 11, Oakland Store
Oaktown Half Mile Marker Artist Showcase, August 4, Oakland Store
FLAX Weekend Artist in Residence: Laura McHugh, August 4 - 5, Oakland Store
Faber-Castell - Creativity for Kids with special guest Franz Spohn, July 29, Fort Mason Store
FLAX Annual KIDSFEST: Camp Flax, July 28, Oakland Store
Sennelier Soft Pastels with Camille LaPointe-Lyons, July 21, Oakland Store

FLAX Weekend Artist in Residence: Kasey Smith, July 14 - 15, Oakland Store
Abstract Acrylics Workshop, July 7, Fort Mason Store
Watercolor Color Mixing with Amanda Hinton, Presented by TRY Studio, July 7, Oakland Store
FLAX Weekend Artist in Residence: Heather Robinson, June 30 - July 1, Oakland Store
Sketch & Go with Don Colley, June 24th,Fort Mason Store
Carving Class with Jake from Fernwood Drive, June 23rd, Fort Mason Store
Big Stick Charcoal with Zip Lehnus, June 23rd, Oakland Store
Friends of Calligraphy Guest Lecture - ADLaM: The development of an Alphabet, by Randall Hasson, June 22nd, Oakland Store
Zen & the Art of Urban Sketching, with Zip Lehnus, June 17th, Fort Mason Store
FLAX Weekend Artist in Residence: Natalie Schrik, portrait photographer, June 16th - 17th, Oakland Store
Putting Paint to Paper, hosted by TRY Studio and featuring Limn Watercolors, June 9th, Oakland Store
The New East Bay Open Studios, at FLAX, June 2nd - 3rd, Oakland Store
Sennelier Acrylique Seminar, May 26, Oakland Store
Daniel Smith Watercolor Seminar, Saturday May 19th, Fort Mason Store
Pen Faire & Sale, Saturday May 19th, Oakland Store
Linocut Printmaking Class with Carmen McNall, Saturday May 12th, Oakland Store
Sennelier Abstract Acrylics Demo, Saturday May 5th, Fort Mason Store
Youth Cartooning Camp with LIV & CHIU's Cara Goldstein, Saturday May 5th, Oakland Store
Golden A to Z Lecture, Saturday April 28th, Oakland Store
Princeton Brush Exchange, Saturday April 21st, Oakland Store
Friends of Calligraphy Presenets: Letter & Image: An Illustrated Lecture by Stan Knight, Friday April 20th, Oakland Store
Winsor & Newton Watercolor Seminar, Sunday April 15th, Fort Mason Store
FLAX ART JAM, Saturday April 7th, Oakland Store
Masterpiece Table-Top Talk, Friday April 6th, Fort Mason Store
Charbonnel Printmaking Inks & Mediums, Saturday March 24th, Oakland Store
Liqutiex Acrylic Seminar with Kristen Brown, Sunday March 18th, Oakland Store
Daniel Smith Watercolor Seminar, Saturday March 10th, Oakland Store
Collagraph Printmaking with Dara Lorenzo, Saturday March 3rd, Oakland Store
Portraits in Charcoal with Andrew Ameral, Director of the Golden Gate Atelier, Saturday February 17th, Oakland Store
Princeton Brush Exchange, Saturday February 10th, Fort Mason Store
Oakland Kids-Craft Day, Saturday February 10th, Oakland Store
Artists Speak with stARTup Art Fair, Saturday January 13th, Oakland Store