Our workshops alternate between the Oakland and San Francisco stores. They often fill to capacity before the event date, so don't delay – sign up now!
Click here to view our full Calendar of Workshops & Events.
---
FLAX Weekend Artist In Residence: Kasey Smith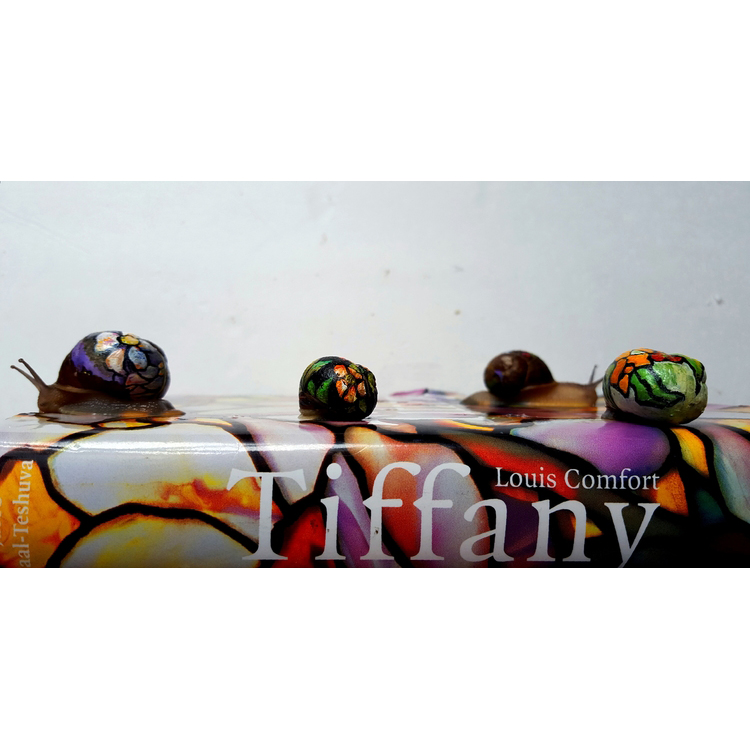 Saturday & Sunday, July 14 - 15
12pm - 4pm
Oakland Store
As part of our weekend Artist in Residence Programs here at FLAX Oakland, please join us in welcoming artist Kasey Smith.
For the past two years, Kasey Smith has been working on a social practice painting project involving translating Louis Comfort Tiffany glass patterns onto escargot snail shells. As part of this project, she has created a series of studio events where she invited people in for tea, talked about how snails were introduced to California the same year Tiffany was born, and the dissimilar trajectories of worth between Tiffany's work and snail-based cuisine.
Kasey welcomes you into her Weekend FLAX Studio for a cup of tea and discussion about snails, stained glass, local ecology/history and non-canvas based painting approaches. She will be working on these small acrylic snail paintings during her residency at FLAX.
Come in and support our local artists.
Visit Kasey's website at: www.kaseysmith.net
Follow Kasey @ihazrabies
---
Sennelier Soft Pastels, with Camille LaPointe-Lyons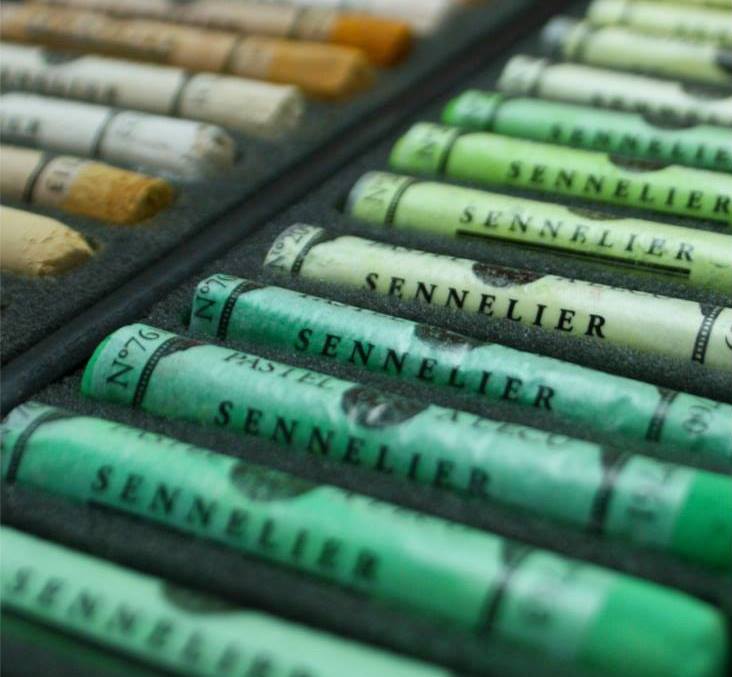 Saturday, July 21st
1pm - 3pm
Oakland Store
Artist and educator Camille LaPointe-Lyons will be at our Oakland store to give a lecture and demonstration of the luxurious Sennelier Extra-Soft Pastels. These extra-fine soft pastels are water soluble and have an unparalleled depth, luminosity and intensity. They are made of 100% pure pigments, with no clay, binders or fillers, so that even a gentle stroke delivers a solid, powerful line of brilliant color. They are lightfast enough to hold color for centuries. Learn about these amazing pastels and try them for yourself!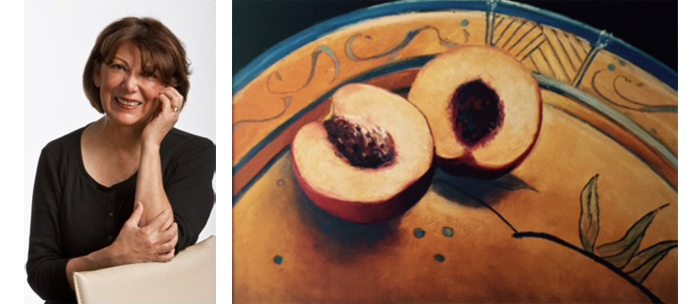 Please sign-up for this free workshop.
---
Zen & the Art of Urban Sketching with Zip Lehnus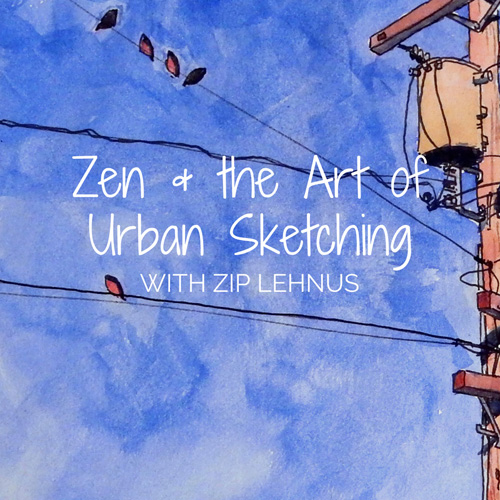 Sunday, August 12
12pm - 3pm
Fort Mason Store
Improve your art • improve your memory • improve your mood • improve your mind!
Unhappy with your sketches? Smash that negativity! Make your sketches more effective, and make sketching work for you. This class is about getting outdoors and putting pen to paper. With a hand-picked set of tools and some simple, practical techniques, we'll set out to sketch in a location rich with subjects, like Alcatraz and the Golden Gate Bridge. Sketching is fun—if you do it right. And it's good for you.
ABOUT THE INSTRUCTOR: Zip Lehnus is a San Francisco artist and science writer. He carries a sketchbook everywhere, and won't shut up about it.
Cost $55
The class fee includes a complete urban sketching kit which is yours to keep after the class! The kit includes a Sakura Koi Watercolor Pocket Set, a Strathmore Vision Mixed Media sketchbook, various drawing tools and much more!
CLICK HERE to learn more and to sign-up for the class or call the FLAX Fort Mason store at 415-530-3510
---
The FLAX Annual KIDSFEST!!!
Saturday July, 28
11am - 2pm
Oakland Store
Please join us for our eagerly anticipated always celebrated annual Kidsfest, a fascinating day of discovery, imagination and learning for children and their parents.
This year's Kidsfest theme will be....CAMP FLAX! Indulge in the California Camp experience. We'll be dressed up and the kids should dress too. Think scouts, woodland creatures, redwoods, campfires and tents. Our store will be transformed into a creative camp experience with craft stations set up throughout the store for you kids to learn, explore, and make things!
Incredible Lineup of Activities...
Sit around the campfire and sing along with Alyssa Stone and Carrie Smith of the Campfire Girls, as they perform all your favorite camp songs. Audience participation encouraged!
Mark this not to be missed craft filled event on your calendar. Kidsfest is a not-to-be-missed event, and it's always FREE!
CLICK HERE to learn more
---
Past Workshops & Events
Abstract Acrylics Workshop, July 7, Fort Mason Store
Watercolor Color Mixing with Amanda Hinton, Presented by TRY Studio, July 7, Oakland Store
FLAX Weekend Artist in Residence: Heather Robinson, June 30 - July 1, Oakland Store
Sketch & Go with Don Colley, June 24th,Fort Mason Store
Carving Class with Jake from Fernwood Drive, June 23rd, Fort Mason Store
Big Stick Charcoal with Zip Lehnus, June 23rd, Oakland Store
Friends of Calligraphy Guest Lecture - ADLaM: The development of an Alphabet, by Randall Hasson, June 22nd, Oakland Store
Zen & the Art of Urban Sketching, with Zip Lehnus, June 17th, Fort Mason Store
FLAX Weekend Artist in Residence: Natalie Schrik, portrait photographer, June 16th - 17th, Oakland Store
Putting Paint to Paper, hosted by TRY Studio and featuring Limn Watercolors, June 9th, Oakland Store
The New East Bay Open Studios, at FLAX, June 2nd - 3rd, Oakland Store
Sennelier Acrylique Seminar, May 26, Oakland Store
Daniel Smith Watercolor Seminar, Saturday May 19th, Fort Mason Store
Pen Faire & Sale, Saturday May 19th, Oakland Store
Linocut Printmaking Class with Carmen McNall, Saturday May 12th, Oakland Store
Sennelier Abstract Acrylics Demo, Saturday May 5th, Fort Mason Store
Youth Cartooning Camp with LIV & CHIU's Cara Goldstein, Saturday May 5th, Oakland Store
Golden A to Z Lecture, Saturday April 28th, Oakland Store
Princeton Brush Exchange, Saturday April 21st, Oakland Store
Friends of Calligraphy Presenets: Letter & Image: An Illustrated Lecture by Stan Knight, Friday April 20th, Oakland Store
Winsor & Newton Watercolor Seminar, Sunday April 15th, Fort Mason Store
FLAX ART JAM, Saturday April 7th, Oakland Store
Masterpiece Table-Top Talk, Friday April 6th, Fort Mason Store
Charbonnel Printmaking Inks & Mediums, Saturday March 24th, Oakland Store
Liqutiex Acrylic Seminar with Kristen Brown, Sunday March 18th, Oakland Store
Daniel Smith Watercolor Seminar, Saturday March 10th, Oakland Store
Collagraph Printmaking with Dara Lorenzo, Saturday March 3rd, Oakland Store
Portraits in Charcoal with Andrew Ameral, Director of the Golden Gate Atelier, Saturday February 17th, Oakland Store
Princeton Brush Exchange, Saturday February 10th, Fort Mason Store
Oakland Kids-Craft Day, Saturday February 10th, Oakland Store
Artists Speak with stARTup Art Fair, Saturday January 13th, Oakland Store