Our workshops alternate between the Oakland and San Francisco stores. They often fill to capacity before the event date, so don't delay – sign up now!
Click here to view our full Calendar of Workshops & Events.
---
Sennelier Acrylique Seminar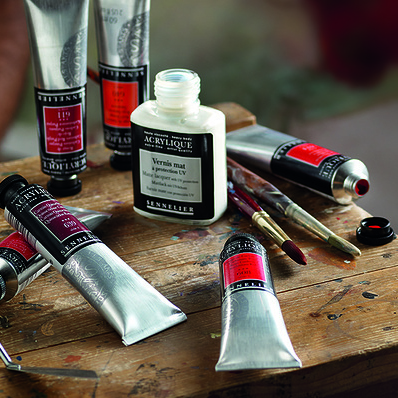 Saturday, May 26th, 1pm - 3pm
Oakland Store
***ALL Sennelier Acrylique Colors will be offered at 25% off list price the entire day of the seminar!***
Joie de Acrylique!
Oh là là, the best of France will be at FLAX. Join us for an afternoon with Sennelier and learn why these paints are the go-to acrylics for the discerning artist.
Sennelier has been synonymous with quality, artist-driven innovation and the commitment to the advancement of art and art materials since 1887. Join us along with Cindy Shih while she demonstrates these smooth, intense colors and you will be hooked on these French, extra-fine acrylics!
Bring your Beret!
Seats are always limited so please sign-up for this free seminar.
---
East Bay Open Studios
Weekends of June 2nd and 3rd, and June 9th and 10th
Oakland Store

FLAX is proud to host seven artists as part of the larger annual East Bay Open Studios. Come into either of our stores to get your Guide to great artists and art across the Easy Bay. For more information on the event and the artists you will find at FLAX, click here.
---
Putting Paint to Paper: Intro to Watercolor, presented by TRY Studio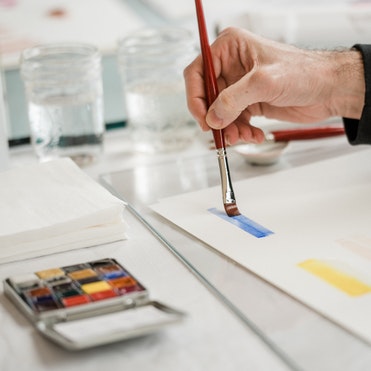 Saturday, June 9th, 1pm - 5pm
Oakland Store
Learn about watercolor paint, paper, brushes, and color through hands-on activities demonstrating why paint behaves as it does and how to control it. Understand the materials; practice washes, glazing, and other techniques; then dive into color theory and mixing. Everything you need to know to start painting!
Local artist Amanda Hinton will be leading this class. Amanda makes paint by hand and her process has given her a deep understanding of color, pigment history and properties, and the materials that shape how watercolor works.
Class Fee: Early bird rate is $99 (includes all materials) and ends June 2nd, 2018 at 12:00am. Regular class rate (after June 2nd) is $150.
Click here to sign-up for this class.
---
Weekend FLAX Artist in Residence: Natalie Schrik, Portrait Photographer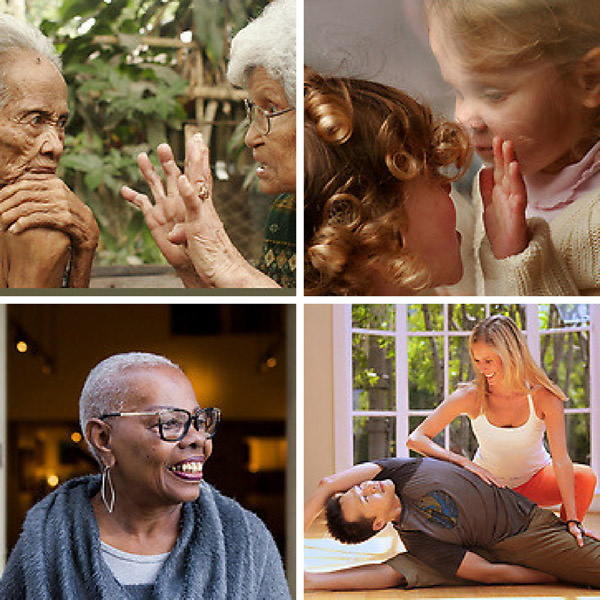 Saturday, June 16th and Sunday June 15th, 12pm - 4pm
Oakland Store
In association with our Oakland Weekend FLAX Artist Residency Program, please join us on Saturday and Sunday to meet Photographer Natalie Schrik. Natalie will have her portrait studio set up here on the FLAX sales floor, taking portraits, editing, mounting and framing. Our store will be her studio for the weekend.
Natalie will have special pricing for the Father's day weekend if you would like to come in and sit for a portrait. She will be working with us and our extensive paper department to offer an assortment of custom backgrounds to make you picture perfect. More info to come about Natalie and the Residency Program.
---
Past Workshops & Events
Daniel Smith Watercolor Seminar, Saturday May 19th, Fort Mason Store
Pen Faire & Sale, Saturday May 19th, Oakland Store
Linocut Printmaking Class with Carmen McNall, Saturday May 12th, Oakland Store
Sennelier Abstract Acrylics Demo, Saturday May 5th, Fort Mason Store
Youth Cartooning Camp with LIV & CHIU's Cara Goldstein, Saturday May 5th, Oakland Store
Golden A to Z Lecture, Saturday April 28th, Oakland Store
Princeton Brush Exchange, Saturday April 21st, Oakland Store
Friends of Calligraphy Presenets: Letter & Image: An Illustrated Lecture by Stan Knight, Friday April 20th, Oakland Store
Winsor & Newton Watercolor Seminar, Sunday April 15th, Fort Mason Store
FLAX ART JAM, Saturday April 7th, Oakland Store
Masterpiece Table-Top Talk, Friday April 6th, Fort Mason Store
Charbonnel Printmaking Inks & Mediums, Saturday March 24th, Oakland Store
Liqutiex Acrylic Seminar with Kristen Brown, Sunday March 18th, Oakland Store
Daniel Smith Watercolor Seminar, Saturday March 10th, Oakland Store
Collagraph Printmaking with Dara Lorenzo, Saturday March 3rd, Oakland Store
Portraits in Charcoal with Andrew Ameral, Director of the Golden Gate Atelier, Saturday February 17th, Oakland Store
Princeton Brush Exchange, Saturday February 10th, Fort Mason Store
Oakland Kids-Craft Day, Saturday February 10th, Oakland Store
Artists Speak with stARTup Art Fair, Saturday January 13th, Oakland Store