Posted by Ellen Reilly on 21st Oct 2014
FLAX interviews local artist Sharon Kyle Kuhn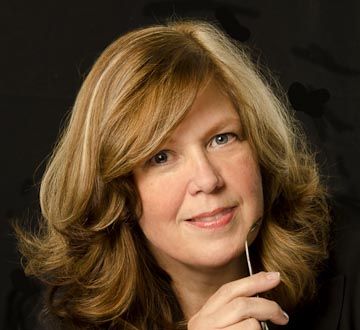 Hailing from Texas, with sojourns in Atlanta and New York, Sharon Kyle Kuhn is a San Francisco artist whose work assumes the form of highly textural, sculptural paintings—mixed media pieces incorporating encaustic (hot wax) and found objects. Sharon's most recent work includes the addition of working with paper (with monotypes and chine colle) and working in a "quieter more monotone way". Sharon will be showing at SF Open Studios, October 25 and 26, at 689 Bryant/Soma Artists Studios.
You have a rich body of work with the textural encaustic and found objects pieces. You seem to have explored that format to a level of mastery. How did you get started with it? And what keeps you going with new iterations?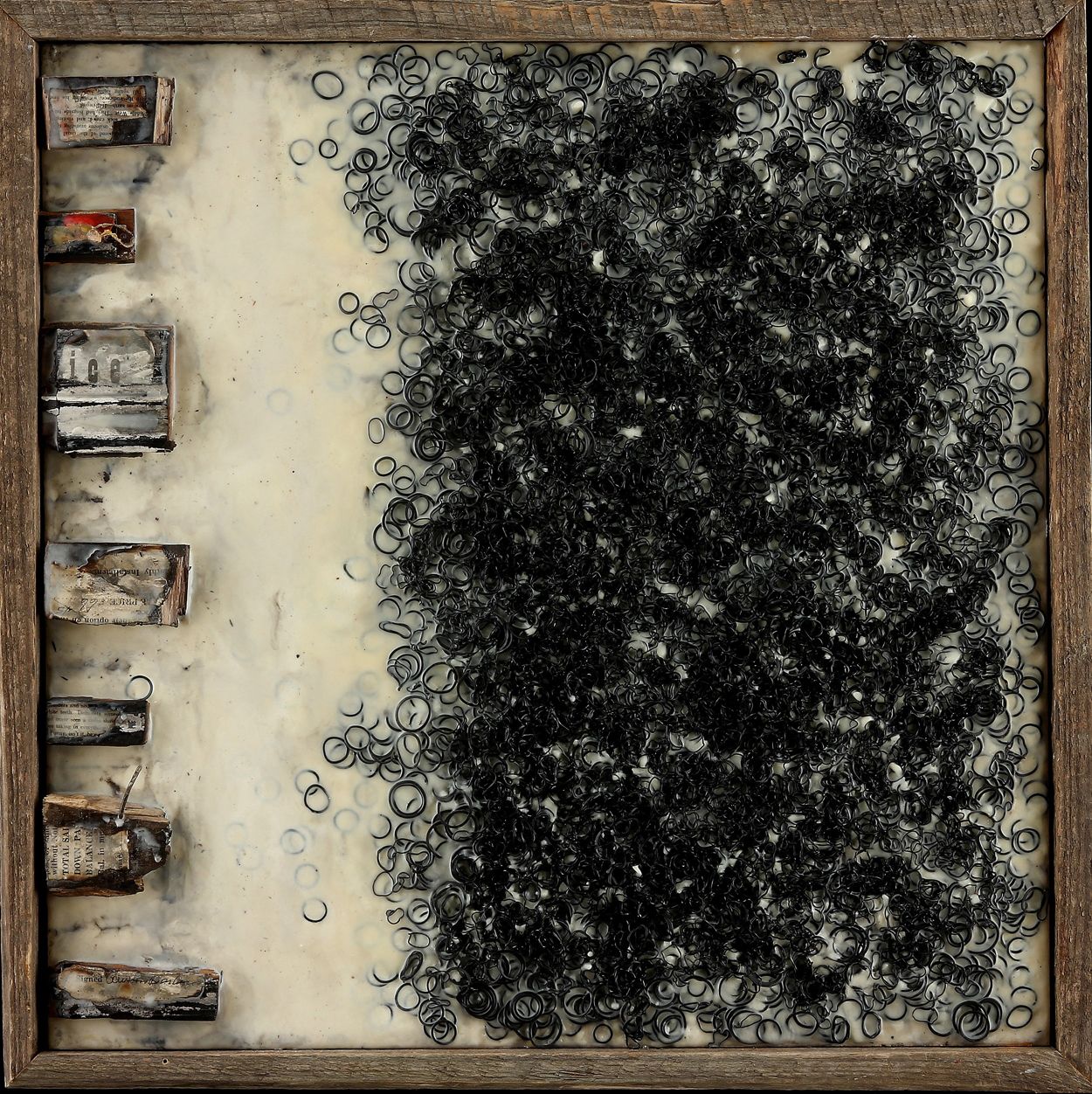 Years back, I was painting with oils and had experimented with a variety of adhesives so that I could attach "things" to my work without the fear of them falling off. I discovered a brochure from R&F encaustic paints and was curious as to what they were and how they worked. I called the company with questions and soon after, attended a workshop for encaustic monotypes. It was then I discovered the fluidity and luminosity of the medium. Through trial and error and the influence of other artists, I have learned to work with encaustics in so many ways. For the past several years, the hot wax and resin provides the perfect means for me to work with found objects while still painting. The damar resin gives the piece strength and durability eliminating much of the concern of the found objects separating from the surface. In addition, the items embedded into the wax are preserved for quite some time (perhaps forever.) This is my way to bridge the gap between painting and sculpture. I still use encaustics though in a more painterly way on paper or in some of my mixed media pieces. Enthusiasm for creating art never goes away and it's a part of who I am. New ideas come to me constantly. It's like breathing…it just happens.
Tell us about your more recent move to working with paper and about working in a "quieter more monotone way"?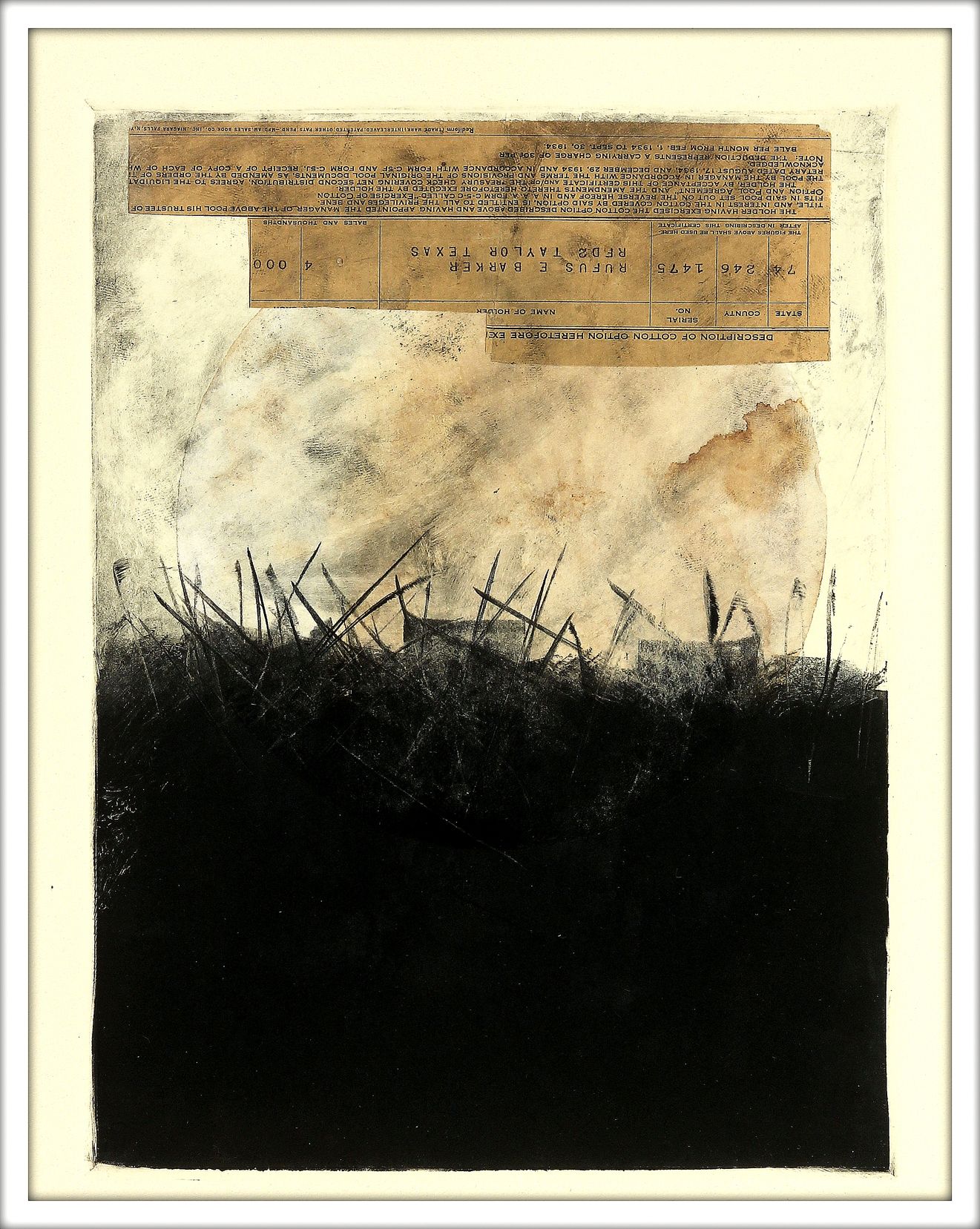 Adding paper pieces to my current body of work has been liberating. It has allowed me to work quickly, spontaneously and to experiment in different ways. Working with a softer palette is a lesson in discipline and patience which doesn't come easy for me. It is relaxing and in some ways a form of meditation. I enjoy the fact that paper is easy to obtain, easy to store in a flat file and has texture. I have experimented with using fabric and printed media in these works and found the results to be interesting; however, I will continue to stretch towards doing larger works—those that hang on and off the wall. I am always trying to go outside my comfort zone with new ideas.
Where do you find inspiration for your work?
Inspiration comes in so many ways and in the most unexpected places. A notebook travels with me at all times and when I have an idea, I write it down and often a quick sketch follows. My notebooks are as important to me as my phone and I feel incomplete without it. It's been extremely beneficial for me to associate with other artists. Artists seem to influence each other and we gain support from one another. It's always special to know someone else understands, will provide honest feedback and is often going through the same thing. It can be stimulating to see their success as well as encouraging to know that others have moments of doubt, fear and/or frustration.
You've done commissioned work. How did that come about? What experiences have you had working on commissioned and site-specific work?

A commissioned work requires compromise, communication and a special way of thinking about art. Often an architect can define the parameters in which you must work while an interior designer will bring design elements that influence the piece. At that point, the artist ties it all together with their own style and ideas. Commission work definitely involves teamwork and in many ways is a collaborative project. I enjoy these challenges. It allows me to think differently, to find solutions and can be a place where everyone's creation influences and affects the other. I have worked with art consultants, interior designers, architects and homeowners and always find it inspiring in the beginning of a project and incredibly rewarding at the end when it all comes together.
You work as an artist full time. How is that experience? What advice do you have for artists who are considering taking that leap?
Working as an artist full time requires time management, internal strength, the ability to set boundaries and the courage to ride alongside fear and doubt at times. It's a different journey for each person. I have been lucky in many ways but there are those times when the mind plays tricks with you. This seems to be a commonality with all artists—those times when we doubt ourselves, get lost or need to reset. It does pass though. Two books that have helped me understand the process, are The War of Art by Steven Pressfield and Fear and Art written by David Bayles and Ted Orland. Success is defined in many ways and I have come to understand that it's important to determine what you want, visualize it, and remember it can and will happen.
What is your art-making space like?
My studio is always changing. I'll work for weeks and can hardly make my way through the door and then suddenly I have to stop, clean up and organize things again. The studio is usually scattered with scraps of wood, found objects organized in boxes and of course a multitude of supplies, paints, brushes, panels, and books. My current studio space is small which forces me to be creative with storage and organizing my supplies. However, I'll be moving into a larger space in December.
What can we expect to see at your studio, this Open Studios?
Open Studios is fun. You can expect to see works done on paper, encaustic work large and small and a few paintings done with oil, assemblages along with mixed media pieces. There's a distinct style throughout my work and even though you will see a variety of mediums I have used, my work is heavily slanted towards encaustic work. It's exciting to meet so many people in the studio, talk to them and hear their feedback about the work.
What do I like about FLAX?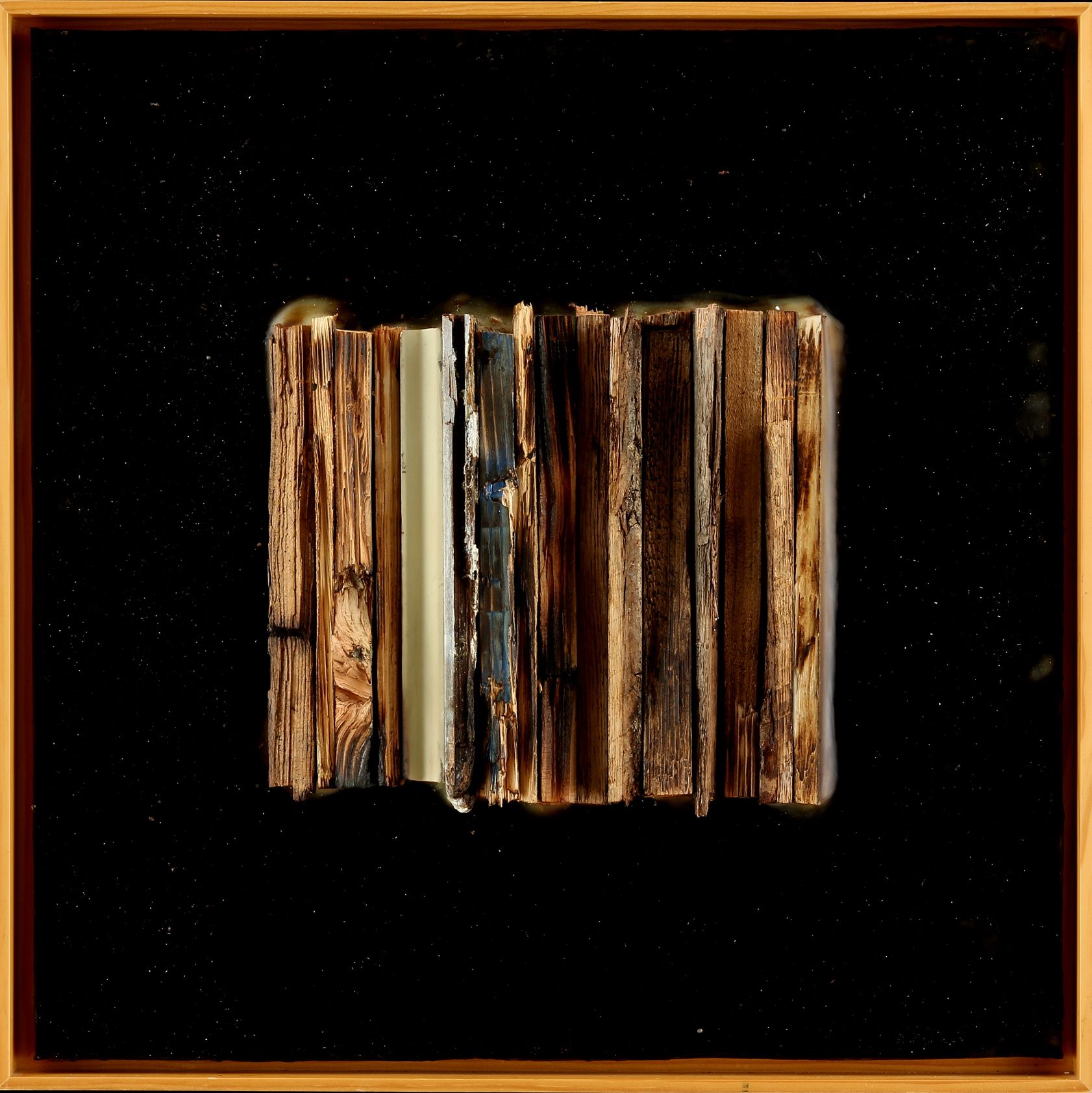 When I think of Flax, I automatically think quality and variety. The paper selection alone is amazing with thousands of different papers to explore. Although not a unique quote to anyone who knows Flax, it really is a "candy store for the creative." I particularly enjoy the fountain pens, the journals and the fact that it's a family owned business. Flax is well known and everyone recognizes the name. When I was visiting with Leslie in the store recently, she introduced me to something new for Flax and that was yarn. Not many stores support artists in all areas like Flax does. I always find something special when I need to buy a gift and I always know I can find what I am looking for when I need it. The staff is consistently nice, helpful and I have always had the perfect experience when shopping at Flax. It's a unique environment in every way.
Learn more about Sharon and explore her artwork at her website.