Posted by Flax on 10th Nov 2011
Date of event: March 17, 2012, 1:00 pm – 4:00 pm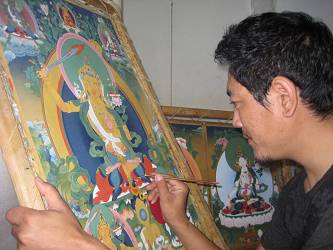 Master thangka painter and craftsman, Tashi Dhargyal studied under Sangye Yeshi and has painted for more than 15 years. He lives in San Francisco while also maintaining a studio in Jangtse Khang, a branch in the Ganden Monastery in Dharamsala, India. Tashi exhibits and teaches in museums, galleries and Dharma centers in the US.
"Thangka" is a Tibetan art form celebrating the religious teachings of Buddha. The images offer a beautiful manifestation of the divine, being both visually and mentally stimulating. It is characterized by clear outlines, strong colors, fine shadings, and its accentuations in gold. One thangka can take between one to six months to create. Canvases take days to prepare, and the finest mineral colors are hand mixed in the traditional fashion to guarantee the long life of each piece.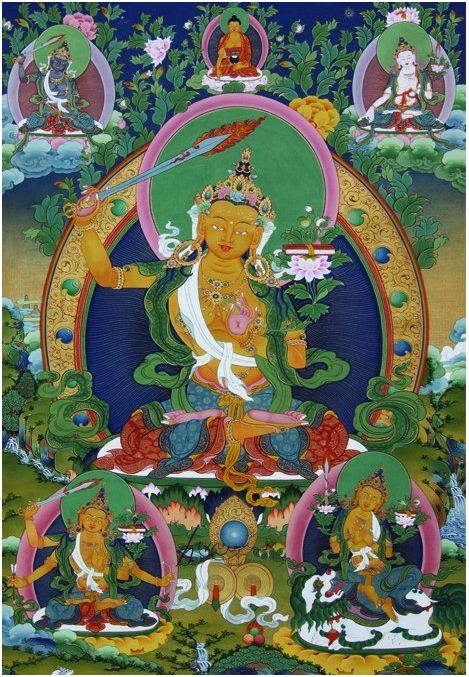 Originally, thangka painting became popular among traveling monks in the 1500s. The scroll paintings were easily rolled up and transported from monastery to monastery. The Menris tradition of thangka art survived in Tibet for centuries until its interruption by the Chinese Communist invasion. Sangye Yeshi, who fled to India in 1959, revived the tradition at the request of Dalai Lama.
Tashi has traveled throughout India to work in monasteries to restore and decorate statues. He has been integral in the Tibetan art community, particularly with his initiative in establishing the Institute of Tibetan Thangka Art in 2004. Tashi has shown his works along with his ITTA contemporaries at the Tibet House in New Delhi as well as at the Museum at His Holiness' the Dalai Lama's temple in Dharamsala. In November 2009, one of his thangka was auctioned at Christie's in New York to benefit the Tibet House in New York. His works have been commissioned by the likes of Jet Li as presents for HH the Dalai Lama.
Tashi first impressed our staff and customers with his wonderful techniques on 12/3/11. We are looking forward to his return. Visit Tashi's website for more information.