Posted by Howard Flax on 27th Mar 2019
Come see our T-Rex mural by Nychos come to life!
For the first time, a mural from the famous street artist Nychos is animated through Augmented Reality. On the First Friday of April, 2019, during the Oakland Art Murmur, the translucent T-Rex revealed its digital extension. Having a whole wall (47'w x 16'h) as a canvas, the animated art piece is creating a new kind of narrative which brings an interactive experience to the viewer and changes the way we will see street art.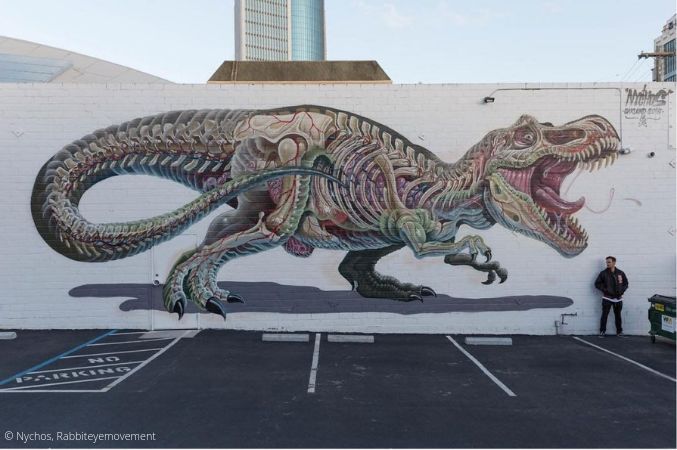 This video is preview clip of the action seen when viewing the mural through the app Artivive:
Sergiu Ardelean, founder and CEO of Artivive, on augmented reality street art: "More and more street artists are learning methods and techniques to empower their work using augmented reality as a tool for urban immersive experiences, where sound, image, video, and even other languages can be explored. The ability to merge the analog with the digital makes the augmented murals so interesting. Layers complete one another, bringing life to parts of a city that are otherwise invisible. Augmenting murals is not only a way to make a city more playful, but also a way to make shared space democratic, adding to the collective creation process and artistic collaboration, crossing cultures and merging ideas."

First project between Artivive & Nychos:
About Nychos
Blending themes of morbid corporeality with the colorful, hyper-loony aesthetic descended from comics and cartoons, Nychos has developed a unique style that performs with powerhouse effect whether on the street or in the gallery.
Raised in a traditional Viennese hunting family, death and dissection were daily business for Nychos. The proximity to animal viscera had a profound effect on him psychologically and visually - he now explores the theme of dissection in his art, pushing it to playful extremes. In Nychos' world, Spongebob has a skeleton, people live inside rabbits and there is always something wicked underneath. Pumped up on the visual adrenaline of comics, heavy metal and graffiti, Nychos' work reflects the immense energy and technical focus necessary to produce work on the massive scale he has reached on the streets.
Colliding style and subject matter, Nychos slices up animals and innocent childhood characters with unflinching graphic precision. His work confronts the viewer with wicked insistence, using the shock of cartoon violence as a vehicle for exploring subtler themes of mortality and temporality. Nychos pays homage to these deathless cartoon heroes by peeling them open and giving them human substance. His artwork reflects the psychology of an art scene in which creations are sometimes swept away as soon as created. Nychos also uses subtle imagery such as plastic in an orca's belly, weaving political commentary seamlessly into his pieces.
Using delicious color-scapes and wild, fuming lines to create his characters - whether with paintbrush or spray can - Nychos works with unmatched dynamism. His command over his tools indicates a work ethic that promises only more staggering output from this artist. Nychos' paintings and drawings have been exhibited in galleries worldwide, including thirteen solo exhibitions (Turin, Detroit, Melbourne, London, New York, San Francisco, Singapore, Paris) in the past years. These pieces serve as unique compliments to his massive public works that give character to cities all over the world. The artists'last solo show took place in San Francisco at Mirus Gallery and was opened under the title Endless Layers Till Consciousness in November 2018. Nychos currently lives and works in Los Angeles, CA.
Written 2014 by Lauren YS (updated 2019)
About Artivive
Artivive is the platform where artists build the future of analog and digital art. The vision is to change how art is created and consumed and build the community around augmented reality art.
Artivive was founded in 2017 by Sergiu Ardelean and Codin Popescu in Vienna and consists of a team of 25 employees, in Vienna, Beijing and Tel Aviv and sales partners in Mexico and Mongolia. "We want to open up a new dimension of art with our tool, and give artists and museums the opportunity to combine analogue and digital art. The areas of application are diverse" said the founders of Artivive, Ardelean and Popescu. To experience the digitally enhanced works of art, all you have to do is load the Artivive app onto your smartphone, or tablet and point it at the Artivive-enhanced artwork.
Following the mission to democratize augmented reality for the art world, Artivive managed to work with 7 international museums and 7.000 artists including 150 exhibitions, 12.000 artworks and 4 million artwork views worldwide.
A short promo video: