Posted by Flax on 21st Jul 2016
Attitudinal Healing Connection's Art Esteem Portraits on exhibit now at the FLAX Oakland store!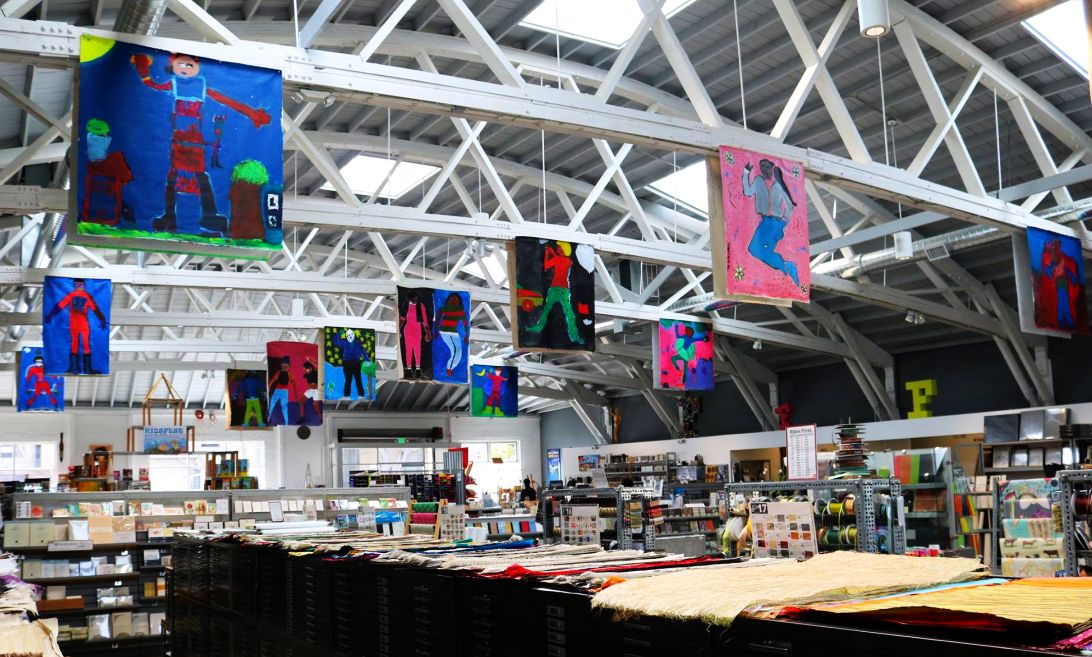 Come in to our Oakland store and look up and you may notice some colorful life sized superheroes soaring from our rafters. These creative and inspiring portraits are on exhibit through ArtEsteem, an award-winning art and literacy program developed by Attitudinal Healing Connection that develops creative, engaged and successful children and youth through building knowledge and emotional, social, academic and intellectual skills.
The "Self As Super Hero" curriculum takes children, youth, and adults through a journey of self-exploration, family and cultural research, societal assessment, and development of aesthetic tools for artistic creation. Art instructors work hand in hand with school teachers to implement the curriculum. They take the students through a journey, using the ArtEsteem Super Hero to re-define the self that embodies super powers that help create a more loving and peaceful world. Some of these stories serve as the conceptual designs for the Oakland Super Heroes Mural Project.

The "Self As Super Hero" curriculum can be found in the Self As Super Hero Book: Handbook for Creating the Life Size Self Portrait, which is available for purchase here at FLAX!
Some of the portraits currently on exhibit at our Oakland store are for sale. Fifty percent of the proceeds go directly to the students and the other fifty percent goes to the future of the ArtEsteem program. As the work of Oakland youth is exhibited, expression is shared with the community; new images of strength, hope, beauty and culture create awareness and inspire positive societal change.
Each portrait on exhibit comes with an origin story describing how each super hero uses their powers to solve the very real problems these students see in their communities. Read about Nacho Girl who uses her powers to befriend Onion Boy who in turn apologizes to the community for "fighting and making people cry". Learn about the adventures of Lavaboy, who uses "lava love" to turn guns into stone and bad guys into good guys and Candygirl, a superhero from Mexico who cleans her community with soap candy bombs and feeds the homeless. Learn about all these colorful characters flying high on exhibit at Flax in Oakland.
Visit www.ahc-oakland.org and www.ahc-artesteem.com to learn more about these programs.