Posted by Flax on 2nd Jun 2015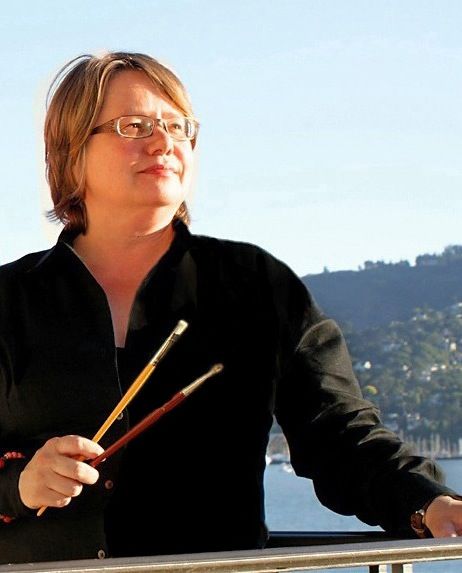 FLAX interviews local artist Ingrid C. Lockowandt
Ingrid C. Lockowandt brings a powerful and unique approach to her paintings, noted for their vibrant colors and crisp edges. Her portraits and figurative works inspire awe through their depth and emotion. In her work she tries to look beyond the surface of her subject's likeness to reach the spirit, character and essence of her subject. Studying the human condition has always been a tremendous inspiration to this artist. Portraits and figures are the most challenging and satisfying for her. With her passion for detail and ability to capture the essence of her subject matter, she has created works that delight clients throughout the world.
Ingrid was born in Kiel, in northern Germany, and is currently living and working in the San Francisco Bay Area. She is a member of the Portrait Society of America and is available for limited commissions, on request, for both local and international clients.
What inspired you, early on, to want to become an artist?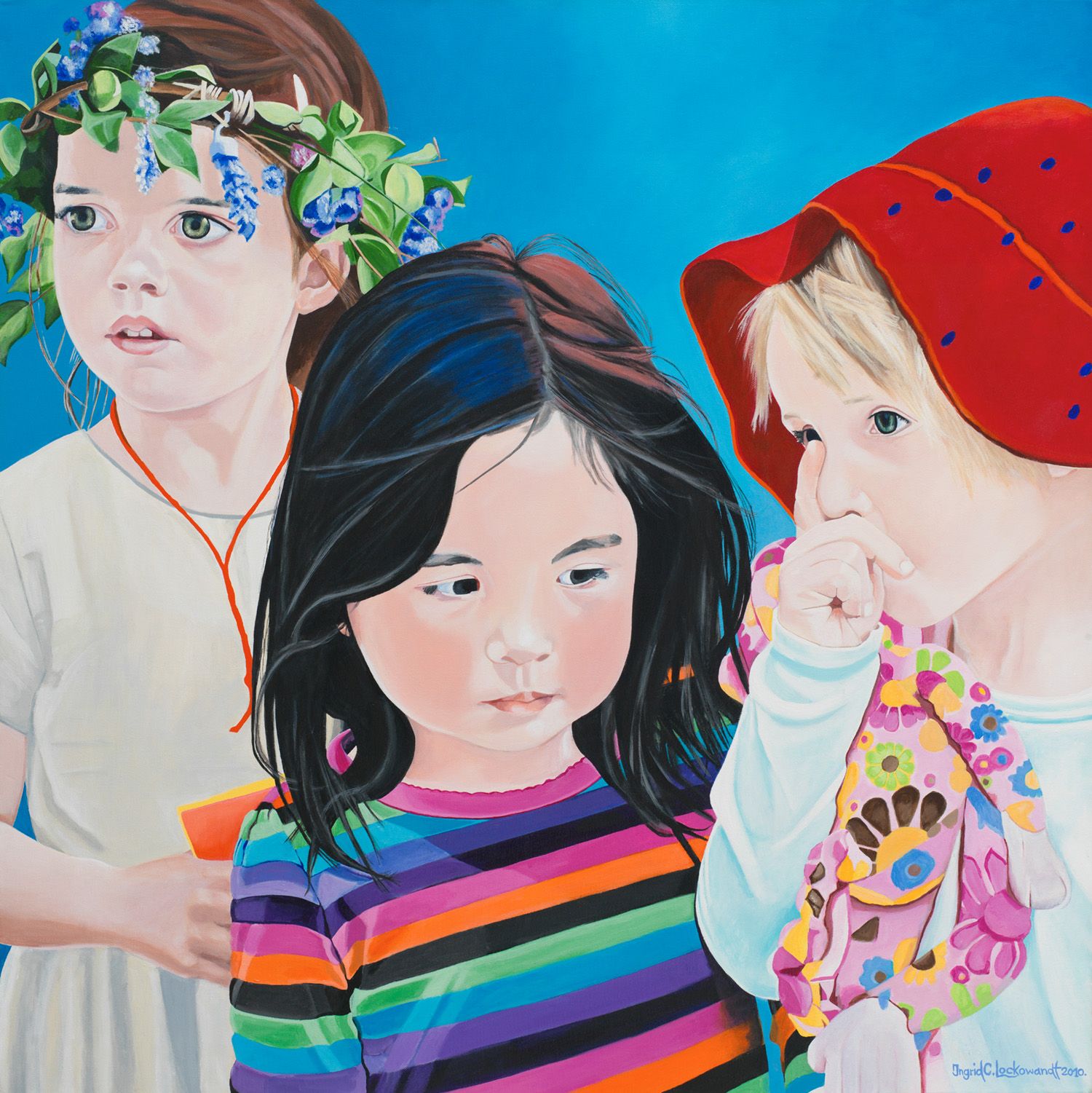 I have been drawing and painting from a young age, and the origin of my current work can, in a very direct sense, be traced back to those early years. For example, my interest in portraiture was present from the very beginning, as I can remember tracing out the visage of numerous illustrious subjects, including Herman Hesse, Edgar Allan Poe, Picasso, Hemingway and many others. I also had a number of formative art experiences, including a memorable visit to the Grand Palais, Paris, in 1983, for a retrospective on the great French painter Edouard Manet. To this day, I can remember his roughly painted style and the photographic lighting that exemplifies his work, especially on his larger figures, all of which left a tremendous impression on my emerging artistic sensibilities. For even then, I saw that portrait and figurative art provides the artist with a most powerful medium through which to explore the human condition, that is, the ability to reveal the multi-form personality and character of my subject by capturing a singular look, a single expression.
You are self-taught, how did you learn art techniques?
As a young artist, in my early twenties, I tried to get into art school in my hometown of Kiel, Germany. After I finished the practical aptitude test, the Professor, Fritz Bauer, told me that I did not pass the qualifying examination. He explained that I had just missed the target, although he encouraged me to try again. I remember how devastated and discouraged I was, so much so, that I did not try again, especially since I also lacked the finances to go to art school. But, over the years, Professor Bauer's encouragement resonated somewhere in the back of my mind, and I eventually decided to pursue art on my own, to become a self-taught painter. I traveled all over Europe, visited museums, studied the old masters and taught myself how to paint. It was not easy, but I loved the challenge of doing something that I was not entirely sure I could accomplish. It was hard work and it required an intense mental effort, but an effort that was extremely satisfying in its own right.
How have some of the people you've met, on your life's adventure, influenced you as an artist, and specifically as a portrait artist?
I feel blessed to have met some extraordinary people, at critical moments in my life, people who became both friends and mentors, guiding and supporting me in my effort to establish a new life in California. This effort has not always been easy, and I couldn't have done it without them.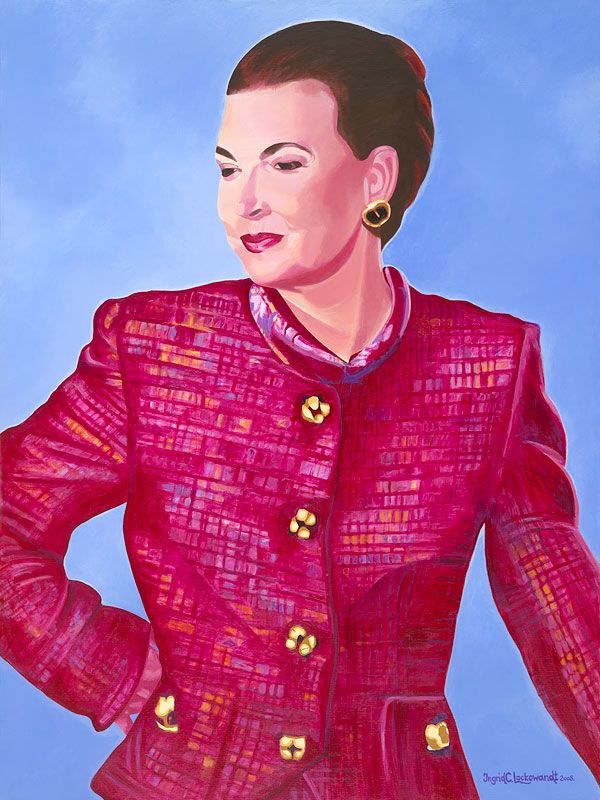 For example, in 2006, during a time when I was not actively painting, I met a woman named Elizabeth, who was to become my subject, mentor and muse. In the process of painting her portrait, she would regularly visit my studio, always with an encouraging and supportive word. Her feedback was both sensitive and constructive, a kind of feedback that I had never experienced before. It felt like I was slowly opening up, artistically, and becoming increasingly confident in my new vocation as a portrait painter. When I now looked at my work, it was scarcely recognizable, which is to say that I was genuinely surprised that I could paint like this.
While painting Elizabeth's portrait, I was also reading Briefe einer Freundschaft , a book about the correspondence between Ingeborg Bachmann, an Austrian poetess and author, and Hans Werner Henze, a composer. In one of his letters to Ingeborg Bachmann, Hans Werner Henze writes the following, which I have translated into the English, from the German original:
"The artist, although defenseless and vulnerable, and precisely because he is defenseless, has to put something up against the mutability of all things, up against the suffering and loneliness of what others don't have, namely the triumph of creation. For there is a place in the soul, which may not be occupied by anyone or anything, except by creative work, a creative process that makes the bright daylight less terrifying and makes the nightly darkness less terrible. And with this awareness, we fulfill the will of the gods."
I was reading this passage while looking at the portrait of Elizabeth, and had something that can only be described as an epiphany. It felt like I was deeply connected to a much larger reality that was both beautiful, as well as little terrifying. For I realized, at the very same moment, that with this tremendous opportunity for self-expression comes an equally tremendous responsibility, and that I must work hard to become a good painter. If not, I would waste a critical opportunity to "fill that place in the soul," which can only be done with meaningful, creative work.
Your inclination for "the open road" and adventure – how has this influenced your art?
When I lived in Germany, I also financed my artistic endeavors by working in a large motorcycle shop. Shortly after I arrived in San Francisco, I purchased a motorcycle and took numerous road trips exploring California's diverse geography, from the Pacific Coast to the Sierra Nevada Mountains, and from the Mojave Desert to the Redwood Forests. I especially love driving the breathtaking Pacific Coast Highway One to Big Sur, one of the most stunning stretches of ocean coastline in the world. My inclination for the adventure of "the open road" relates to American culture, specifically to the mythology of "the open road" as a symbol. In our collective consciousness, the open road represents, among other things, the possibility of freedom, self-determination, escape, and above all, the possibility for a better life.
It was an exciting adventure exploring California on my motorcycle trips, holding on tight to the steering wheel, with the open road stretching out in front of me toward the distant horizon. During that time, I hardly knew a soul. It was just me, my motorcycle and the open road. These motorcycle road trips, as a symbol of the sometimes challenging journey across a new and foreign landscape, led me, eventually, to paint a large piece, "California Never Give Up." The figure in the painting is a young, determined woman working on an engine in a motorcycle shop. A door in the background opens out onto a classic motorcycle, the California coast and the winding Pacific Coast Highway One. This painting tells my story "California Never Give Up," as stated on the license plate above the door. Although I mainly paint subjects other than myself, this painting, rich with personal detail and symbolism, is my self-portrait.
What portrait artists do you admire for their work?
There are many portrait artists I admire, although one stands out. Franz Gertsch, Switzerland's leading contemporary artist, perhaps the most significant Photo- or Hyper-realist. Franz Gertsch, in particular, has had a large affect on my artistic development, ever since I discovered his work in the 1980s. Known for his large format, photo-realistic paintings, Gertsch's immense canvases are iconic, a body of work that he has developed over the last five decades, working away in isolation, in his studio in the foothills of the Swiss Alps. I am fortunate to have a number of works by Franz Gertsch on display near my Marin County home, at the Hess Collection, in Napa Valley, California. The most startling piece, "Johanna II", is a masterwork of detail and scale, a gigantic, photo-realist painting of a 16-year-old girl. In the 1960s, Gertsch began to paint directly from projected slides, to better capture the radiance of the photographic image, and produced work that was reminiscent of a technique used by Jan Vermeer, 17th-century Dutch painter. As Gertsch once said, "The more I focus on the photographic original the more I move away from it."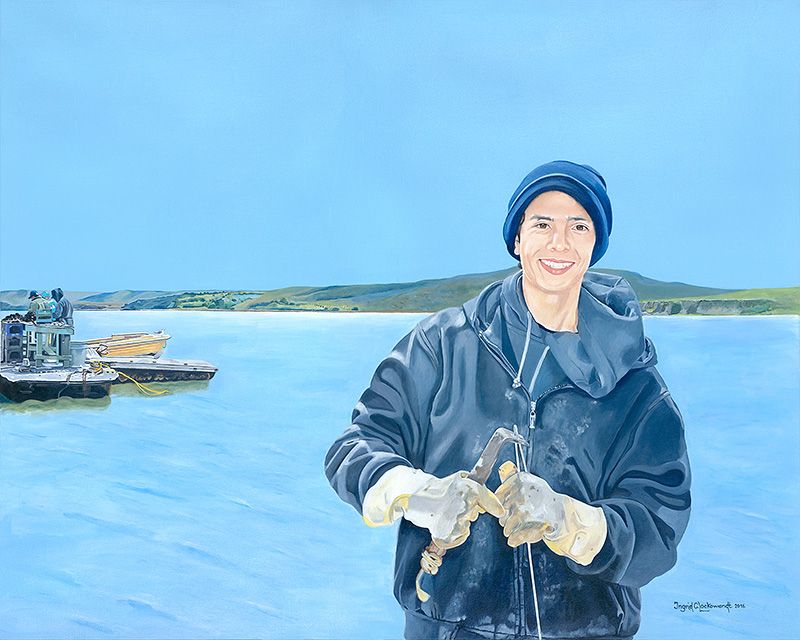 Tell us about a painting you recently completed: "The Oyster Farmer."
It all started with a road trip to Point Reyes National Seashore, with its spectacular scenery, its beautiful headlands, lagoons and estuaries, its marshes and open grasslands, which eventually lead me to find The Oyster Farmer. But, let me begin at the beginning.
I have lived in Marin County for over 20 years, but only recently discovered that the area was named after the Coast Miwok Indian, Chief Marin. I made the discovery while reading the wonderful book, Chief Marin: Leader, Rebel, and Legend , by Professor Betty Goerke, who has taught anthropology and archeology at the College of Marin for over 35 years. She writes especially beautifully about the native Coast Miwok Indian's ability to successfully sustain themselves and their environment for thousands of years. On one sunny day in June 2013, inspired by the book, I drove to Point Reyes National Seashore, and randomly turned off Sir Francis Drake Boulevard, on to a road paved with crushed oyster shells. At the end of that road, I found myself at the source of the shells, Drake's Bay Oyster Co., really just a few old shacks next to a rickety dock. While I was taking pictures of the workers, a young oyster farmer, who seemed a little shy, caught my attention. I asked him if I could take his picture, a question he answered with a big smile, which eventually lead to the painting, "The Oyster Farmer."
By the time I had finished the painting, Drake's Bay Oyster Co. was already out of business, but I was able to track down my subject, Nicolas, the oyster farmer at their Goodbye Cajun Potluck in Point Reyes Station. I was thrilled and excited to meet him again, and invited him back to my studio to see the finished work. I am happy to say that Nicolas, my delightful subject, was happy and overwhelmed when I unveiled the painting. He said that he had loved to be an oyster farmer, working outside and surrounded by all the beautiful, natural wildlife. Then, in a little more somber tone, he added that he had lost his job and had to find a new place to live, as well as to learn a new profession, namely, he was now studying to become a plumber. I couldn't help but think about the native Coast Miwok Indians, who had successfully sustained themselves and their environment for thousands of years. And, here, sadly, was the same story, playing out again, a story that I was incredibly fortunate to capture and preserve in the form of a smiling Nicolas, The Oyster Farmer. So, the next time you have an opportunity to turn down a road paved with crushed oyster shells, I suggest making the turn!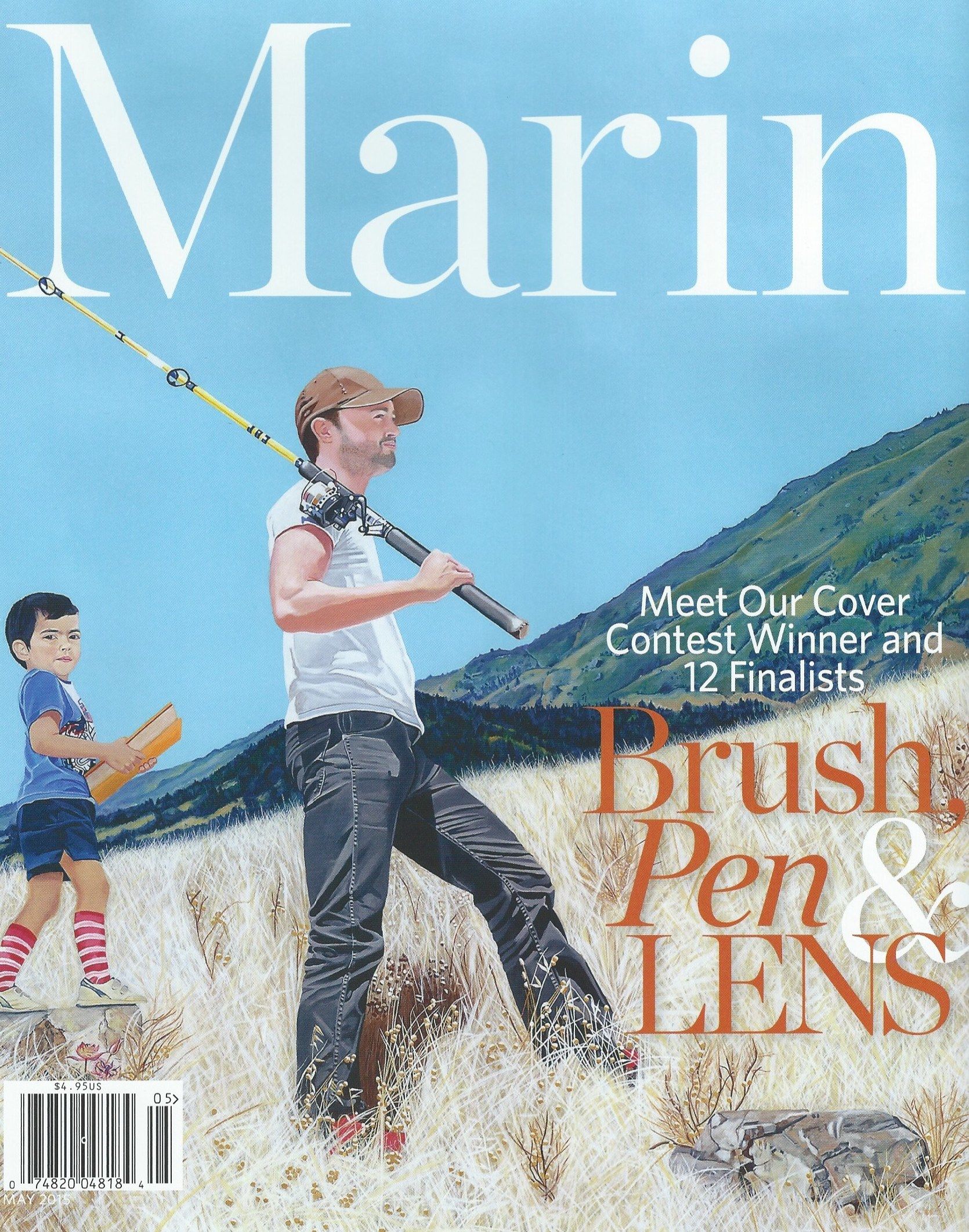 Where can we see your work?
I was pleased and surprised when I received the news that my painting, "Father and Son", won the 2015 Marin Magazine Cover Contest. More than 230 pieces including painting, illustration and photography were submitted.
You're a FLAX customer; what do you like about shopping at FLAX?
For years I have shopped at the FLAX art & design store, for me the finest art supply store in San Francisco. FLAX is always stocked perfectly and sells quality items. I can browse endlessly for high quality journals, for exquisite pens, gorgeous papers, or my favorite German Staedtler Mars Lumograph Graphite pencils. FLAX has an impressive selection of art supplies, a wide variety of canvases, paintbrushes and paint. I especially love their finest pre-stretched cotton duck canvases Fredrix PRO series build with extra bracing for added support. Buying a canvas at FLAX is a wonderful and satisfying experience because they have always deals on canvases. The customer service is superb. The fantastic staff, especially Joni Marie Theodorsen, a talented artist is very knowledgeable, extremely helpful and passionate about the products. It's worth mentioning that FLAX offers excellent and always free workshops in the San Francisco store. I love FLAX's fun, creative and extremely resourceful Facebook page, a brilliant source of information about art supplies, special deals and interesting information about the lively art scene in San Francisco. I was amazed when I learned that the FLAX 'F' logo designed by Louis Danziger is in the permanent design collection of the Museum of Modern Art. (MoMA) FLAX art & design is for me as an artist an enormous art supply haven, a lovely gem in San Francisco. I will defiantly follow FLAX when they are moving in 2016.
Learn more about Ingrid and her artwork at her website, ingridlockowandt.com.
Images top to bottom:
Three Girls, 36 x 36 in, Acrylic on Canvas
Elizabeth, 30 x 40 in, Acrylic on Canvas
California Never Give Up, 48 x 72 in, Acrylic on Canvas
Oyster Farmer, 48 x 60 in, Acrylic on Canvas
Father and Son, 48 x 60 in, Acrylic on Canvas