Posted by Carolyn Mendle-Smith on 1st Jun 2017
FLAX interviews artist Carmen McNall
If you came to the SF Art show, the last big event at our old 1699 Market Street location just before the building was demolished, then you were lucky enough to see the larger than life wood cut installation CHOLITA, by artist Carmen McNall. A San Francisco artist, Carmen's work tells stories of individuals from all over the world; those whose history and ancestry are told within their faces. Carmen has a BFA in Printmaking and Painting from the Academy of Art University. Her work which includes woodcuts, large murals and installations as well as prints, is both delicate and impressively powerful. This week, our new flagship store in Oakland, is lucky to be hosting a Linocut Printmaking Workshop lead by this incredibly experienced printmaking artist.
You say that you are "deeply moved by those who work with their hands, keeping alive the artifacts of humanity". Would you say that your work is a way of documenting those craft-makers who work in dying traditions? Do you feel a need to preserve this type of work and from where does this need stem? I think art is one of the most important ways that over thousands of years we have documented history and the importance of certain events and times. I see art forms and traditions from around the world changing and disappearing with technology and the modern world. It is natural for the world to continue evolving and changing but I want to remember and honor those traditions and those holding onto them, passing them down to the young generations.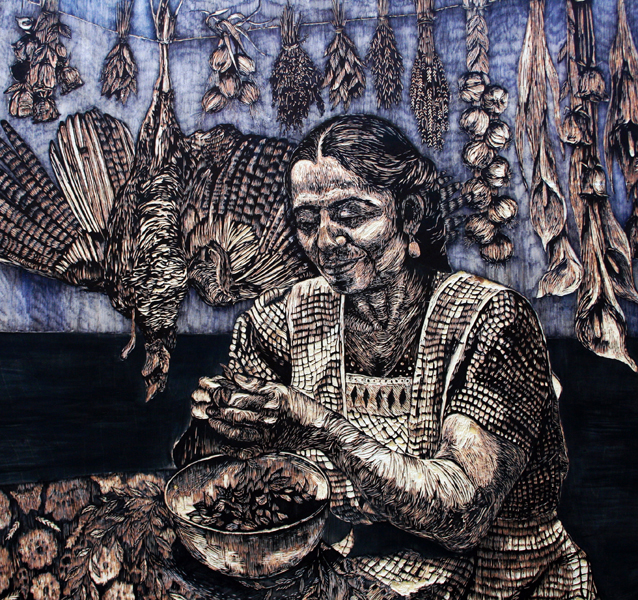 Where does your imagery come from? My work is inspired by people I have met both in my travels and locally that I find empowering and inspiring. Everyday people that I see heroic qualities in and great admiration for. Elements of my imagery come from ideas, memories and the essence of a time place or person.
Some of your woodcuts are created on found wood. Where do you source your materials? I find my wood and materials mainly on the side of the streets in San Francisco and the East Bay. I make special trips to wild northern beaches for drift wood. You never know when you're going to come across the perfect piece of wood or old furniture and that's the beauty of it - It's unplanned and what you find is always a surprise.
Where can we see your work? My work is part of a group show at Incline Gallery in SF until mid-June. You can also see available prints and finished pieces on my website carmenmcnall.com . If you want to see more of what I've been working on and my process check out my Instagram @carmenmcnall
You're a FLAX customer, what do you like about FLAX? What makes FLAX special is that it's a family run art store that truly engages with its community and artist community by providing workshops and local events. There are very few art stores left like this. It also has a really great paper section!
Click here for more info and to sign-up for Carmen's Linocut Printmaking Workshop on Saturday October 4th from 1:00 pm - 4:00pm at our FLAX Fort Mason store.