Click here to view our full Calendar of Workshops & Events
---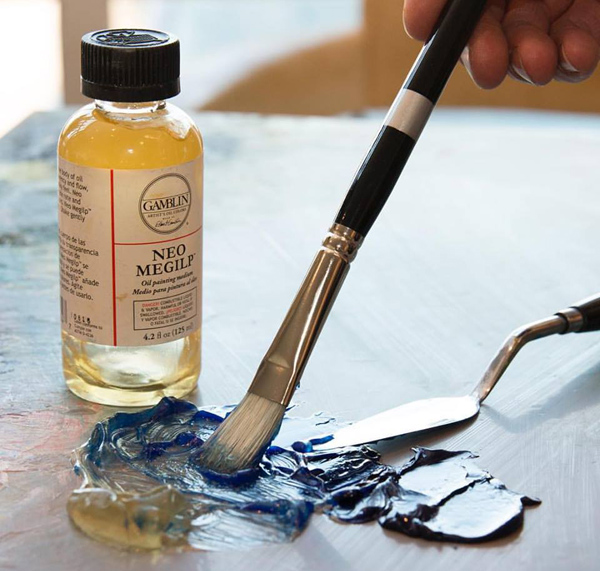 Understanding Contemporary Oil Painting Materials
Oakland Store
Saturday, October 21, 2017, 1:00pm - 3:00pm
Gamblin's dedication to today's oil painters extends beyond offering the finest artist materials, they believe in sharing their knowledge of their products and safe studio practices so artist can make sound artistic choices.
Local artist Tom Colcord will take you through this 90-minute lecture demonstration covering Gamblin's approach to color making, navigating color mixing and color theory, techniques, grounds, and safe studio practices. This will be an afternoon of information you won't usually find outside a university classroom.
Tom Colcord is an oil painter based in San Francisco. He received his BFA from the University of Indiana, Bloomington and his MFA from the San Francisco Art Institute. In addition to this he has completed residencies at the Florence Study Abroad Program and the Art Students League in Vytacil, New York. He has dedicated his initial teaching experience to helping young artists and has taught at SFAI's Young Artist Program as well as the Meridian Gallery's intern Program. Tom is a Gamblin Artist's Educator.
This lecture demonstration is free and will benefit any curious artist in any medium. Please sign-up for this FREE demo!
---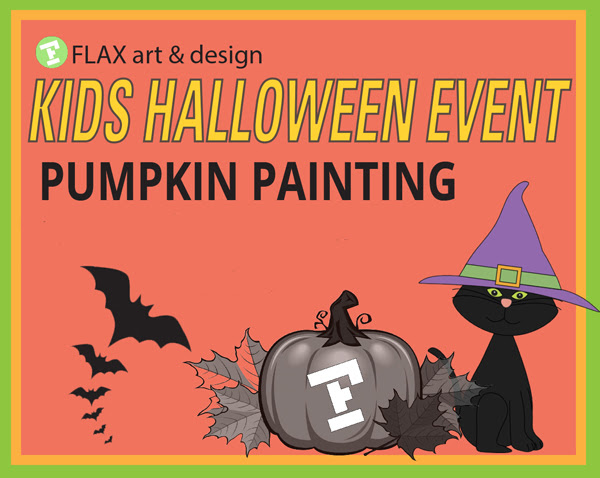 Oakland Kids-Craft Day: Pumpkin Painting
Oakland Store
Saturday, October 28, 2017, 11:00am - 1:00pm
Join our own Miss Maggie of FLAX's Kid's Craft Department while she leads this fun day of crafts for kids. Each Kid's Crafts Day features a different FREE seasonal project. This day's project will be Pumpkin Painting! Bring your little one in for this free event of pumpkin painting creativity. All children must be accompanied by an adult. Pumpkins will be provided!
No need to sign up for this event, just show up!
---
Plein Air Workshop
Fort Mason Store
Sunday, October 29, 2017, 12:00pm - 3:00pm
FLAX art & design is happy to be partnering with Beyond Canvas to present our Plein Air workshop series designed to bring you the full outdoor painting experience. Take advantage of this unique opportunity to step outside and paint in the fresh open air! Breathe in the beautiful views of the Bay while receiving expert instruction in plein air painting. No experience necessary for these all level classes and the materials are yours to keep!
All viewpoints are within a short walk of the meeting location of the FLAX store in Fort Mason Center located at 2 Marina Blvd, Landmark Building D, in between Crissy Field and Fisherman's Warf on the waterfront. From there, you will pick up your Paint Kits and easels for the day and meet your instructor. Workshops, including materials, easel rental, and instruction range from $65.50 - $119.75 (plus surcharges).
Click here to RSVP!
---

FLAX Fort Mason 2 Year Anniversary Event!
Fort Mason Store
Saturday, November 4, 2017, 1:00pm - 3:00pm
We invite you to help us celebrate this exciting milestone at our Fort Mason store with a day of arts, crafts and fun for the whole family! Meet local artists and take part in interactive demonstrations and imaginative arts & crafts for the whole family. Get your hands messy learning about new and exciting materials from the experts!
This is a FREE event for all ages!
Learn more here: www.flaxart.com/flax-fort-mason-anniversary-event/
See the facebook event at: facebook.com/events/1521478077944394
---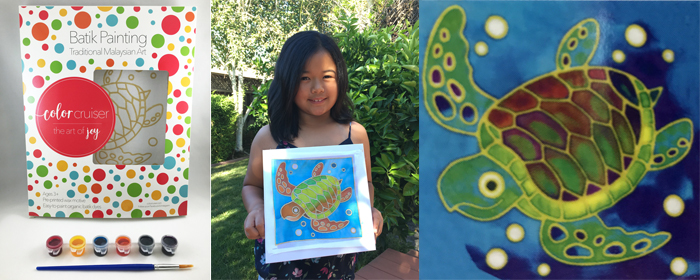 Batik Silk Painting Workshop for Kids!
Oakland Store
Saturday, November 11, 2017, 11:00am - 1:00pm
Fort Mason Store
Saturday, December 9, 2017,
11:00am - 1:00pm
Calling all kids ages 7 and above! Join Ashley and Katelyn, young artists and founders of Color Cruiser, as they show you the art of batik fabric painting. It's easy to do and fun. They'll teach you how to blend colors on fabric and produce an amazing batik masterpiece.
The cost of the workshop is $18 for a complete batik kit that includes a wax fabric motif, six color dyes, instruction and hands-on creative fun.
Please Sign-up Online or call the store (Oakland 510-867-2324) (Fort Mason 415-530-3510) to reserve your spot in the workshop! Space is limited.
---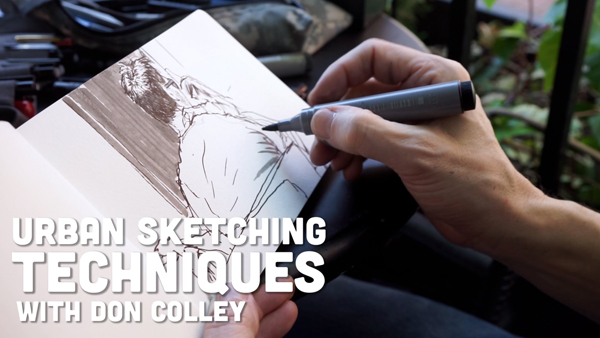 Sketch & Go with Don Colley from Faber-Castell
Fort Mason Store
Monday, November 13, 2017, 3:00pm - 5:00pm
Oakland Store
Friday, November 17, 2017, 3:00pm - 5:00pm
Join Faber-Castell and Chicago based artist Don Colley, while he leads a sketchbook workshop here at FLAX and then takes you on the streets for this hands on urban sketching workshop!
Don creates much of his Sketchbook work with Pitt artist pens because of their high quality India Ink, unsurpassed lightfastness, and archival characteristics. During this two hour demo Don will share his sketching techniques with these versatile pens, showing you how to achieve some extremely interesting effects. He will then take you on a tour outside of FLAX to show how you can create on the go too. Bring a sketchbook or buy one here!
Please sign up for this FREE workshop!
---
More Upcoming 2017 Workshops!
Oakland Semi-Annual Pen Faire & Sale at FLAX - November 18, Oakland Store
Kids-Craft Day - December 2, Oakland Store
---
Past Workshops & Events
Daniel Smith Watercolor Workshop - October 15, 1pm - 3pm, Fort Mason Store
Oakland Print Fair - October 14-15 Oakland Store
Big Stick Charcoal Workshop - October 7, 1pm - 3pm, Oakland Store
Indigo Dying Workshop with Jacquard's Indigo Tie Dye Kit - September 30, 1pm - 3pm, Oakland Store
The End of Summer of Love Event - September 23, 12pm - 3pm, Oakland Store
The Great Rubber Stamp & Card Making Event - September 24, 12pm - 3pm, Fort Mason Store
Water Soluble Oils vs Acryclics: Cobra & Amsterdam - September 16, 1pm - 3pm, Oakland Store
Gamblin's Understanding Contemporary Oil Painting Materials - September 16, 1pm - 3pm, Fort Mason Center Store
Daniel Smith Watercolor Workshop - September 9, 1pm - 3pm, Oakland Store
Big Stick Charcoal Demo - September 9, 1pm - 3pm, Fort Mason Store
Sennelier Abstract Acrylic & New Raymar Artfix Panels - September 2, 1pm - 3pm, Fort Mason Store
Charbonnel Printmaking Inks Workshop - August 26, 1pm - 3pm, Oakland Store
R&F Encaustics and Pigment Sticks -August 19, Oakland Store
Annual Kidsfest - July 29, Oakland Store
Speedball Gel Plate Workshop with Sharon Jue - July 22, Oakland Store
R&F Pigment Sticks - July 15, Fort Mason Center Store
Landscapes with Sennelier Pastels - July 15, Oakland Store
Sunde White Card Making & Collage - July 1, Oakland Store
Winsor & Newton Watercolor Lecture and Demo - June 17, Fort Mason Center Store
Reinventing the Color Wheel with John Muir Laws - May 30, Oakland Store
Bi-Annual Pen Faire - May 27, Oakland Store
Winsor & Newton Watercolor Lecture & Demo - May 20, Oakland Store
Speedball Mono Gelli Prints & Block Printing - May 13, Fort Mason Store
Jacquard Screen Printing Workshop - May 6, Fort Mason Store
Kids-Craft Day, Mother's Day Craft - May 6, Oakland Store
SF MUNI Art Project 2017 Kick Off Event - April 30, Fort Mason Store
Sennelier Acrylic Workshop - April 29, Oakland Store
Daniel Smith Watercolor Demo - April 29, Fort Mason Store
Strathmore Watercolor Postcard Demo - April 28, Oakland Store
FLAX Oakland 1 Year Anniversary Event - April 8, Oakland Store
Golden Water Media Classroom -

Lascaux Acrylics Demo - March 25, 2017, Fort Mason Store
Book Arts with Friends of Montclair Library - March 25, 2017, Oakland Store
Liquitex Lecture and Demo - March 18, 2017, Oakland Store
Crochet Jam with Remekon O'Arwisters - March 12, 2017, Oakland Store
Screen Printing with Jacquard - March 11, 2017, Oakland Store
Cobra Water Mixable Oils - March 4, 2017, Oakland Store
Golden A to Z Free Lecture - February 25, 2017, Oakland Store

Sennelier Pastels Demo - February 18, 2017, Oakland Store
We Paint: An Evening with Bobby Arte - February 11, 2017, Oakland Store
Daniel Smith Watercolor Demo - February 11, 2017, Oakland Store
Kids-Craft Day - February 10, 2017, Oakland Store; February 12, 2017, Fort Mason Center Store
Cobra Water Mixable Oils Painting Classroom - February 4, 2017, Fort Mason Center Store
Photo Transferring with Michelle - February 4, 2017, Oakland Store
Sennelier Pastels with Camille LaPointe-Lyons - January 21, 2017
Raphael Soft Aqua & Sennelier Watercolor Table Top Demo - December 17, 2016
Pixar Artists Mathew Luhn & Valerie LaPointe - Book Signing Event, Oakland Store - December 10, 2016
Marabu Products Demo, Oakland Store - December 7, 2016
Oakland Kids-Craft Day: Pinecone Critters, Oakland Store - December 3, 2016
Seth Golden on Everything Golden & Williamsburg, Oakland Store - November 20, 2016
FLAX Oakland Pen Faire & Sale, Oakland Store - November 19, 2016
Rembrandt Soft Pastels Demo, Oakland Store - November 12, 2016
FLAX Fort Mason One Year Anniversary Event, Fort Mason Store - November 5, 2016
1st Friday ARC Youth Fest Art Tour Community Event, Oakland Store - November 4, 2016
Jacquard Mixed Media Workshop with Rick Kitagawa, Oakland Store - October 29, 2016
Mixed Media Holiday Card Making with Raven Iacono, Fort Mason Store - October 29, 2016
Kids Halloween Event: Pumpkin Painting, Oakland & Fort Mason Store - October 22nd and 23rd, 2016
Michael Harding on Michael Harding Oils & Mediums, Oakland Store - October 20th, 2016
18th Annual Self As Super Hero Exhibit, presented by Attitudinal Healing Connection, Oakland Store - October 1st, 2016
Mixed Media Workshop: Holiday Card Making with Raven Iacono, Oakland Store - September 24th, 2016
The Art of Laurel Burch Coloring Book Event, Oakland Store - September 17th, 2016
Sennelier Mixed Media Workshop with Cindy Shih, Oakland Store - August 20th, 2016