Click here to view our full Calendar of Workshops & Events
---
heART is Oakland Benefit Exhibition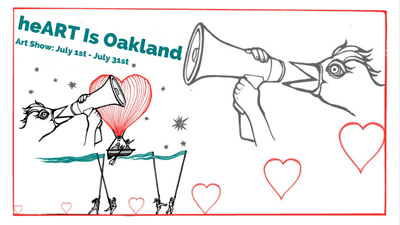 Classic Cars West
411 26th St.
Oakland CA, 94612
Show runs July 1-30, 2017
Live Auction and Closing Reception – Saturday, July 29, 6 – 8 PM
This family-friendly venue is open:
Wednesday thru Friday: noon – 10pm
Saturday Brunch: 11am – 3pm, Dinner 5 – 10pm
Sunday Brunch: 11am – 3pm

Brought to you in collaboration with We the Artists of the Bay Area (WABA) and FLAX art & design
heART is Oakland is a community benefit art show by artists for artists. The ultimate goal is to draw attention to Oakland's treasures – its artists – and let their works spark dialogue and generate meaning and hope in the community. All works submitted will be sold in an auction, and all proceeds will go towards the support of safe housing for artists. This is the perfect opportunity to fill your house with local art while supporting local artists and the DIY spaces in which many live and work.
Visit www.heartisoakland.org for more info.
---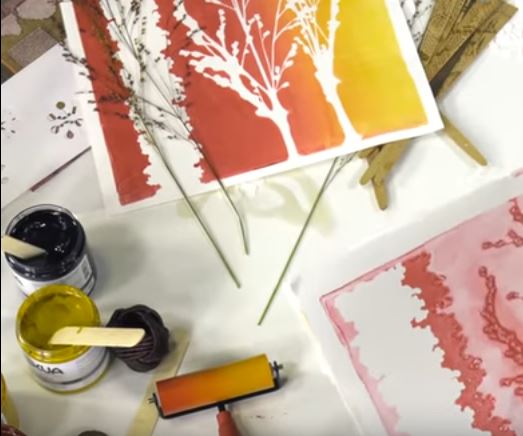 Speedball Gel Plate Workshop with Sharon Jue
*This workshop is now closed
Oakland Store
Saturday, July 22, 2017, 1:00pm - 3:00pm
We are happy to announce, local printmaking artist Sharon Jue will be leading our mono printing workshop using the new Speedball Gel Plates here at the Oakland store. Sharon will take you through the process of caring for your Gel plate, transferring, stenciling, drawing, inking and printing. This is an excellent workshop for the beginner or advanced print maker looking for a new medium. After Sharon's demo you will be able to try it yourself! Sharon will have examples and a few gelli plates avaialble to get a feel for this unique medium.

*Please note, that this workshop is now full.
---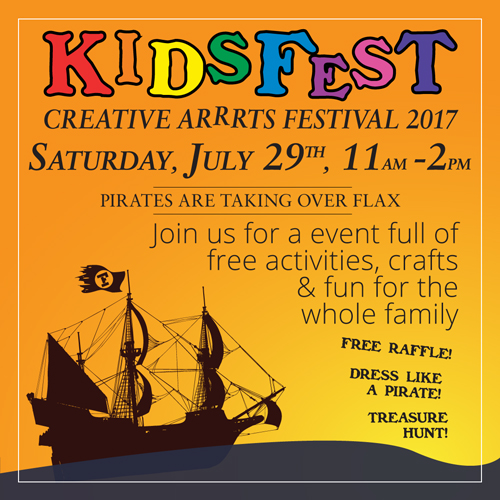 KIDSFEST
Oakland Store
Saturday, July 29, 2017, 11:00am - 2:00pm
Please join us for our eagerly anticipated always celebrated annual Kidsfest, a fascinating day of discovery, imagination and learning for children and their parents. This year's theme is Pirates! Costumes are encouraged, so bring your little swashbuckler, sailor, sunfish, mermaid or merman and enjoy this festive day while your child has a blast exploring their creative side. Kidsfest is a not-to-be-missed event, and it's always FREE!

Special musical guests... The Krackens! Sing along with The Krackens - Amy Foote, Carrie Smith and Melinda Becker, as they perform old time classics, sea shanties, and other great songs about the big blue sea. Audience participation encouraged!
Incredible lineup of activities... This year we have a wonderful range of interactive crafts and events, face painting, treasure hunts, free raffles, fun games and so much more.
Click here to learn more about this FREE event! *Children under the age of 14 are required to have adult supervision.
---
Amsterdam Acrylics Table-Top Talk
Fort Mason Store
Saturday, August 5, 2017, 2:00pm - 4:00pm
Amsterdam Acrylics Table-Top Talk; an introduction to acrylic paints. Join Royal Talens artist Jeffrey Olson at this convenient Table Top demo at the Fort Mason store. Drop in and let Jeffrey show you how to set up a painting, use acrylics or quiz him with any questions you may have. This is a great opportunity to get technical information from the source.
No need to sign-up for this free drop in demo!
---
More Upcoming 2017 Workshops!
R&R Encaustics & Pigment Sticks - August 19, 1pm - 3pm, Oakland Store
Charbonell Printmaking Inks - August 26, 1pm - 3pm, Oakland Store
Indigo Dying with Jacquard Dyes - August 26, 1pm - 3pm, Fort Mason Store
---
Past Workshops & Events
Reinventing the Color Wheel with John Muir Laws - May 30, Oakland Store
Winsor & Newton Watercolor Lecture & Demo - May 20, Oakland Store
Speedball Mono Gelli Prints & Block Printing - May 13, Fort Mason Store
Jacquard Screen Printing Workshop - May 6, Fort Mason Store
Kids-Craft Day, Mother's Day Craft - May 6, Oakland Store
SF MUNI Art Project 2017 Kick Off Event - April 30, Fort Mason Store
Sennelier Acrylic Workshop - April 29, Oakland Store
Daniel Smith Watercolor Demo - April 29, Fort Mason Store
Strathmore Watercolor Postcard Demo - April 28, Oakland Store
FLAX Oakland 1 Year Anniversary Event - April 8, Oakland Store
Golden Water Media Classroom -

Lascaux Acrylics Demo - March 25, 2017, Fort Mason Store
Book Arts with Friends of Montclair Library - March 25, 2017, Oakland Store
Liquitex Lecture and Demo - March 18, 2017, Oakland Store
Crochet Jam with Remekon O'Arwisters - March 12, 2017, Oakland Store
Screen Printing with Jacquard - March 11, 2017, Oakland Store
Cobra Water Mixable Oils - March 4, 2017, Oakland Store
Golden A to Z Free Lecture - February 25, 2017, Oakland Store

Sennelier Pastels Demo - February 18, 2017, Oakland Store
We Paint: An Evening with Bobby Arte - February 11, 2017, Oakland Store
Daniel Smith Watercolor Demo - February 11, 2017, Oakland Store
Kids-Craft Day - February 10, 2017, Oakland Store; February 12, 2017, Fort Mason Center Store
Cobra Water Mixable Oils Painting Classroom - February 4, 2017, Fort Mason Center Store
Photo Transferring with Michelle - February 4, 2017, Oakland Store
Sennelier Pastels with Camille LaPointe-Lyons - January 21, 2017
Raphael Soft Aqua & Sennelier Watercolor Table Top Demo - December 17, 2016
Pixar Artists Mathew Luhn & Valerie LaPointe - Book Signing Event, Oakland Store - December 10, 2016
Marabu Products Demo, Oakland Store - December 7, 2016
Oakland Kids-Craft Day: Pinecone Critters, Oakland Store - December 3, 2016
Seth Golden on Everything Golden & Williamsburg, Oakland Store - November 20, 2016
FLAX Oakland Pen Faire & Sale, Oakland Store - November 19, 2016
Rembrandt Soft Pastels Demo, Oakland Store - November 12, 2016
FLAX Fort Mason One Year Anniversary Event, Fort Mason Store - November 5, 2016
1st Friday ARC Youth Fest Art Tour Community Event, Oakland Store - November 4, 2016
Jacquard Mixed Media Workshop with Rick Kitagawa, Oakland Store - October 29, 2016
Mixed Media Holiday Card Making with Raven Iacono, Fort Mason Store - October 29, 2016
Kids Halloween Event: Pumpkin Painting, Oakland & Fort Mason Store - October 22nd and 23rd, 2016
Michael Harding on Michael Harding Oils & Mediums, Oakland Store - October 20th, 2016
18th Annual Self As Super Hero Exhibit, presented by Attitudinal Healing Connection, Oakland Store - October 1st, 2016
Mixed Media Workshop: Holiday Card Making with Raven Iacono, Oakland Store - September 24th, 2016
The Art of Laurel Burch Coloring Book Event, Oakland Store - September 17th, 2016
Sennelier Mixed Media Workshop with Cindy Shih, Oakland Store - August 20th, 2016
Kids-Craft Day, San Francisco Store - August 14th, 2016
Daniel Smith Watercolor Workshop, both Oakland and San Francisco Stores - August 6th, 2016
Kidsfest, Oakland Store- July 30th, 2016
Flax Mural Event feat. artists Natty Rebel, Oakland Store - July 16th, 2016
The GOLDEN "A to Z" of Acylics, Oakland Store - July 9th, 2016
Liquitex Acrylics & Mediums Demo - July 2nd, 2016
Lascaux Acrylics Workshop - June 25th, 2016
Everything Liquitex Tabletop Demo - June 24th, 2016
W&N Watercolors Tabletop Demo - June 23rd, 2016
W&N Watercolors Lecture - June 18th, 2016
CAM Cartoonist-in-Residence: Ajuan Mance - June 1st, 2016
Kids-Craft Day, Oakland - June 1st, 2016
C&T Mixed Media Workshop - June 4th, 2016
Kids-Craft Day - May 22nd, 2016
Flax semi-annual Pen Faire & Sale - May 21st, 2016
R&F Painting Sticks Workshop - May 21st, 2016
R&F Painting with Encaustics Workshop - May 14th, 2016
CAM Cartoonist-in-Residence - Melissa Pagluica - May 14th, 2016
Kuretake Lettering Workshop - May 7th, 2016
Oakland Kids-Craft Day - April 30th, 2016
Laurel Burch Coloring Book Event - March 26th, 2016
Rublev Oils: Secrets of the Old Masters - March 12th, 2016
Cartoonist-in-Residence - Matt Harding - February 13th, 2016
General Pencil Workshop - Utilizing Pencil Pigments in Mixed Media with Kathi Hanson - January 23rd, 2016
Cartoonist-in-Residence - Rachel Dukes - January 9th, 2016