Click here to view our full Calendar of Workshops & Events.
---

Oakland Kids-Craft Day
Saturday, February 10th, 11am - 1pm
Oakland Store
Join us for this free Valentine's Day craft project for kids lead by our own Miss Maggie of the FLAX Oakland Kid's department. Maggie will be showing the kids how to make a festive Valentine to take home. These Kid's Craft events throughout the year are loved by kids and parents alike.
This is a free, drop-in event!
---

Princeton Brush Exchange
Saturday, February 10th, 1pm - 3pm
Fort Mason Store
Ready for a new Brush? Bring us an old, tired brush and through the Princeton Brush Exchange we will give you a brand new replacement! Join us at the Fort Mason FLAX store for this exceptional program courtesy of Michael Hammer-brush expert at Princeton Brush Company. Have any questions for Michael? Wonder if you're taking proper care of your brushes? Want to know the difference in hair, sizes and shapes? This will be your opportunity to talk to our go-to, friendly brush expert for advice.
Drop by between 1:00 and 3:00 to meet Michael and find out first hand why we love Princeton brushes. (No need to sign-up for this free drop-in event)
---
Portraits in Charcoal with Andrew Ameral, Director of the Golden Gate Atelier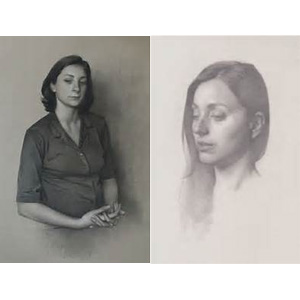 Saturday, February 17th, 1pm - 5pm
Oakland Store
We are excited to partner with Andrew Ameral, Director of the Golden Gate Atelier who will personally be here to show you the art of portrait drawing in charcoal. Our friends over at the Oakland Golden Gate Atelier are well known for their instruction in the classical approach to painting and drawing and now they want to show you what the Golden Gate Atelier has to offer. Andrew will be drawing from the model, while discussing how he sets up the portrait and methods of charcoal drawing.
This event is free and the first 10 people to sign up can draw along with Andrew behind him. There will also be standing room available for those who would just like to watch! A list of materials needed to participate is provided bellow. All materials will be offered for attendees at 10% off!
Materials needed (for first 10 participants who sign up): Canson Mi-Tiente Paper (Sky Blue or Pebble), Vine Charcoal, Chamois, Kneaded Rubber, Sanding Block, Fan Brush, General's Chalk Pencil, Drawing / Drafting Board, Masking (Artist) Taped
Please sign up for this free workshop
---
Past Workshops & Events