Click here to view our full Calendar of Workshops & Events
---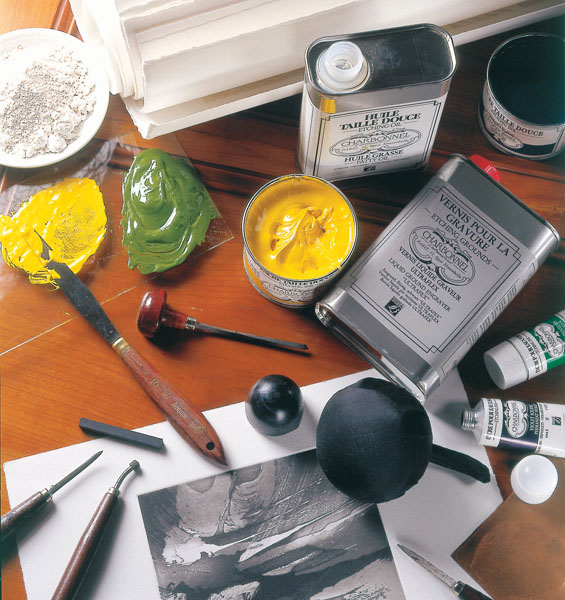 Charbonnel Printmaking Inks
Oakland Store
Saturday, August 26, 2017, 1:00pm - 3:00pm
What does Charbonnel Inks have that no other etching Inks have? Quality assurance that goes back to 1862! Join us Saturday, August 26th from 1:00 to 3:00 for this lecture style demo of the best printmaking inks available. Learn skills and techniques from local artist Andrew Cook. Andrew will take you through drypoint and monoprint methods, showing you how to set up your plates, ink and print. This will be a lecture and demo with an up close look at the end.
Sign up for this free workshop.
---
Summer of Love with Jacquard Tie-Dyes
Fort Mason Store
Saturday, August 26, 2017, 11:00am - 1:00pm
Come join us in recreating the magic of the 60s with this fun tie-dyeing event. Annette Pearson will be on-hand to guide little hands and big hands through the process of making your own cool t-shirt. We'll have a limited number of white t-shirts printed with our logo from 1967, or bring your own!
Participation is FREE, though the Flax tees are $10 each. No need to sign up, just show up!
---
Sennelier Abstract Acrylic & NEW Raymar Artfix Panels
Fort Mason Store
Saturday, September 2, 2017, 1:00pm - 3:00pm
Come experience the new innovative Sennelier Abstract Acrylic Paints. 60 awe-inspiring heavy bodied colors, and 8 unique tips giving you endless possibilities for color and textural effects. From Sennelier, makers of colors since 1887.
Local artist Andrew Cook will demo the Abstract acrylic paint and also show off the new Raymar Linen Panels. There will be time afterward to try them up close for yourself. Find out why #thisisabstract!! Raymar makes the highest quality Artist Panels, using surfaces like the amazing all media Artfix L22U Universal Primed Linen. The linen is hand primed in a small village in Provence using time-honored European methods. Artfix is internationally recognized as the finest linen with a flawless, luxurious surface ideal for portrait and fine detail work. Raymar's archival, museum quality panels are made in-house in Texas with careful attention to detail.
Sign up for this free workshop.
---
More Upcoming 2017 Workshops!
Daniel Smith Watercolor Workshop - September 9, 1pm - 3pm, Oakland Store
Amsterdam Acrylics, Table-Top-Talk - September 16, 1pm - 3pm, Oakland Store
Gamblin Artist Materials - September 16, 1pm - 3pm, Fort Mason Center Store
Great Rubber Stamp Event - September 23, 12pm - 3pm, Oakland Store
Indigo Dying with Jacquard Dyes - September 30, 1pm - 3pm, Oakland Store
---
Past Workshops & Events
R&F Encaustics and Pigment Sticks -August 19, Oakland Store
Annual Kidsfest - July 29, Oakland Store
Speedball Gel Plate Workshop with Sharon Jue - July 22, Oakland Store
R&F Pigment Sticks - July 15, Fort Mason Center Store
Landscapes with Sennelier Pastels - July 15, Oakland Store
Sunde White Card Making & Collage - July 1, Oakland Store
Winsor & Newton Watercolor Lecture and Demo - June 17, Fort Mason Center Store
Reinventing the Color Wheel with John Muir Laws - May 30, Oakland Store
Bi-Annual Pen Faire - May 27, Oakland Store
Winsor & Newton Watercolor Lecture & Demo - May 20, Oakland Store
Speedball Mono Gelli Prints & Block Printing - May 13, Fort Mason Store
Jacquard Screen Printing Workshop - May 6, Fort Mason Store
Kids-Craft Day, Mother's Day Craft - May 6, Oakland Store
SF MUNI Art Project 2017 Kick Off Event - April 30, Fort Mason Store
Sennelier Acrylic Workshop - April 29, Oakland Store
Daniel Smith Watercolor Demo - April 29, Fort Mason Store
Strathmore Watercolor Postcard Demo - April 28, Oakland Store
FLAX Oakland 1 Year Anniversary Event - April 8, Oakland Store
Golden Water Media Classroom -

Lascaux Acrylics Demo - March 25, 2017, Fort Mason Store
Book Arts with Friends of Montclair Library - March 25, 2017, Oakland Store
Liquitex Lecture and Demo - March 18, 2017, Oakland Store
Crochet Jam with Remekon O'Arwisters - March 12, 2017, Oakland Store
Screen Printing with Jacquard - March 11, 2017, Oakland Store
Cobra Water Mixable Oils - March 4, 2017, Oakland Store
Golden A to Z Free Lecture - February 25, 2017, Oakland Store

Sennelier Pastels Demo - February 18, 2017, Oakland Store
We Paint: An Evening with Bobby Arte - February 11, 2017, Oakland Store
Daniel Smith Watercolor Demo - February 11, 2017, Oakland Store
Kids-Craft Day - February 10, 2017, Oakland Store; February 12, 2017, Fort Mason Center Store
Cobra Water Mixable Oils Painting Classroom - February 4, 2017, Fort Mason Center Store
Photo Transferring with Michelle - February 4, 2017, Oakland Store
Sennelier Pastels with Camille LaPointe-Lyons - January 21, 2017
Raphael Soft Aqua & Sennelier Watercolor Table Top Demo - December 17, 2016
Pixar Artists Mathew Luhn & Valerie LaPointe - Book Signing Event, Oakland Store - December 10, 2016
Marabu Products Demo, Oakland Store - December 7, 2016
Oakland Kids-Craft Day: Pinecone Critters, Oakland Store - December 3, 2016
Seth Golden on Everything Golden & Williamsburg, Oakland Store - November 20, 2016
FLAX Oakland Pen Faire & Sale, Oakland Store - November 19, 2016
Rembrandt Soft Pastels Demo, Oakland Store - November 12, 2016
FLAX Fort Mason One Year Anniversary Event, Fort Mason Store - November 5, 2016
1st Friday ARC Youth Fest Art Tour Community Event, Oakland Store - November 4, 2016
Jacquard Mixed Media Workshop with Rick Kitagawa, Oakland Store - October 29, 2016
Mixed Media Holiday Card Making with Raven Iacono, Fort Mason Store - October 29, 2016
Kids Halloween Event: Pumpkin Painting, Oakland & Fort Mason Store - October 22nd and 23rd, 2016
Michael Harding on Michael Harding Oils & Mediums, Oakland Store - October 20th, 2016
18th Annual Self As Super Hero Exhibit, presented by Attitudinal Healing Connection, Oakland Store - October 1st, 2016
Mixed Media Workshop: Holiday Card Making with Raven Iacono, Oakland Store - September 24th, 2016
The Art of Laurel Burch Coloring Book Event, Oakland Store - September 17th, 2016
Sennelier Mixed Media Workshop with Cindy Shih, Oakland Store - August 20th, 2016