Click here to view our full Calendar of Workshops & Events
---

Sunde White Card Making & Collage Workshop
Oakland Store
Saturday, July 1, 2017, 1:00pm - 3:00pm
You love her cards, now meet the artist!
Join us for this very exciting workshop with the popular and much loved local artist, Sunde White. By using stencils made herself and by passing on tons of art tips and techniques, Sunde will help you create your own works of art and more importantly, she hopes to inspire you to create your own artwork in the future.

Sign-up now for this free, family friendly workshop!
---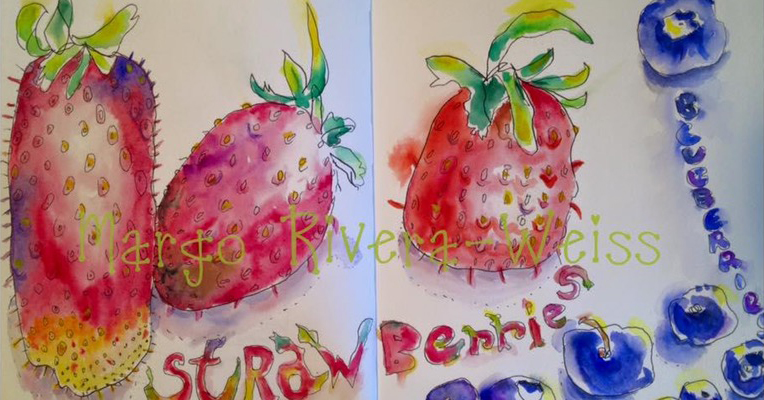 Wet & Wild - Basic Watercolor Skills Workshop with Margo Rivera-Weiss

*This class is now full
Oakland Store
*Sunday, July 2, 2017, 1:00pm - 3:00pm
You've seen the free Edible East Bay Magazine at our Oakland store, now join Edible East Bay artist Margo Rivera-Weiss for this fun filled watercolor workshop.
In this class Margo will go over techniques like watercolor washes and adding details in layers. Suitable for all levels. She will start with a demonstrations and then you will work on your own projects!
Please bring your own supplies - watercolor paint (preferably in a palette for ease of use) at least 2 brushes - 1 small, 1 med to large watercolor paper/block, an object to paint (can be photos that you took yourself if you wish) also a pencil and/or pen with waterproof ink. Or better yet, FLAX will be offering the two sets that Margo recommends, both at 20% off: Koi (beginner) and Sennelier (intermediate/advanced) all other supplies will be at 10% off just for participants!
This workshop is brought to you by our partners at Edible East Bay.
Please note that this class is full to capacity and sign-ups are now closed.

Be the first to hear about new workshops & events by signing up for our FLAX Newsletter. (Sign up in the bottom right hand corner of our homepage: flaxart.com)

---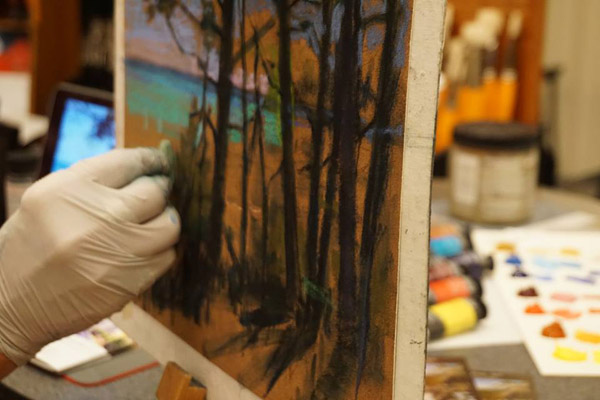 Landscapes with Sennelier Pastels
Oakland Store
Saturday, July 15, 2017, 1:00pm - 3:00pm
Experience the magic of pastels!
Sennelier Pastels are without a doubt, the best soft pastels on the market. Now you can learn how to set up a landscape drawing using this historic medium. If you have ever wanted a lesson on how to use pastels, join us for this informative, free, pastel classroom and walk away with the confidence to use pastels or incorporate pastels into your medium.

Sign-up now for this free workshop!
---
More Upcoming 2017 Workshops!
Heart is Oakland exhibition and benefit - July 1 - August 1, Classic Cars West
Landscapes with Sennelier Pastels - July 15, 1pm - 3pm, Oakland Store
---
Past Workshops & Events
Reinventing the Color Wheel with John Muir Laws - May 30, Oakland Store
Winsor & Newton Watercolor Lecture & Demo - May 20, Oakland Store
Speedball Mono Gelli Prints & Block Printing - May 13, Fort Mason Store
Jacquard Screen Printing Workshop - May 6, Fort Mason Store
Kids-Craft Day, Mother's Day Craft - May 6, Oakland Store
SF MUNI Art Project 2017 Kick Off Event - April 30, Fort Mason Store
Sennelier Acrylic Workshop - April 29, Oakland Store
Daniel Smith Watercolor Demo - April 29, Fort Mason Store
Strathmore Watercolor Postcard Demo - April 28, Oakland Store
FLAX Oakland 1 Year Anniversary Event - April 8, Oakland Store
Golden Water Media Classroom -

Lascaux Acrylics Demo - March 25, 2017, Fort Mason Store
Book Arts with Friends of Montclair Library - March 25, 2017, Oakland Store
Liquitex Lecture and Demo - March 18, 2017, Oakland Store
Crochet Jam with Remekon O'Arwisters - March 12, 2017, Oakland Store
Screen Printing with Jacquard - March 11, 2017, Oakland Store
Cobra Water Mixable Oils - March 4, 2017, Oakland Store
Golden A to Z Free Lecture - February 25, 2017, Oakland Store

Sennelier Pastels Demo - February 18, 2017, Oakland Store
We Paint: An Evening with Bobby Arte - February 11, 2017, Oakland Store
Daniel Smith Watercolor Demo - February 11, 2017, Oakland Store
Kids-Craft Day - February 10, 2017, Oakland Store; February 12, 2017, Fort Mason Center Store
Cobra Water Mixable Oils Painting Classroom - February 4, 2017, Fort Mason Center Store
Photo Transferring with Michelle - February 4, 2017, Oakland Store
Sennelier Pastels with Camille LaPointe-Lyons - January 21, 2017
Raphael Soft Aqua & Sennelier Watercolor Table Top Demo - December 17, 2016
Pixar Artists Mathew Luhn & Valerie LaPointe - Book Signing Event, Oakland Store - December 10, 2016
Marabu Products Demo, Oakland Store - December 7, 2016
Oakland Kids-Craft Day: Pinecone Critters, Oakland Store - December 3, 2016
Seth Golden on Everything Golden & Williamsburg, Oakland Store - November 20, 2016
FLAX Oakland Pen Faire & Sale, Oakland Store - November 19, 2016
Rembrandt Soft Pastels Demo, Oakland Store - November 12, 2016
FLAX Fort Mason One Year Anniversary Event, Fort Mason Store - November 5, 2016
1st Friday ARC Youth Fest Art Tour Community Event, Oakland Store - November 4, 2016
Jacquard Mixed Media Workshop with Rick Kitagawa, Oakland Store - October 29, 2016
Mixed Media Holiday Card Making with Raven Iacono, Fort Mason Store - October 29, 2016
Kids Halloween Event: Pumpkin Painting, Oakland & Fort Mason Store - October 22nd and 23rd, 2016
Michael Harding on Michael Harding Oils & Mediums, Oakland Store - October 20th, 2016
18th Annual Self As Super Hero Exhibit, presented by Attitudinal Healing Connection, Oakland Store - October 1st, 2016
Mixed Media Workshop: Holiday Card Making with Raven Iacono, Oakland Store - September 24th, 2016
The Art of Laurel Burch Coloring Book Event, Oakland Store - September 17th, 2016
Sennelier Mixed Media Workshop with Cindy Shih, Oakland Store - August 20th, 2016
Kids-Craft Day, San Francisco Store - August 14th, 2016
Daniel Smith Watercolor Workshop, both Oakland and San Francisco Stores - August 6th, 2016
Kidsfest, Oakland Store- July 30th, 2016
Flax Mural Event feat. artists Natty Rebel, Oakland Store - July 16th, 2016
The GOLDEN "A to Z" of Acylics, Oakland Store - July 9th, 2016
Liquitex Acrylics & Mediums Demo - July 2nd, 2016
Lascaux Acrylics Workshop - June 25th, 2016
Everything Liquitex Tabletop Demo - June 24th, 2016
W&N Watercolors Tabletop Demo - June 23rd, 2016
W&N Watercolors Lecture - June 18th, 2016
CAM Cartoonist-in-Residence: Ajuan Mance - June 1st, 2016
Kids-Craft Day, Oakland - June 1st, 2016
C&T Mixed Media Workshop - June 4th, 2016
Kids-Craft Day - May 22nd, 2016
Flax semi-annual Pen Faire & Sale - May 21st, 2016
R&F Painting Sticks Workshop - May 21st, 2016
R&F Painting with Encaustics Workshop - May 14th, 2016
CAM Cartoonist-in-Residence - Melissa Pagluica - May 14th, 2016
Kuretake Lettering Workshop - May 7th, 2016
Oakland Kids-Craft Day - April 30th, 2016
Laurel Burch Coloring Book Event - March 26th, 2016
Rublev Oils: Secrets of the Old Masters - March 12th, 2016
Cartoonist-in-Residence - Matt Harding - February 13th, 2016
General Pencil Workshop - Utilizing Pencil Pigments in Mixed Media with Kathi Hanson - January 23rd, 2016
Cartoonist-in-Residence - Rachel Dukes - January 9th, 2016