Click here to view our full Calendar of Workshops & Events
---
The Great Rubber Stamp & Card Making Event
Oakland Store
Saturday, September 23, 2017, 12:00pm - 3:00pm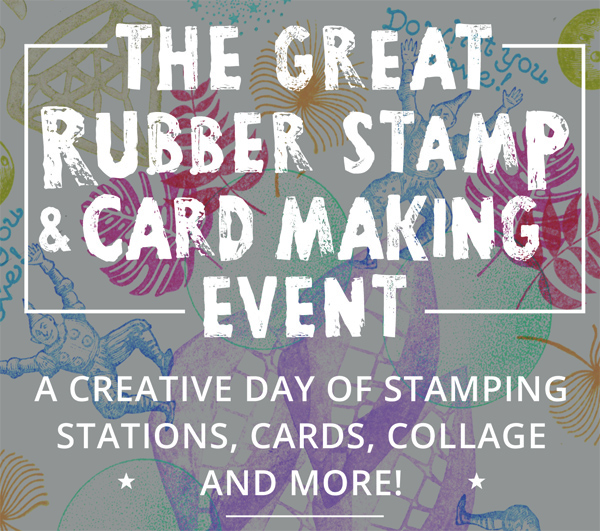 A creative day of stamping stations, cards, collage and more! Come meet our friends from Hero Arts, JPT, Leavenworth Jackson, Pink Ink, Sunde White, Yellow Owl, Stewart Superior, Strathmore and Jacquard. There will be samples to inspire you, techniques that wow you, a slew of new stamps and day of specials.
This is a drop-in event. No need to sign-up!
---
The End of Summer of Love Event
with Jacquard Tie-Dyes
Fort Mason Store
Sunday, September 24, 2017, 11:00am - 1:00pm
Come join us in recreating the magic of the 60s with this fun tie-dyeing event. Annette Pearson will be on-hand to guide little hands and big hands through the process of making your own cool t-shirt. We'll have a limited number of white t-shirts printed with our logo from 1967, or bring your own!
Participation is FREE, though the Flax tees are $10 each. No need to sign up, just show up!
---
Plein Air Workshop
Fort Mason Store
Sunday, September 24, 2017, 12:00pm - 3:00pm
FLAX art & design is happy to be partnering with Beyond Canvas to present our Plein Air workshop series designed to bring you the full outdoor painting experience. Take advantage of this unique opportunity to step outside and paint in the fresh open air! Breathe in the beautiful views of the Bay while receiving expert instruction in plein air painting. No experience necessary for these all level classes and the materials are yours to keep!
All viewpoints are within a short walk of the meeting location of the FLAX store in Fort Mason Center located at 2 Marina Blvd, Landmark Building D, in between Crissy Field and Fisherman's Warf on the waterfront. From there, you will pick up your Paint Kits and easels for the day and meet your instructor. Workshops, including materials, easel rental, and instruction range from $65.50 - $119.75 (plus surcharges).
Click here to RSVP!
---
Indigo Dying with Jacquard's Indigo Tie Dye Kit

Oakland Store
Saturday, September 30, 2017, 1:00pm - 3:00pm
Come learn about one of the oldest dyes still used for coloring fabrics today! This distinctive blue dye, often used to color blue jeans, provides one of the most wondrous and rewarding dying experiences available to any dyer. Watch artist Annette Pierson demonstrate how easily Jacquard's Pre-Reduced Indigo mixes with water and makes setting up an indigo vat practically effortless. Learn a variety of dying techniques including indigo tie-dye and shibori dying.
Please sign-up for this free workshop.
---
Linocut Printmaking Workshop with Carmen McNall

Fort Mason Store
Saturday, October 7, 2017, 1:00pm - 4:00pm
Join printmaking artist Carmen McNall for a new workshop at the FLAX Fort Mason store. In this 3-hour workshop, students will explore the basics of linoleum block carving and learn the skills to create an original print from start to finish. She will take students through the block printing process from carving techniques using the different tools, transferring images to the block, and tips on inking. After learning these techniques, students will finally hand print their very own linoleum block!
*All materials provided
*Students will leave with their own hand-pulled print, a 4" x 6" carved block, a beginner's linoleum carving set, an ink roller, a small tube of black printmaking ink and a bamboo baron for hand printing.
*Please arrive with a simple 4" x 6" drawing of the image you would like to carve into your linoleum block or inspiration and ideas for your print. There will also be templates available if you don't have a planned image.
*No experience in art or printmaking is necessary. This class is great for those who have never tried printmaking and want to learn the basics, or those who might be rusty in their skills.
Please call the FLAX Fort Mason store at (415) 530-3510 for more information or to sign up for the class. Fees will be collected over the phone through Customer Service or in person at the store when you sign up. Seats are limited so please sign up early. Fees $80.00
---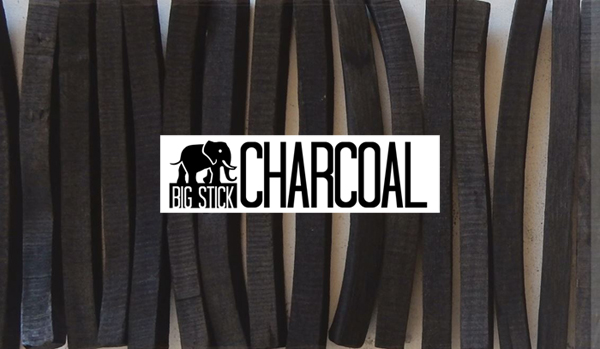 Big Stick Charcoal Workshop
Oakland Store
Saturday, October 7, 2017, 1:00pm - 3:00pm
Get your hands dirty at FLAX Oakland for the Big Charcoal Stick hands on Demo! Check out this new charcoal, with Zip Lehnus and local artist Robert Kelly, while they show you all the possibilities for this giant, premium small batch drawing charcoal, created by artists for artists. Bigger, bolder and blacker than Vine or Willow charcoal, big stick charcoal is not even the same as Compressed Charcoal. It is a brand new and unique charcoal made from alder wood that you must come and see!
Please sign-up for this FREE workshp!
---
Oakland Print Fair
Oakland Store
Saturday & Sunday, October 14 & 15, 2017, 11:00am - 5:00pm
The Oakland Print Fair is an outdoor multi-day FREE event, open to the public, that will showcase local and national print makers featuring Lithographs, Etchings, Monotypes, Woodcuts, Linocuts, Screen Prints, and Risographs. Festivities will include live printing, artist talks, music, food and so much more!
Apply online at oaklandprintfair.com
(Application deadline: Sept 15th)
---
More Upcoming 2017 Workshops!
Oakland Print Fair at FLAX - October 14-15, Oakland Store
Daniel Smith Watercolor Workshop - October 15, Fort Mason Store
Understanding Contemporary Oil Painting Materials - October 21, Oakland Store
Oakland Kids-Craft Day: Pumpkin Painting - October 28, Oakland Store
Oakland Semi-Annual Pen Faire & Sale at FLAX - November 18, Oakland Store
---
Past Workshops & Events
Water Soluble Oils vs Acryclics: Cobra & Amsterdam - September 16, 1pm - 3pm, Oakland Store
Gamblin's Understanding Contemporary Oil Painting Materials - September 16, 1pm - 3pm, Fort Mason Center Store
Daniel Smith Watercolor Workshop - September 9, 1pm - 3pm, Oakland Store
Big Stick Charcoal Demo - September 9, 1pm - 3pm, Fort Mason Store
Sennelier Abstract Acrylic & New Raymar Artfix Panels - September 2, 1pm - 3pm, Fort Mason Store
Charbonnel Printmaking Inks Workshop - August 26, 1pm - 3pm, Oakland Store
R&F Encaustics and Pigment Sticks -August 19, Oakland Store
Annual Kidsfest - July 29, Oakland Store
Speedball Gel Plate Workshop with Sharon Jue - July 22, Oakland Store
R&F Pigment Sticks - July 15, Fort Mason Center Store
Landscapes with Sennelier Pastels - July 15, Oakland Store
Sunde White Card Making & Collage - July 1, Oakland Store
Winsor & Newton Watercolor Lecture and Demo - June 17, Fort Mason Center Store
Reinventing the Color Wheel with John Muir Laws - May 30, Oakland Store
Bi-Annual Pen Faire - May 27, Oakland Store
Winsor & Newton Watercolor Lecture & Demo - May 20, Oakland Store
Speedball Mono Gelli Prints & Block Printing - May 13, Fort Mason Store
Jacquard Screen Printing Workshop - May 6, Fort Mason Store
Kids-Craft Day, Mother's Day Craft - May 6, Oakland Store
SF MUNI Art Project 2017 Kick Off Event - April 30, Fort Mason Store
Sennelier Acrylic Workshop - April 29, Oakland Store
Daniel Smith Watercolor Demo - April 29, Fort Mason Store
Strathmore Watercolor Postcard Demo - April 28, Oakland Store
FLAX Oakland 1 Year Anniversary Event - April 8, Oakland Store
Golden Water Media Classroom -

Lascaux Acrylics Demo - March 25, 2017, Fort Mason Store
Book Arts with Friends of Montclair Library - March 25, 2017, Oakland Store
Liquitex Lecture and Demo - March 18, 2017, Oakland Store
Crochet Jam with Remekon O'Arwisters - March 12, 2017, Oakland Store
Screen Printing with Jacquard - March 11, 2017, Oakland Store
Cobra Water Mixable Oils - March 4, 2017, Oakland Store
Golden A to Z Free Lecture - February 25, 2017, Oakland Store

Sennelier Pastels Demo - February 18, 2017, Oakland Store
We Paint: An Evening with Bobby Arte - February 11, 2017, Oakland Store
Daniel Smith Watercolor Demo - February 11, 2017, Oakland Store
Kids-Craft Day - February 10, 2017, Oakland Store; February 12, 2017, Fort Mason Center Store
Cobra Water Mixable Oils Painting Classroom - February 4, 2017, Fort Mason Center Store
Photo Transferring with Michelle - February 4, 2017, Oakland Store
Sennelier Pastels with Camille LaPointe-Lyons - January 21, 2017
Raphael Soft Aqua & Sennelier Watercolor Table Top Demo - December 17, 2016
Pixar Artists Mathew Luhn & Valerie LaPointe - Book Signing Event, Oakland Store - December 10, 2016
Marabu Products Demo, Oakland Store - December 7, 2016
Oakland Kids-Craft Day: Pinecone Critters, Oakland Store - December 3, 2016
Seth Golden on Everything Golden & Williamsburg, Oakland Store - November 20, 2016
FLAX Oakland Pen Faire & Sale, Oakland Store - November 19, 2016
Rembrandt Soft Pastels Demo, Oakland Store - November 12, 2016
FLAX Fort Mason One Year Anniversary Event, Fort Mason Store - November 5, 2016
1st Friday ARC Youth Fest Art Tour Community Event, Oakland Store - November 4, 2016
Jacquard Mixed Media Workshop with Rick Kitagawa, Oakland Store - October 29, 2016
Mixed Media Holiday Card Making with Raven Iacono, Fort Mason Store - October 29, 2016
Kids Halloween Event: Pumpkin Painting, Oakland & Fort Mason Store - October 22nd and 23rd, 2016
Michael Harding on Michael Harding Oils & Mediums, Oakland Store - October 20th, 2016
18th Annual Self As Super Hero Exhibit, presented by Attitudinal Healing Connection, Oakland Store - October 1st, 2016
Mixed Media Workshop: Holiday Card Making with Raven Iacono, Oakland Store - September 24th, 2016
The Art of Laurel Burch Coloring Book Event, Oakland Store - September 17th, 2016
Sennelier Mixed Media Workshop with Cindy Shih, Oakland Store - August 20th, 2016