Click here to view our full Calendar of Workshops & Events
---
Oakland Store
Saturday, May 27, 2017, 12:00pm - 3:00pm
This one-of-a-kind event is the best way to sample a variety of pens and find the one that is just right for you, and at a special price. Treat yourself and others to a great gift. Whether you are an enthusiast or a novice you will be sure to find the right pen at the right price.
20% Discount on ALL fine pens including special orders placed with our guest vendors
Click here for more info and a full list of featured vendors.
---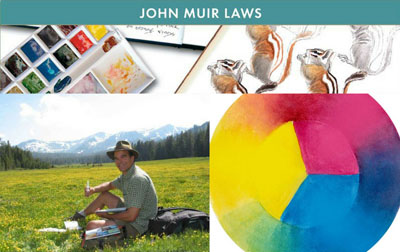 Reinventing the Wheel with John Muir Laws: Color Theory that Works!
Oakland Store
Tuesday, May 30, 2017, 4:00pm - 6:00pm
*This workshop is now full

, but you can still pick up a copy of John Muir Laws new book, The Laws Guide to NATURE DRAWING and JOURNALING, along with the accompanying SKETCHBOOK at our Oakland Store location!
John Muir Laws is a naturalist, educator and artist. He is the author of "The Laws Guide to Drawing Birds", "The Laws Guide to Nature Drawing and Journaling" and ''The Laws Sketchbook for Nature Journaling", and has a strong following here in the Bay Area.
---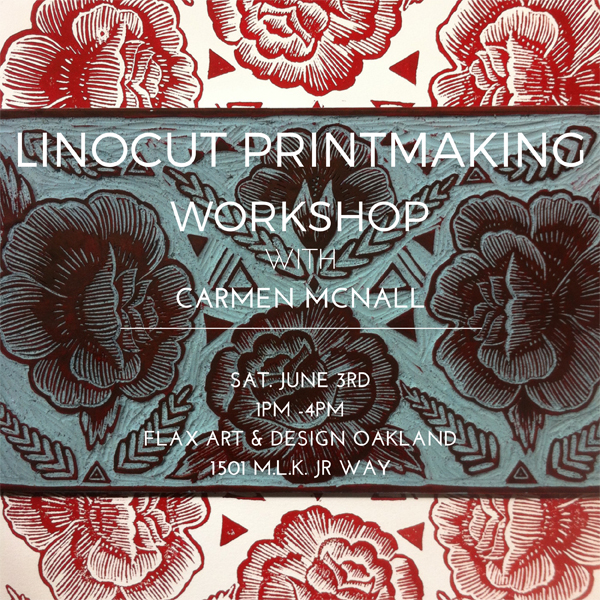 LINOCUT PRINTMAKING WORKSHOP
with Carmen McNall
Oakland Store
Saturday, June 3, 2017, 1:00pm - 4:00pm
We are pleased to announce, local Artist Carmen McNall, will be teaching a new block-printing class, here at FLAX! In this 3-hour workshop students will explore the basics of linoleum block carving and learn the skills to create an original print from start to finish. Carmen will take you through the block printing process, and teach the skills and give you the tools to confidently print on your own.
*All materials will be provided including a 4"x6" easy carve block, carving set, ink roller, small tube of black printmaking ink and a bamboo baron for hand printing.
*Please arrive with a simple 4"x6" drawing you would like to carve into your linoleum block or inspiration and ideas for your print. There will be templates available if you don't have a planned image.
*No experience in art or printmaking is necessary. This class is great for those who have never tried printmaking and want to learn the basics, or those who might be rusty in their skills.
Sign through our Workshops form above or call the store (510) 867-2324 for more information or to sign up for the class. Fees will be collected over the phone through Customer Service or in person at the store when you sign up.
Fees $80
Seats are limited so please sign up early (in-store or by phone or online)
---

Sunde White Card Making & Collage Workshop
Oakland Store
Saturday, July 1, 2017, 1:00pm - 3:00pm
You love her cards, now meet the artist!
Join us for this very exciting workshop with the popular and much loved local artist, Sunde White. By using stencils made herself and by passing on tons of art tips and techniques, Sunde will help you create your own works of art and more importantly, she hopes to inspire you to create your own artwork in the future.

Sign-up now for this free, family friendly worksop!
---
More Upcoming 2017 Workshops!
Open Studios at FLAX Oakland - Sat, June 10, 11am - Sunday, June 11, 6pm, Oakland Store
Kids-Craft Day - Saturday, June 10, 11am - 1pm, Oakland Store
Winsor & Newton Watercolor Lecture and Demo - Saturday, June 17, 1pm - 3pm, Fort Mason Store
---
Past Workshops & Events