Posted by Flax on 10th Mar 2011
Date of event: January 21, 2012, 1:00 pm – 4:00 pm

We are pleased to welcome Chiyo back for her third visit as a Live Artist. Come see the artist behind our second artist signature series T-shirt, now on sale!
Artist's Statement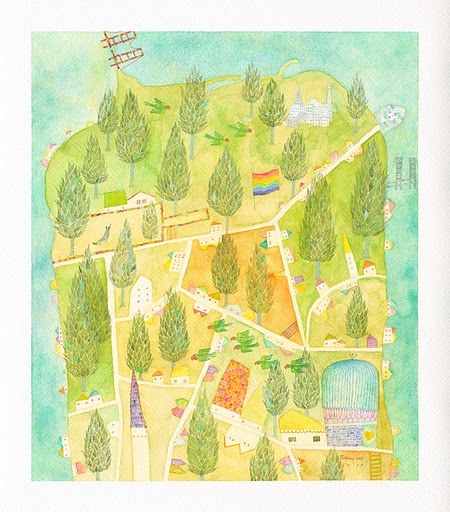 Artist may have freedom, but they may not. They can create their art by struggling for their freedom. I wish I had wings and were free from the burden of my flesh, and I am wondering what the world look like if I could see from beyond space and time. But the reality is that we are not free from gravity and we can not overcome space and time in the blink of an eye.
I've been looking for images of landscape in which there is a mixture of memories of where I used to be, an awareness of where I am now, and longing for where I want to be.
I cherish and grow these seeds of images of landscape which are not yet visible. It's like a line of poem, a fragment of story, an unfinished song. Then I try to make it visible to share with you. I hope my works will be clues to weave your own story which is mixture of your memories and imagination.
アーティストは自由なようでいて、そうとは限らない。自由でありたいと望み、もがく過程で作品が生まれる。羽があったら、と思っていた。生身の肉体から解放
され、時間、空間を超えた自在な視点から世界を眺めたらどんな風にみえるのだろうか、と。現実には重力から自由になることはできないし、瞬時に時間や空間を飛び越えることもできない。
探し続けてきた風景は、居たことのある場所の記憶と、今居る場所、そして見たことのない場所への憧れが織りまざったものだ。
私の中にある未だ眼に見えないこの風景の種子を、大切にあたため、はぐくむ。それはそのままでは詩の一片であり、物語の断片、あるいは未完の唄のようなものだ。やがて人々と分かち合えるような形―眼に見える作品―に作り上げる。絵を見る人々がそれぞれの記憶と想像力を呼び覚まし、自分だけの物語を織り上げる手助けになることを祈りつつ。
Chiyo's previous visits to Flax: 3/5/2011 and 6/25/2011.