Posted by Ellen Reilly on 16th Nov 2015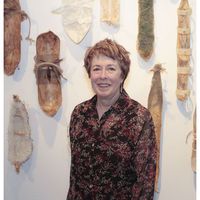 FLAX interviews artist Jennifer Ewing
Jennifer Ewing is an artist who works in multiple mediums—drawing, painting, printmaking, sculpture and more. She has been working within a "spirit boat" theme since 2004—a theme that presents the boat as an archetypal symbol of passage. Her spirit boat artworks have evolved collectively in depth, through time and different media.
In addition to art making, Jennifer teaches workshops. Her work has been widely exhibited, including a current show in the China Brotsky Gallery and the artist-in-residence program at the de Young Museum in 2011. She shares a studio with her husband, also an artist, at Developing Environments, a residential artist community that's been around since the mid-1970s.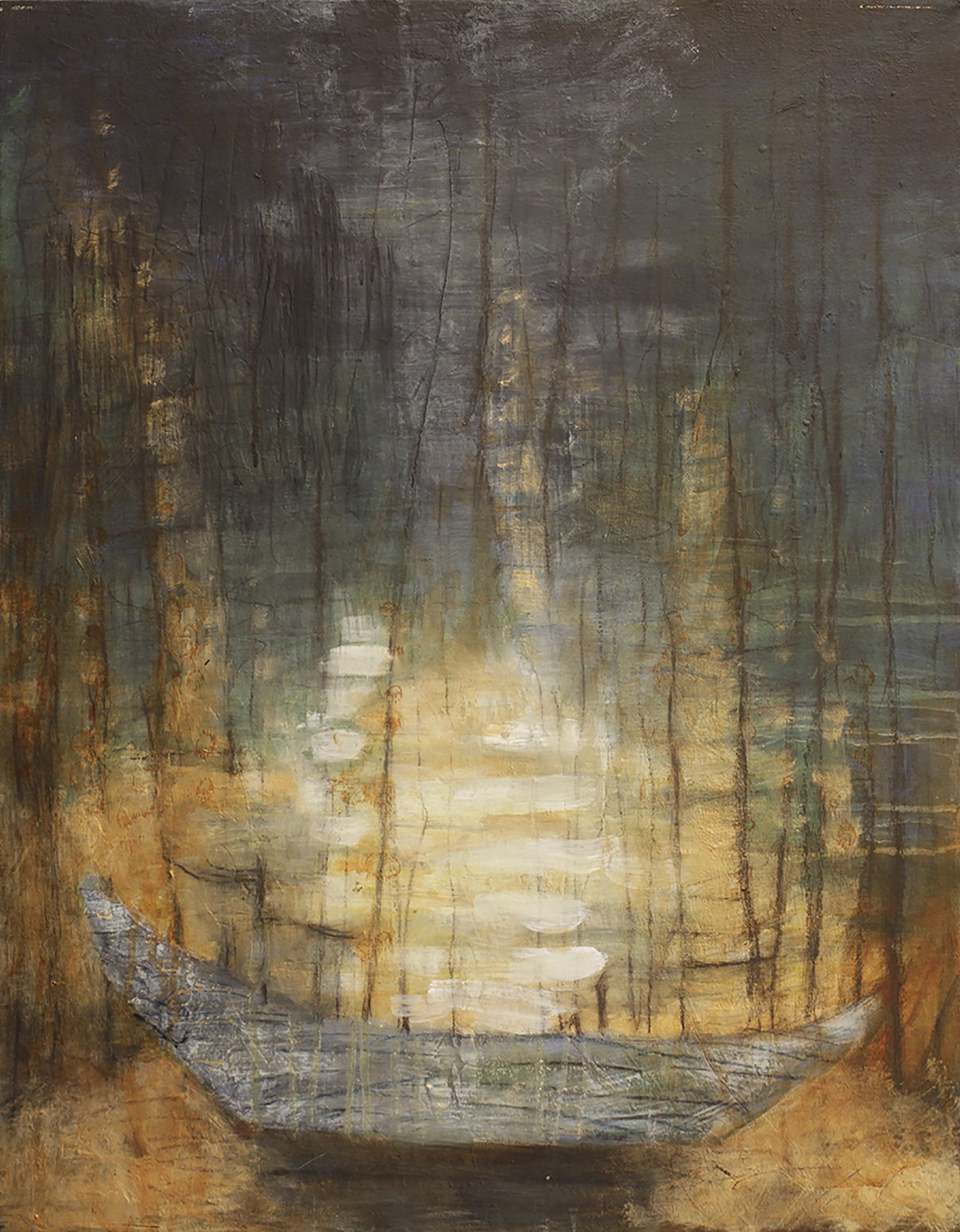 Tell us about your very personal inspiration to begin the spirit boat work.
The Sprit Boat is a way to access the unseen world and supports me on my journey. My father and I were very close and when he died unexpectedly, I needed a way through the grief. In one of my first drumming journeys I did with my spiritual teacher, Tereza Iniguez-Flores, a large wooden boat came to me. That image lingered for me to integrate it into this art that is dedicated to my father and my ancestors who have helped me all along the way. The "Spirit Boat" became the symbol of passage and transformation into a new way to approach my art practice from a very introspective place. Before this time, I was painting Italian Hilltowns that I now call my externally driven work.
How has that series of work evolved?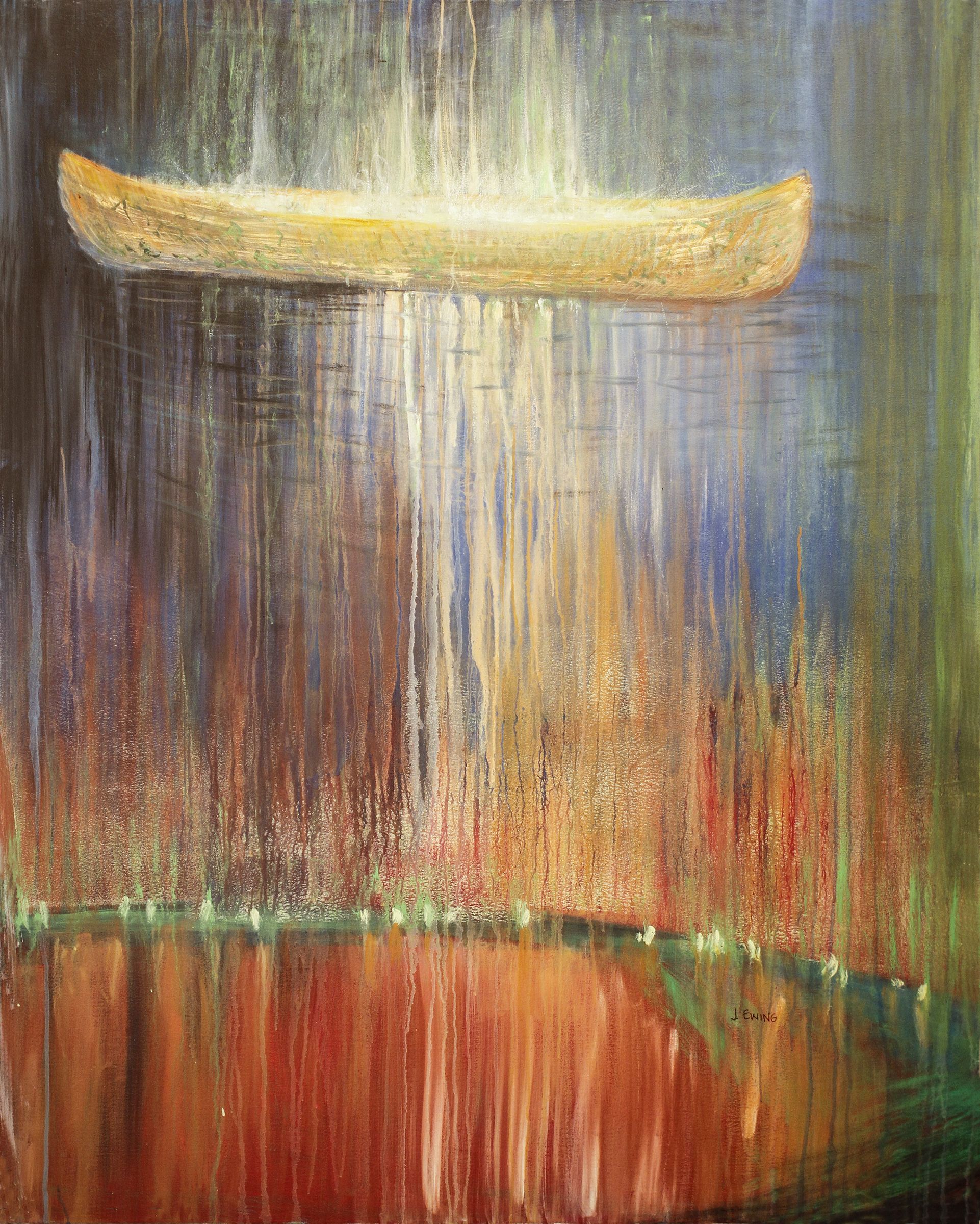 It began as collage paintings that incorporated my father's notes in a layering process. They are named "Spirit Boats" because I felt I was keeping his spirit alive by letting his quirky lettering show through the paint. After Hurricane Katrina in 2005, I was moved by how little rowboats or canoes could save people's lives. The concept of a lifeboat came into the work and I transitioned from collage to very expressionistic painting.
In 2009, I found a way to make little boats very simply by using recycled water bottles as the base that I covered with tracing paper stained with liquid coffee that created a very natural looking skin. It is important that the boats are lightweight so hanging them is easy and that they are translucent to show off the patterns of the paper. The big breakthrough was in 2011 when I shared this process with others as the interactive project for my artist residency at the de Young. The boats are invitations for others to have support on their own life journey.
It's really interesting to see how the spirit boat theme translates across the different mediums that you work in. Can you tell us about that process?
The paintings, drawings and prints are about spatial relationships where I can move the background around the boat backwards or forwards. My painting technique is all about levels and I often draw in chalk on top of acrylic and/or latex. The sculptural boats are more about the physicality and personality of each. People often say that they see them as being Japanese, or Scandinavian, or Inuit. What is exciting to me is that they are universal and can be related to any culture.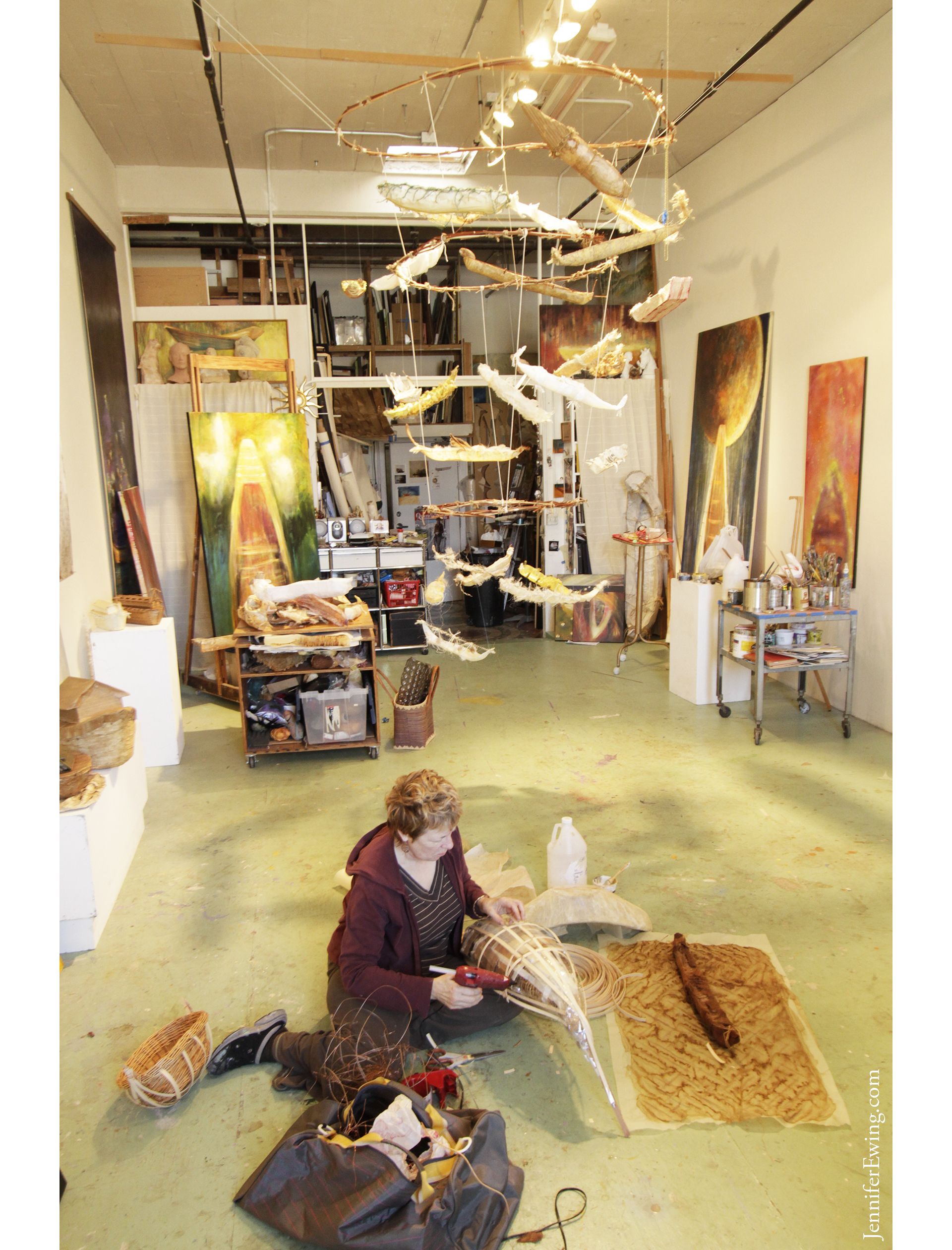 What materials are you using to create the sculptural boats?
If you cut the top and bottom off a plastic bottle, and you cut the main body in half, and attach those pieces with the narrow ends out, you have a very basic boat. My favorite bottles are water, juice or milk bottles but sometimes I use baskets, or twigs or even cast the form off of a palm pod using thin paper and gel medium. The latter makes a great kayak. Baskets make wonderful arks, sticks form flat boats that look more like large drawings, and I am starting to do paper castings off of palm pods that look like kayaks.
Most of the plastic boats are then covered with the tracing paper so that there is no plastic showing. In the Inuit tradition, they use skin stretched over a simple wood frame. That was the genesis of the way I finish the body of the boat. Then I will pierce the shell and attach string, wire, feathers, or other things that can hang down or point up. Many times I criss-cross the edges because I like the way I can create a linear story on the body. Very few are painted but that is a direction I am exploring. Up to now, my tendency is to go natural.
You just finished an open studio weekend with an interactive project in your studio. Tell us about the project and how the open studio went.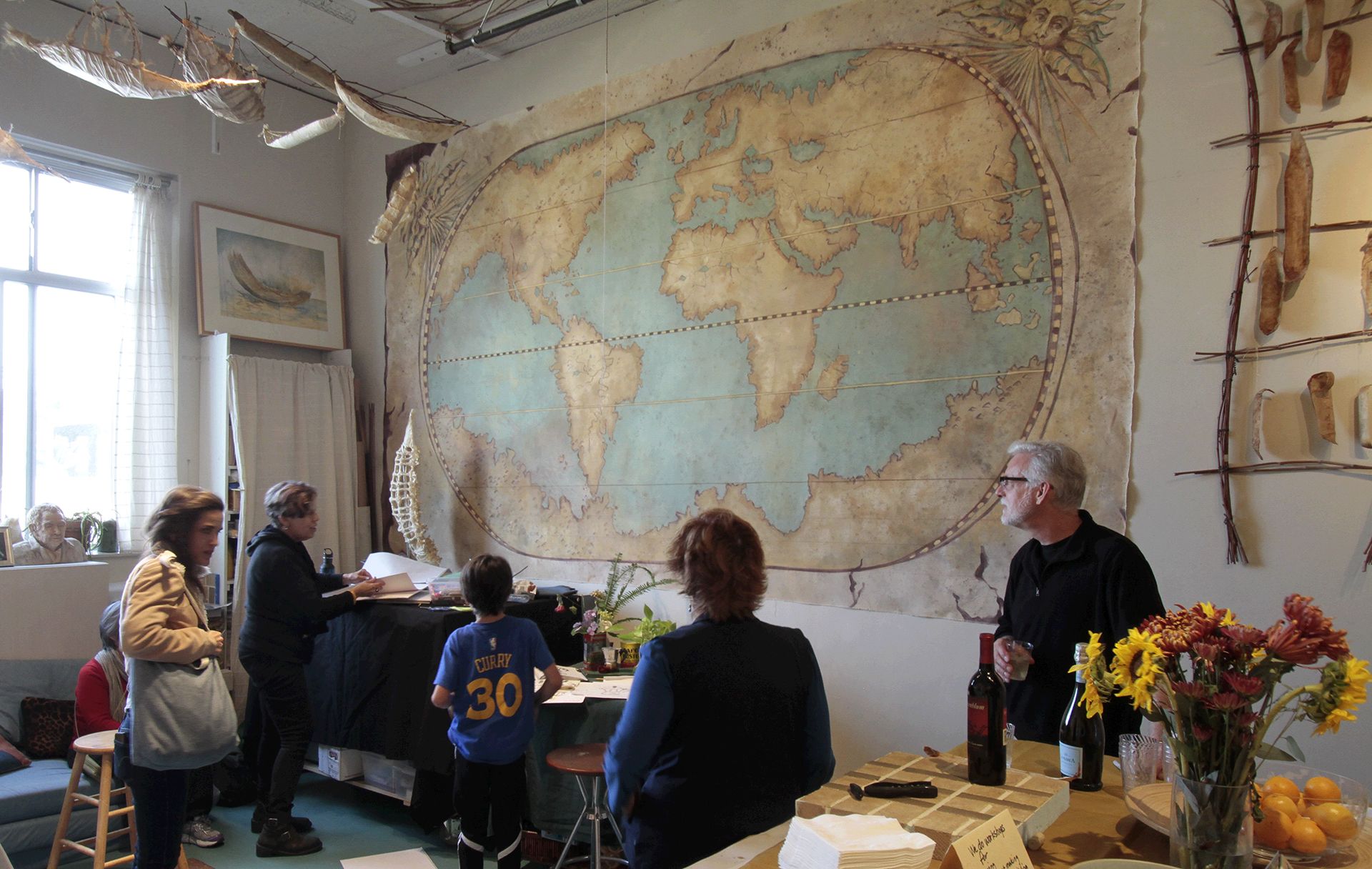 Yes I did finish the event in good shape. Our building counts the visitors and we had about 500 total for the weekend but not all of those made it up to 3rd floor. There were very few kids this time around so only about 4 kids stopped to sketch. But those that did were very excited. We kept it simple with pencils, crayons and a still life set up that they did not need at all. They were young so they just let loose with their marks and imaginations.
Even if people do not take advantage of this opportunity, I feel it adds value and feels good to have something they could try if they chose to. I plan to do this again next fall if I have my friend help me with the station.
About OS in general, I was happy to engage with many people about the concept of a Spirit Boat. Last year, I had a station where people could write their responses to the question- "What is a Spirit Boat?" and I got about 40 cards with a great variety of answers.
What other exhibits and new projects do you have in the works?
I am talking with Anne Brodzky of Meridan Gallery to see what is possible there. Because my new installation work is more about the environment, I am looking for venues that have large spaces that can be filled with an 18' ark made of paper bag handles or my 21' mural of alternative sea sides.
And I traditionally do the spring Mission Artists United Open Studios.
In the new year, I will once again hold monthly workshops in my studio where people can come and enjoy making their own boat in a small supportive group. Because I am an entrepreneur and the boat is a versatile tool, I am promoting my boats for team building within companies. The boats help me create and tell stories. They are my voice in the world and I see them going out into many new places.
You're a Flax customer; what do you like about Flax?
Flax has a lot of personality and wonderful space. It is not so crowded as other stores that feel more generic and overwhelming. At Flax, it is more about the human scale and it is fun to go there. Each section is designed so that products are presented in their best light. It is easy to find the right sketchbooks for they are arranged nicely. I especially love the pen department where you can find help on such things as maintaining old fountain pens and learn from experts about various qualities of inks. It is like a dream to go into the paper section that has such beautiful displays and get lost in the possibilities.
-------------------------------------------------------------------
*Developing Environments, 540 Alabama St., Studio 307