Posted by Flax on 19th Apr 2012
Date of event: May 5, 2012, 1:00 pm – 4:00 pm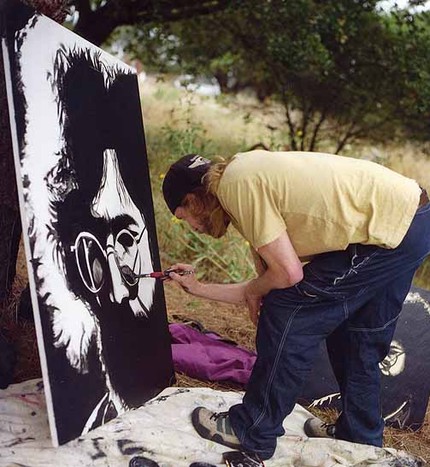 Paint, Plywood and Rock and Roll.
Music is his muse and you will most likely find Jesse live painting on stage while a band is jamming. Jesse has painted on stage or adjacent to it over 600 times. The artist considers his style a blend of folk and modern art, preferring to paint with and on found objects, such as re-purposed plywood, salvaged doors, found paint and older brushes. When asked about his work environment, Jesse believes his best inspiration comes from the loud music he plays while painting and describes a chaotic scene with the absence of smooth surfaces that have been gesso'd to perfection. Jesse tends to work quickly, usually finishing more than one painting a day.





Originally from Greenfield, MA , Jesse began painting 12 years ago after a serious wrestling injury. His early art background and first Indie art business was creating comic books as a child, moving into portraiture as an adult. He has been in San Francisco for the last 6 years.
Jesse will be creating his work while jamming to his music for the first 40 minutes and then be available for any questions or comments for 20 minutes of each hour. Jessie is a member of Mission Artists United and you may view more of his work here.