Posted by Carolyn Mendle-Smith on 2nd Nov 2016
To commemorate the Grand Opening of our new FLAX flagship store in Oakland, we invited live artists Dustin Derego and Jared Roses to create a piece of art. We are happy to announce that Dustin and Jared will be back at FLAX this Sunday, November 6th to finish what they started!
Dustin and Jared are both artists who live and work in the Bay Area and have collaborated on projects together in the past. Their brightly colored canvas set against the sunny entrance of our building during the grand opening ceremony, became a featured image used in the coverage of the event. Artistic community and collaboration was the theme of the day, as Oakland's Mayor, Libby Schaaf drove up in a flaming snail car, cutting through a titanium rod amidst flames and sparks with the help of students from the Crucible for our ribbon cutting ceremony. The excitement and energy of the day perfectly exemplified our feelings about our new Oakland store location, in the heart of a vibrant arts community.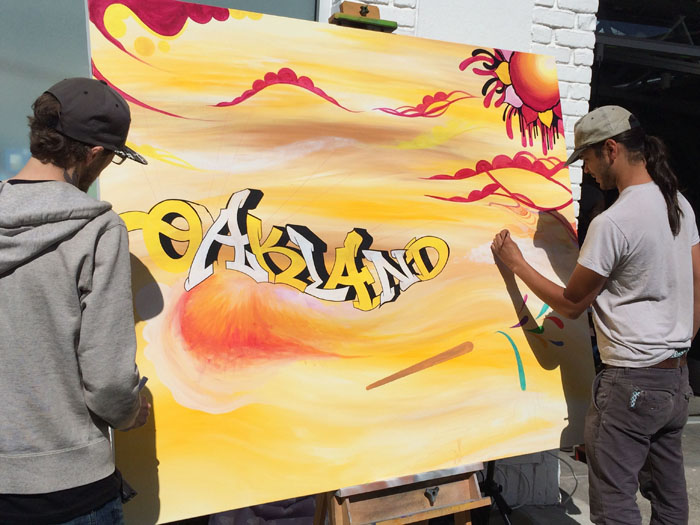 FLAX has a long established in-store Live Artist program. From art students to established professionals, we welcome artists to think of our store as an extension of their studio. This allows us to support artists through gained exposure for their work while creating a great energy and inspiration for our customers in the store.
Stop by FLAX in downtown Oakland on Sunday between 1pm and 3pm to see two exciting young artists, Dustin Derego and Jared Roses at work!
Learn more about our Live Artists Program here.
View more of Jared Roses work on his website www.jaredroses.com
To see more of Dustin Derego's art and to contact him about booking Live Art, Music and Entertainment, visit his facebook page www.facebook.com/dreamteamnightlife