No! Not all inks will work in a fountain pen because.....
Fountain pen friendly inks: water-based inks that get their color from DYES (with some exceptions for certain micropigmented inks).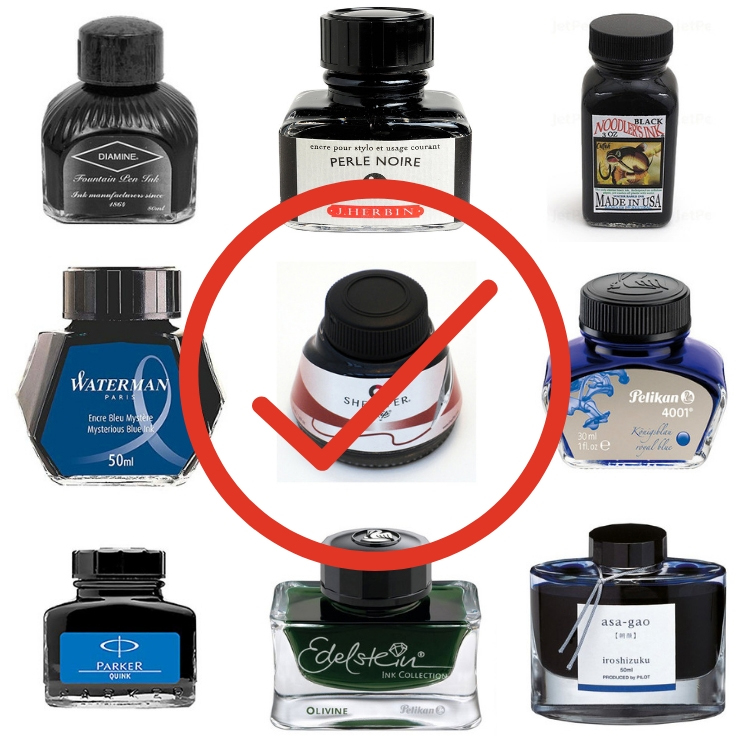 At FLAX, we carry a variety of fountain pen friendly ink brands, including Waterman, Pelikan (both the 4001 and Edelstein collections), LAMY, Parker, Sheaffer, Sailor, Noodler's Ink, J. Herbin, Diamine, and Pilot Iroshizuku. The inks pictured here include (left to right, tope to bottom): Diamine, J. Herbin's Perle Noire, Noodler's Ink Catflish/Bulletproof Black, Waterman Mysterious Blue, Sheaffer Brown, Pelikan 4001 Royal Blue, Parker Quink Blue, Pelikan Edelstein Olivine, and Pilot Iroshizuku Asa-gao ("morning glory blue").
A few exceptions: Now let's talk about the micropigmented and shimmering exceptions. We carry Noodler's Ink 1 oz. pigmented inks, but Noodler's Ink isn't the only brand to release a pigment-based fountain pen ink. These inks are usually water-resistant, if not waterproof, fairly fast-drying, and more colorfast than their dye-based counterparts. They are made with different solvents, which can cause them to dry out in a pen faster than regular fountain pen friendly ink, but the benefits often out weigh these drawbacks for fountain pen enthusiasts.
Noodlers Pigmented Inks: in Fox Red, La Reine Mauve, and Luxury Blue. Perfect for your archival needs!
Shimmering or sparkling inks are dye-based fountain pen inks with shimmer particulates. They create a beautiful glittery or metallic effect, depending on your pen's nib size, paper, and brand of shimmering ink. As you can imagine, the larger particle size causes these inks to be harder to use than your average fountain pen friendly ink. Shimmering inks are much more likely to clog a pen, rathe shimmer is notoriously hard to completely clean from a pen. Because of this, we recommend these inks with some reservations. To use a shimmering ink means having to make peace with lingering shimmer, needing to clean your pen more often than usual, and making sure you shake the bottle before filling any pen. If this sounds like too much work, but you want a shimmering effect, there are always dip pens!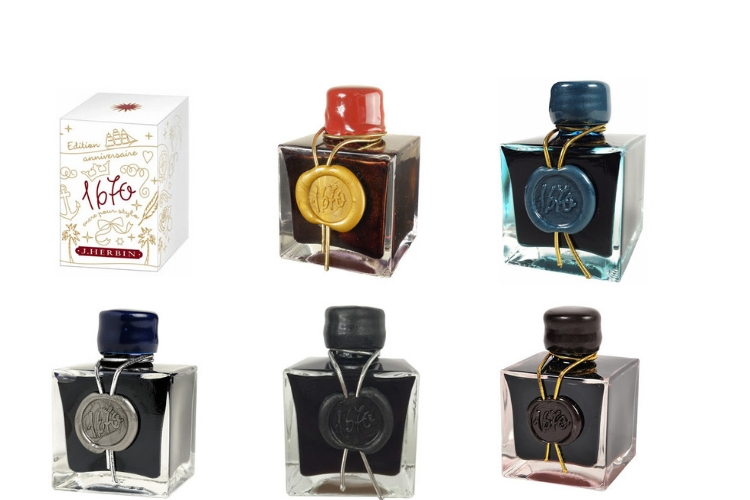 J.Herbin: Shimmering inks have become popular over the last few years, with one of the first being the J. Herbin 1670 Anniversary Edition inks. Starting with Stormy Grey, and adding more and more over the following seasons, we now carry Rouge Hematite, Emerald de Chivor, Bleu Ocean, and Carobe de Chypre in attition to the original Stormy Grey.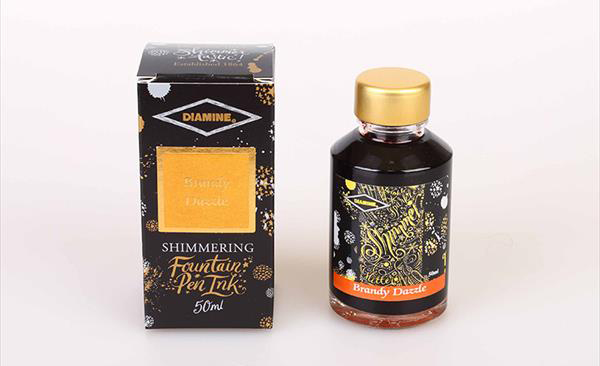 Diamine Shimertastic Fountain Pen Ink: is the other shimmering ink that FLAX stocks. It has a slightly finer shimmer particle size than the J. Herbin, giving a slightly more metallic effect. Currently, we carry Blue Lightening, Blue Pearl, Brandy Dazzle (pictured), Golden Sands, Magical Forest, Night Sky, Purple Pizazz, Red Lustre, Shimmering Seas, and Sparkling Shadows.
Fountain pen UNFREINDLY INKS: any acrylic, india or traditional pigment ink (like walnut or lamp black), liquid watercolors