Improve your art • improve your memory • improve your mood • improve your mind!
Unhappy with your sketches? Smash that negativity! Make your sketches more effective, and make sketching work for you.
Join us for Zen and the Art of Urban Sketching, a new class offered at our Fort Mason store!
Classes will resume in 2019!
ABOUT THE CLASS: This class is about getting outdoors and putting pen to paper. With a hand-picked set of tools and some simple, practical techniques, we'll set out to sketch in a location rich with subjects, like Alcatraz and the Golden Gate Bridge. Sketching is fun—if you do it right. And it's good for you.
In Zen and the Art of Urban Sketching, you will:
• Learn how sketching is linked to brain plasticity.
• Learn how to use sketching to enhance your memory, perception and mood.
• Learn how to make art a daily habit you look forward to!
---
ABOUT THE INSTRUCTOR: Zip Lehnus is a San Francisco artist and science writer. He carries a sketchbook everywhere, and won't shut up about it.
---
LOGISTICS
LOCATION: The meeting location for this class is at the FLAX Fort Mason store, located at 2 Marina Blvd, Landmark Building D in Fort Mason Center between Crissy Field and Fisherman's Warf on the waterfront.
Fort Mason Center
2 Marina Blvd, Bldg D
San Francisco, CA 94123
415-530-3510
Public Transit: We are an 8 minute walk off the MUNI 30 Stockton line.
Driving: Expansive parking lot!
Please arrive 15 minutes early to pick up all your materials and meet your instructor!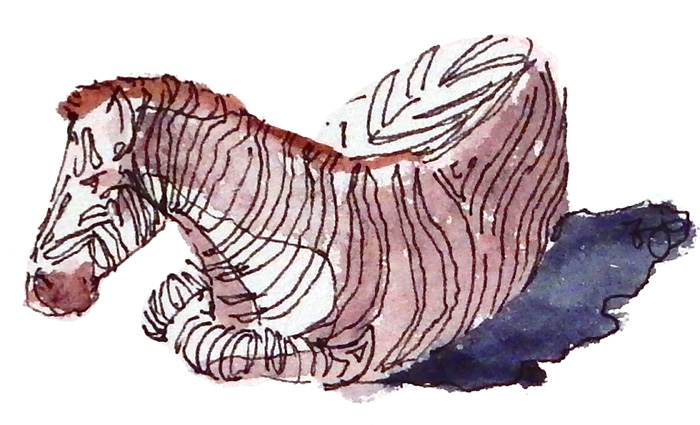 COST: $55.00
The class fee includes a complete urban sketching kit which is yours to keep after the class!
DATE/TIME:
All classes are from 12pm - 3pm
Returning in 2019!
REGISTRATION: To sign-up online, click on the link on the right or scroll to the bottom of the page. You may also sign-up for this class in-person at the the FLAX Fort Mason store, or by calling 415-530-2324.
Fees will be collected before the beginning of the class. Please arrive 10-15 minutes early to pick up your materials and meet you instructor.
---
MATERIALS
Included in the class fee is an urban sketching kit which contains everything you need for this class. These kits were designed so that you can take them home and continue your urban sketching practice on your own. One of the biggest takeaways we hope you get from this class, is to learn to make art a daily habit you look forward to!
The perfect portable watercolor set, complete with a refillable water brush to transport and store water while on the road. This lightweight affordable kit fits into a shirt or jacket pocket and is a favorite among many urban landscape sketchers.
Contains:
• 12 half pan watercolor paints, formulated to blend easily.
• 1 Koi Water Brush with 4ml reservoir barrel handle and detachable medium brush tip.
• 1 dabbing sponge
• divided snap lid cover serves as a palette
---
This versatile sketchbook contains a medium weight, all-purpose paper for a variety of dry and light, wet media sketching you will be exploring in this class. The pages are perforated and easy to tear out. The backing is made from a sturdy chipboard. Tear off the top sheet to reveal a mixed media cover that can be customized with your own artwork!
5.5" x 8.5", 70 sheets
---
Fudenosuke pens feature a flexible brush tip for different lettering and drawing techniques. Create extra-fine, fine or medium strokes by a change in brush pressure. The work great for both lettering and drawing.
This set contains one soft and one hard tip Fudenosuke Brush Pen.
---
A cult favorite, these pens produce thick vibrant lines of opaque white pigmented ink needed for highlights and corrections.
Color: Coconut White
---
Palomino Blackwing Pencil, soft
The legend of Blackwing exceeds the reputation of any other pencil, and for good reason! The pencils are made from California incense cedar. Their cores are made in Japan to a formulation that is smoother and softer than most pencil leads, yet still allows them to keep a good point. Their erasers are refillable, and can be extended as they wear down. If you're not already hooked on Blackwing pencils... you will be soon!
The full line of Blackwing pencils are available in both of our stores.
---
Sometimes called the "much kneaded" eraser, the Factis Eraser is ideal for erasing a variety of mediums, from charcoal to pastel on fine papers including watercolor and vellum, without smudging or smearing. It is one of the softest art erasers made.
---
No urban sketching kit is complete without a good pencil sharpener. This wedge-shaped magnesium-alloy sharpener features dynamic torsion action tempered steel blades.
---