Gift Certificates
Two options:
1) eGift Certificate (Online use) - Send an eGift Certificate directly to your recipient by email. May be redeemed Online only.
2) Gift Card (In-Store use) - Send a traditional physical Gift Card through the mail or send a digital card by email. May be redeemed In-Store only.
1) FLAX eGift Certificate (for Online purchases only)
This eGift Certificate will be sent by email to the recipient immediately after you complete your purchase and then may be redeemed only online at flaxart.com.

Complete the form below.
2) FLAX Gift Card (for In-Store purchases only)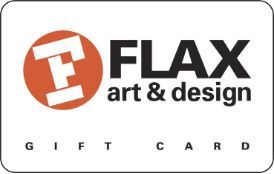 To buy a Gift Card to be mailed or emailed to the recipient that may be redeemed only in our retail stores, Click Here (You will be directed to a different website. Service fees will apply.)
To Check the Balance on an existing card, please call us at 510-867-2324 (Mon- Sat, 10:00am - 6pm: Sunday 10am - 6pm).
---