To become a successful artist, whether your business is fine or commercial art, you must have a great portfolio that presents your work in the best way possible. We want to help you find the style of portfolio that best suits your wants and needs. Here are some important things to consider:
Style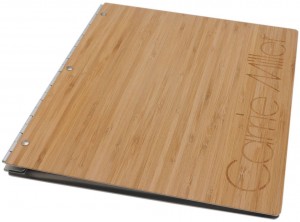 Your portfolio should speak to your overall vision as well as complimenting your work, without taking away attention from the art itself. While it is possible to be the artist or applicant with the brightest or boldest looking portfolio, the main attraction should be what's inside. Black is always a classic (and performs as a neutral next to the work), but if you do branch out make sure it works with the overall feel. Most importantly, the look of your portfolio should state that you are competent, skilled and professional.
Different applications may require different styles. Make sure you check to see what they are looking for. Student portfolios might need to be a particular size and shape for applying to or finishing from school. Commercial art portfolios may need to be customized to the particular business and often times are free to be more adventurous looking. Do you design clean, modern buildings? You may be able to match your cover to that aesthetic. Perhaps an industrial-looking portfolio is nice, but it may not be the best choice for organic watercolors. Maybe a bamboo or cloth cover makes more sense.
Customizing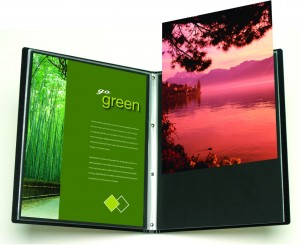 Think about how you want to present the work. Are you showing reproductions or actual work? Do you want them to hold a book that is sized for easy viewing? Will you mount your work on board and pull them out of a presentation box and place them on a table? Do plastic pages obscure your work or is the extra protection needed because many people will be handling it? Will you make your own pages our use commercially available pages? Is it a book that will be sent through the mail, left behind with clients or will you carry it with you at all times? Do you need to add a CD or DVD? Do you want your name or logo imprinted on the cover? Or do you just need a book for storage and organization purposes? Perhaps you will need more than one portfolio for different circumstances. We have products for all of your questions. Just let us know the look you are going for, and we'll help you to realize your design.
Art Selection
Sometimes critiquing your own work is harder than you think. Editing is key! Most galleries or employers want to see your best work, not everything you have ever made. It may be helpful to select someone whom you respect to help you choose your strongest artwork. You should be showing only finished art and it should easily fit into what is called your "body of work." This means that the work has continuity and may share a similar theme or look. Also consider how many pieces you want to feature. Many schools and galleries ask for no more than twenty images, sometimes as few as ten and this work must all be from your aforementioned body of work. You don't want to have a lot of extra empty pages so make sure you choose a book where you can edit the number of total pages if you need this feature. Sometimes advertising or design portfolios can stray from this idea because you want to show the gamut of what you can do. Still only select a few pieces best featuring your skills and creativity. You can always have backup images if they want to see more.
Presentation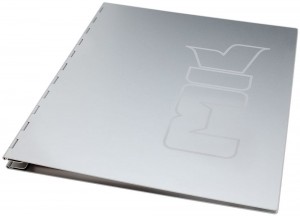 Becoming a successful professional artist takes more than good art; it takes a commitment to presenting yourself in the best way possible. You have to be able to market yourself and show why YOU deserve the job or grant. You may want to practice presenting your work using your portfolio and get comfortable talking about your work. Putting your best foot forward with a little luck, some good timing and of course your extraordinary talent, will put you in a better position for the job of your dreams. We are the premier Pina Zangaro dealer in town and do special and custom orders to accommodate your deadlines, as well as offering other great options like Itoya, Florence and Lineco. Flax art & design is a one-stop shop for your presentation needs so come on in and chat with one of our Presentation team members. We can show you what the market has to offer and give suggestions for success!