Welcome! Here we highlight items, mostly new, to bring to your attention our in-store offerings. From unique gifts to the latest releases of new artist materials, scroll this page to entice yourself, and come visit our stores!
---
J. HERBIN "1670" Inks Collection
The 1670 Collection celebrates the rich life and adventures of J. Herbin, an enterprising French sailor of the mid-17th century. He made a number of voyages to India, collecting ingredients and formulas for his sealing wax and inks. He began making pen inks in his Paris workshop beginning in 1700 with the "Ink of Ships" and the "Jewel of Inks." Today, Herbin inks are widely used and internationally renown.
Available in Stormy Grey, Rouge Hematite and Deep Blue: 50ml Bottles - $26.00 each - Oakland store location
---
---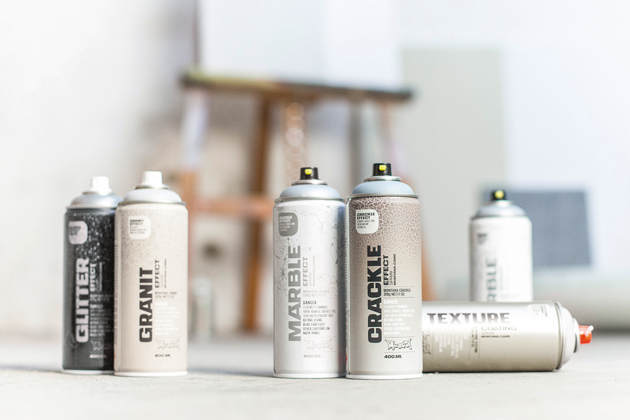 Montana Effect Sprays
New Montana EFFECT sprays add a whole new dimension to being creative. Six new effect cans have been introduced to enable an even wider array of effects and surfaces to be possible. The EFFECT series features the Montana GLITTER effect, MARBLE effect, GRANIT effect, CRACKLE effect, TEXTURE effect and NIGHTGLOW effect sprays. From the futuristic optically illusive GLITTER spray, with it's enchanting galactic sparkle, to the historically distressed look of the CRACKLE spray, the Montana EFFECT series is ideal for indoor or outdoor creative work and is to use in conjunction with the Montana GOLD and Montana ACRYLIC marker product ranges. Every surface can be transformed into a whole new visual landscape. With further EFFECT products being developed, this series is destined to please. Check out these how-to videos from Montana...
-Assorted Effect Cans - $10.75 - $19.95
---
DecoArt Matte Metallics
Add a matte metallic sheen to craft projects with DecoArt Matte Metallics. Offered in 14 metallic and jewel-tone colors, they have excellent adhesion and a rich, smooth coverage on most surfaces.
For best results, apply 2 coats allowing 2-3 hours dry time and finely sanding between coats. This paint cleans up with soap and water and is intended for both indoor and outdoor use, no primer or sealer needed.
Available in our Oakland store location in 8oz jars
- $9.98 each
---
Montana UV Effects Spray Paint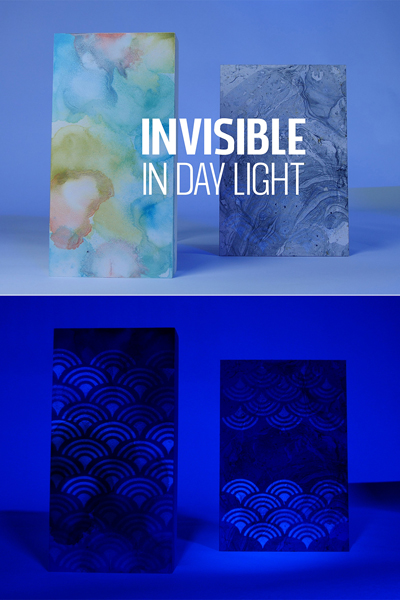 Montana UV-EFFECT is a transparent effect paint that is only visible under direct UV light. Able to be sprayed on nearly any surface including coated and uncoated screens, masonry, wood, glass and more, this colorless and semi-gloss paint it illuminates when exposed to UV light with a glowing, blue-purple color. The UV light effect becomes more prevalent the more coats are applied particularly when applied with a stencil.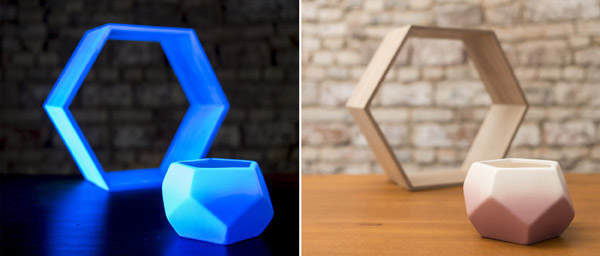 To add durability and protection, the fully dry and cured surface can be sealed with Montana VARNISH Spray in Matt, Semi-Gloss or Gloss. The UV EFFECT spray is compatible with other color and effect coatings within the MONTANA CANS range as long as total curing time has occurred. (24-48 hours).
Available in the usual 400ml can format for easy and comfortable use.
- 400ml can $10.75 each
---
Canson Héritage
L'Aquarelle Canson Héritage is the quintessence of almost 500 years of know-how associated with all the latest technological advances in papermaking:
- Distinctive, strong and absorbent; 100% cotton sheets
- Mould-made for a sensual texture and strength
- An innovative non-animal sizing ensures uniform washes without accumulation of pigments. Colors are bright and vivid. Allows for ultra sharp brush strokes without smudges
- Easy to correct whether wet or dry
- An optimized working time: The paper remains at peak saturation longer giving the artist ample time to work larger areas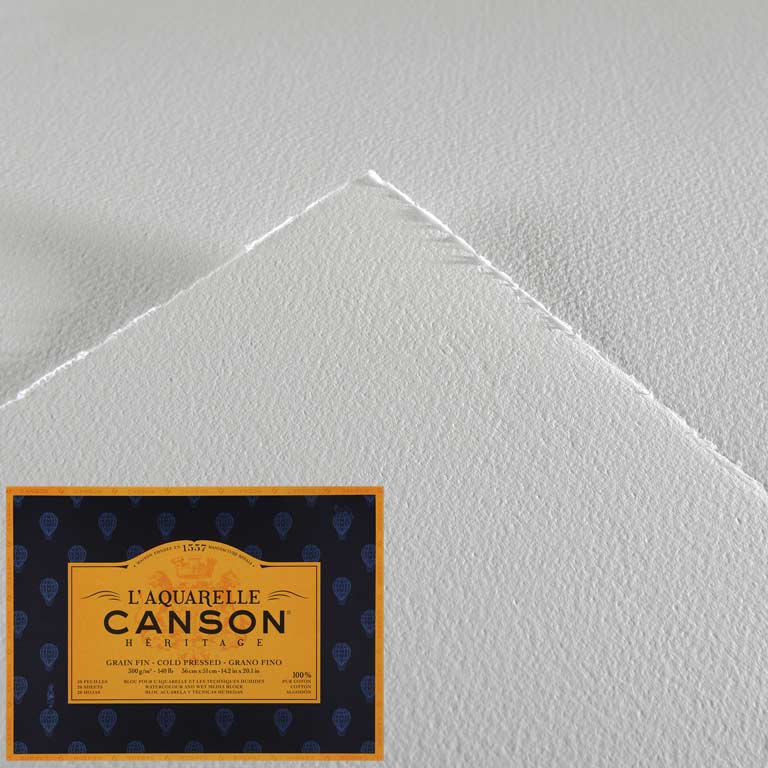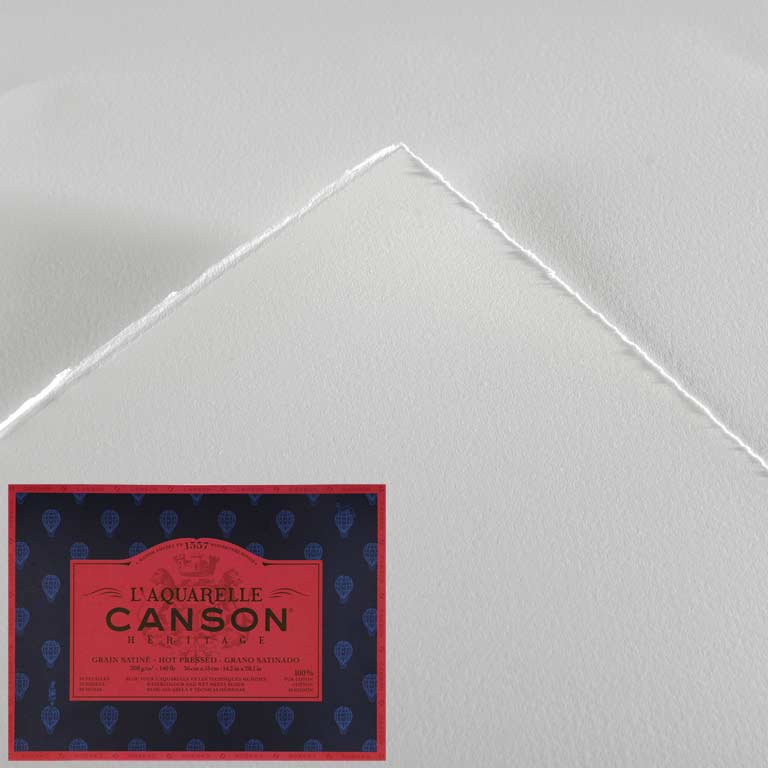 Available at our Oakland location.
- Blocks list $53.00 - $95.00 SALE $31.80 - $57.00
- Sheets list $12.00 - $27.50 SALE $7.20 - $16.50
---
Etchr Art Satchel
The Etchr Art Satchel is the ultimate art bag. Designed for artists on the go, the satchel makes it easy to transport your art materials, and create art in any location, whenever inspiration hits. Its modular design holds and organizes a diverse range of art supplies while also serving as a workstation for both digital or physical media art. It can be used standing or sitting down with no need for a table or other work surface. Everything is in the bag! The Art Satchel will connect to any photography tripod. It is designed with durable, waterproof material and will keep your materials safe wherever you venture.
Stop by our Fort Mason location to try out the Art Satchel for yourself.
- Art Satchel: $279.00
- Slate Satchel: $159.00
- Field Case: $79.00
---
NEW Blackwing Volume 1001
Blackwing pencils boast the best combination of graphite and wood in the world. Each pencil is made with premium Japanese graphite crafted with clay for strength and wax for smoothness. The graphite is encased in genuine incense-cedar wood from California. Blackwing releases four limited edition pencils per year. The design of each pencil honors and celebrates cultural icons and events.
The Puzzle Pencil, Blackwing Volume 1001, pays tribute to Tetsuya Miyamoto, educator and inventor of the KenKen Puzzle. Sensei Miyamoto describes his method as "The Art of Teaching without Teaching". Today, the KenKen puzzle is the only puzzle printed daily alongside the New York Times Crossword. Puzzles like these inspire us to apply problem solving and logic in creative ways, letting our minds perform a beautiful dance between their left and right hemispheres.
- Sold by the box, Box of 12: $24.95
---

Fabriano BLACK BLACK Pads
Fabriano BLACK BLACK pads feature a slick ultra-black cover and a burnished tone-on-tone printing. The pads are glued on top, and include 20 sheets of paper with a versatile weight of 300gsm. The paper is characterized by a very deep black color. It is ideal for pastel, colored pencils, markers, acrylics and works really well with gel pens.
BLACK BLACK Pads are available in store only.
- $8"x8" - $11.16
- 9"x12" - $17.96
---

Sparkle Pop Gel Pens
These new Sparkle Pop pens from Pentel, are a step above the rest. They have an iridescent glittery metallic quality that is truly impressive, and they don't skip while writing or remove ink when going over a line. They come in 8 colors that appear differently on black and white paper. Perfect for hand lettering, you will find these pens at both our San Francisco and Oakland store.
- Sold individually: $2.69 each
---


Lovepop Greeting Cards
When that one-message-fits-all card from the drugstore isn't right. And a text isn't enough. Do something unexpected. Send a Lovepop.
More than a card, these intricate 3D paper sculptures are designed by naval engineers on cutting-edge software and then handcrafted in the art form of sliceform kirigami.
Whether it's a wedding or birthday, if you're saying thanks or celebrating (a co-worker's compulsive love of cats), say it with a pop.
- $13.00 - $15.00 each
---
Goby Design Leather Notebook Jackets
New summer colors in stock!
These pocket sized, high quality American leather notebooks are crafted locally in Berkeley, California. Designed to protect your favorite 3.5" x 5.5" pocket notebook from getting ragged from everyday wear and tear, the notebooks can be swapped out when full. (Sewn or staple-bound notebooks like Moleskine Cahier and Field Notes are recommended.) Built to last, these leather notebook jackets will only get better with age.
- $36.00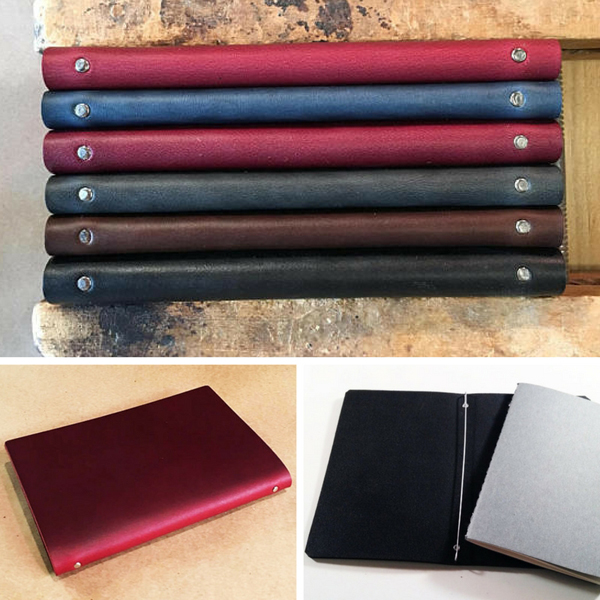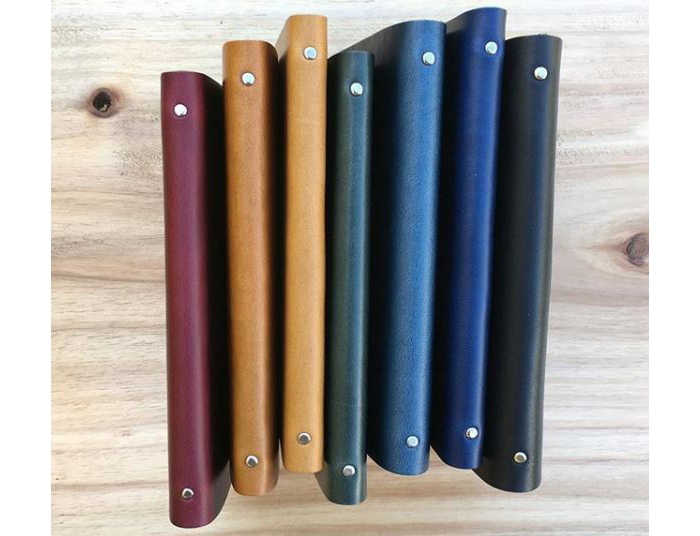 ---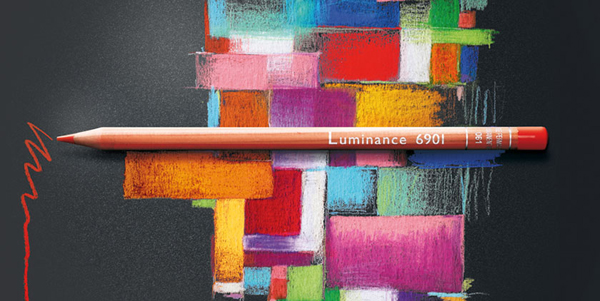 Caran d'Ache: Luminance 6901
The most lightfast permanent color pencil ever designed.
Luminance 6901 artists' pencils are specifically designed with color image professionals in mind. With a subtle velvety effect, delicate texture, and new shades, the realms of overlaying, mixed techniques and gradation are vast. The most lightfast color pencil ever designed, they work extremely well on dark paper. Two years of technical research and innovation in the making, these eco-friendly Swiss made pencils are a luxury worth investing in.
- $5.40 each
*Available at the FLAX Fort Mason store location only.
---
Stillman & Birn Sketchbooks
Today's artists work their sketchbooks in many different ways. Stillman & Birn meets a wide range of artists' needs by offering a sketchbook system that gives artists the choice of paper weight, shade, and surface type best suited to your practice. Their papers have an exceptional wet strength that supports multiple washes on both sides of the paper without buckling. Pigments stay on the surface of the page, resulting in remarkably glowing color!
The sketchbooks come in a choice of three paper surfaces:
• Medium Grain – distinctive tooth, suitable for all dry media, and will also accept multiple washes
• Cold Press – Substantial tooth, enhanced wet and tear strength, suitable for mixed media artwork
• Smooth – Suitable for pen & ink, colored pencils, water-based markers as well as watercolors
They are offered in soft cover, wirebound and hardbound covers. All lay flat accommodation two-page drawing layouts and flatbed scanning.
There are six series in the Stillman & Birn sketchbook program:

- Prices range from $10.99 - $38.99
---
Jellycat Stuffies
Quirky, cool and oh so cute, Jellycat continues to surprise and delight. Their London based design team very much intends to create soft toys that are different, that stand out from the crowd. As Jellycat comes out with new styles, you can be sure you will always find something you haven't seen before when you visit Flax. Available in both stores.
Prices range from $17.00 - $55.00

---
RAREFORM - from billboard to bag
Rareform re-purposes vinyl billboards into one-of-a-kind tote bags. Made out of durable vinyl, the used billboards are shipped out to a warehouse in California, where they are washed and hand-cut into unique designs. The designs focus on typography, colors, and abstract designs. Each item is meticulously cut to specific design guidelines, and sewn together using high quality materials. Durable, waterproof, unique, lightweight and Eco-friendly, these bags are the perfect accompaniment for wherever adventure takes you! Available in both stores.
Basic Tote Bag $47.50
Classic Tote Bag $88.00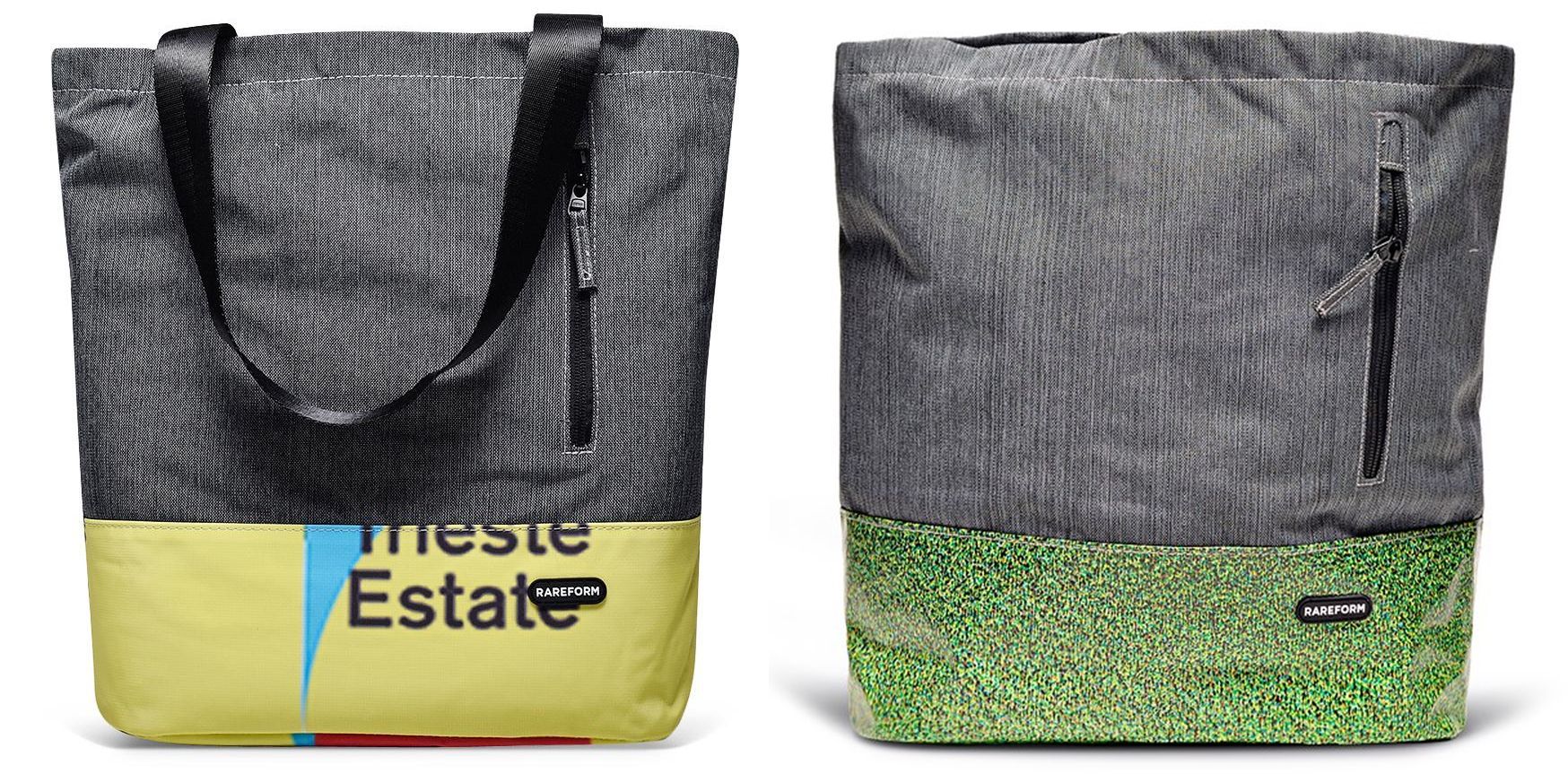 ---

Howtoons Kits
Howtoons is a cool company that packs STEAM concepts into engaging projects that can be completed individually or with the whole family. The kits are designed for ages 7 thorugh 12. Each one contains all the materials you'll need to build your project, a comic book, an instructional manual, and bonus learning material. Comics are a big part of the Howtoons experience with the belief that visual storytelling provides an effective way to convey complex ideas. Available at our FLAX Oakland store location.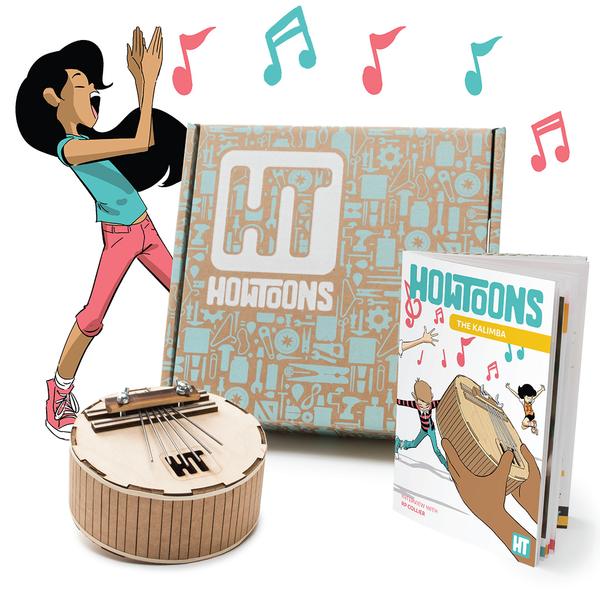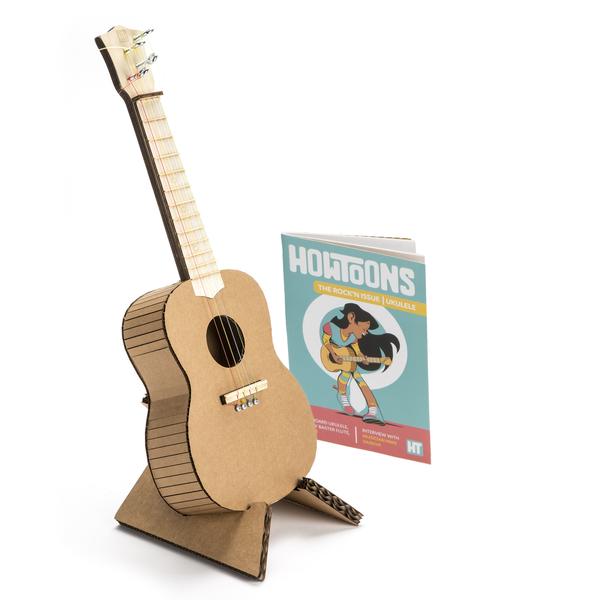 Kalimba Kit $31.95
Ukulele Kit $39.95
---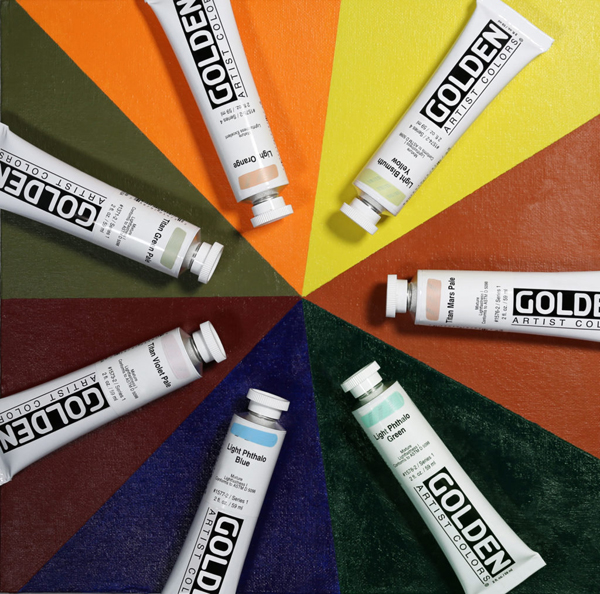 New Golden Heavy Body Light Value Colors
These 7 colors are tinted with Titanium White to create convenience colors. People have a tendency to try and add white to lighten colors instead of adding color to white for a light tint. This is especially true for the Light Phthalo Blue and Light Phthalo Green due to the parent colors' intense pigmentation. These new colors take the guessing game out of creating light color blends. Useful as highlight accents, creating uniform expanses in backgrounds, and as a great foundation color to build upon.

The Light Value Colors, from left to right, Light Phthalo Blue, Light Phthalo Green, Light Orange, Light Bismuth Yellow, Titan Violet Pale, Titan Green Pale, Titan Mars Pale
---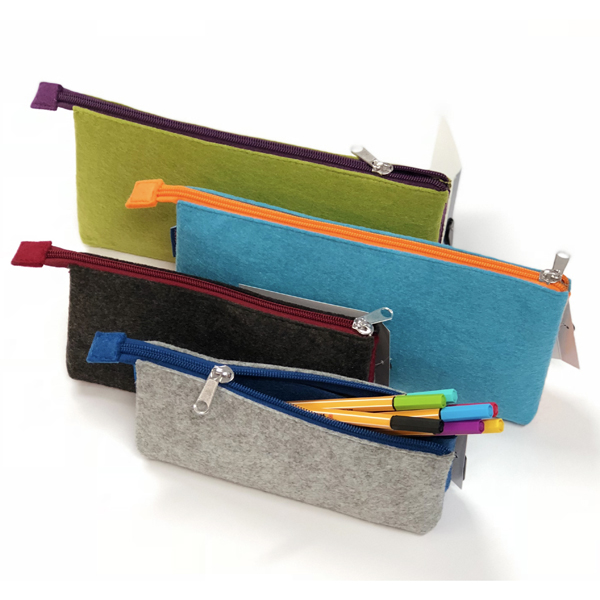 Itoya Midtown Pouch
A contemporary zipper pouch designed for carrying pens, pencils, markers, art supplies and anything else you need on the go! Made of soft yet durable felt in a variety of bright and neutral color combinations. Available in two sizes.
-4" x 7" pouch: $5.99
-5" x 9" pouch: $7.99
---
ART LIFTING - Journals and Notecards
ArtLifting empowers artists living with homelessness or disabilities through the celebration and sale of their artwork. ArtLifting is about creating opportunity, empowerment, and validation. A selection of various artist designed journals and notecards are available at both our Oakland and San Francisco stores.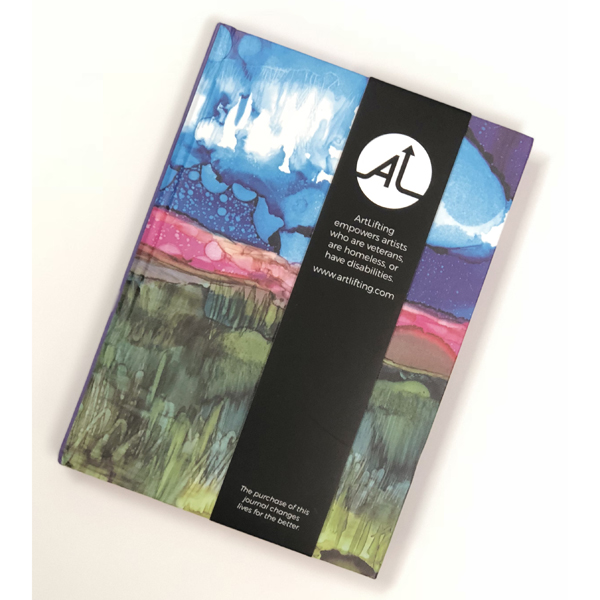 -Set of 12 Notecards & Envelopes: $14.00
-Journals: $12.00
---
Artist Collaboration: HIGUCHI YUKO X HOLBEIN
Japanese artist Higuchi Yuko created did a collaboration with Holbein Artist Materials. FLAX was lucky enough to get our hands on a few remaining pieces from the collection. These limited edition paper trunks, round tins, and sketchbooks, all feature Higuchi's surreal flora and fauna and anthropomorphic cat motifs found throughout her work. They are perfect for storing your most favorite art supplies! We have a limited quantity and when they're gone, they're gone. Available now at our Oakland store location.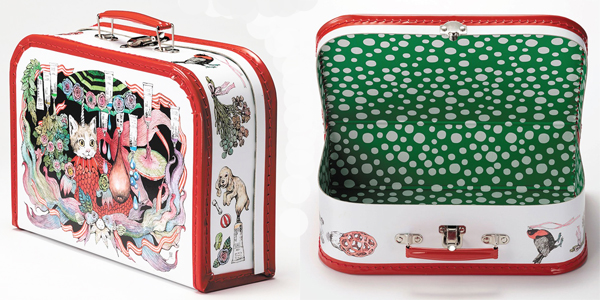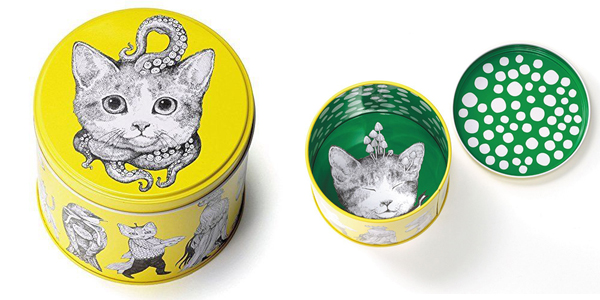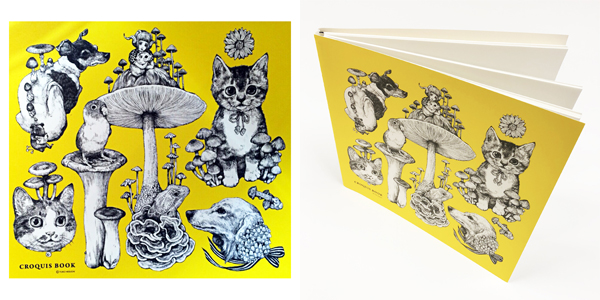 -Paper Trunk $49.95
-Round Tin $35.00
-Croquis Book $9.95
---
Angelus Acrylic Leather Paint
Angelus paint is the most trusted acrylic leather paint for custom sneakers, shoe restoration and shoe care. Made in America since 1907, Angelus has gained a cult following. Its high-quality, flexible, non-cracking formula makes it ideal for painting anything leather, including sneakers, purses, boots, jackets, and even couches. The paint is water based, for easy cleanup and won't crack or peel when properly applied. It can be applied with an airbrush or simply painted on with a paint brush or sponge. The paint comes in a range of bright, opaque colors that can be intermixed to create even more customizable tones.
-Available in 1oz jars in 30 amazing colors! $3.72 each
---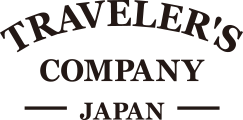 Traveler's Company
Even in fast-paced digital world, there seems to be an increasing desire to put pen to paper. The Traveler's Company has created refillable leather notebooks that are built to last a lifetime, developing character with age and use. The flexible leather cover can be conditioned and even waterproofed. Refills contain smooth paper that works well with ballpoint, rollerball, and fountain pen inks and stands up well to stamps, tape and stickers.
Travelers Company also offers a variety of brass accessories like clips, penholders and stencils which match the made to last, vintage look and feel of the notebooks. With several styles of kraft paper envelopes to choose from, and line of refillable fine writing tools, Traveler's Company takes their striking aesthetics to the next level. Whether you prefer a fine nib fountain pen, fine line ballpoint, or a good old HB leaded pencil, you have a beautiful brass option to match your notebook and accessories.
Stop by both our store locations to browse our current selection of refillable leather Traveler's Company notebooks, and please ask the employees for their experiences with Traveler's notebooks. For more information about Traveler's Notebooks and accessories, read our blog!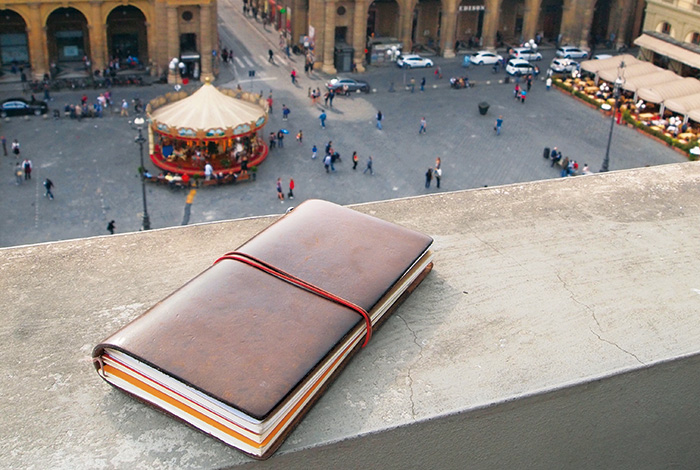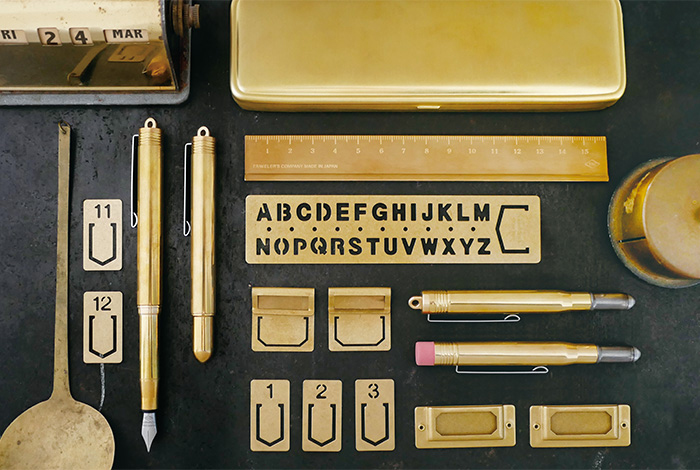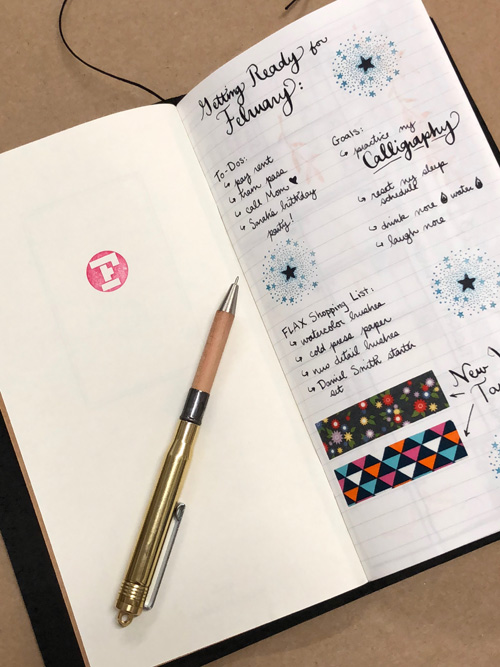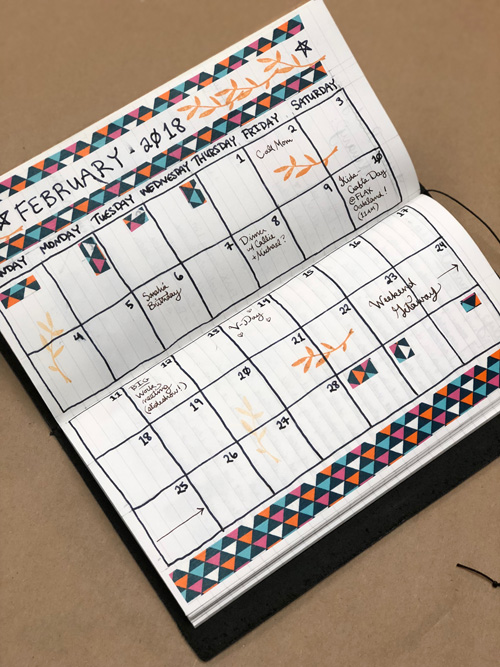 ---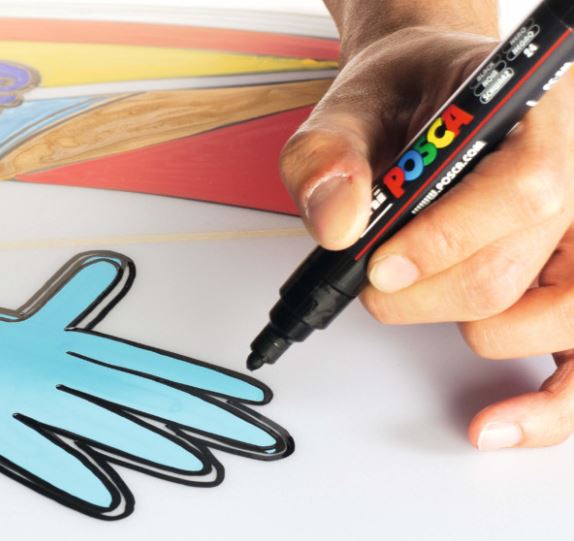 POSCA Paint Markers
These vibrant water-based, non-toxic markers can write on almost any surface and come in a wide range of nib sizes, from extra-fine to extra-broad. They write beautifully on all types of paper, including photo and tracing papers. They write well on porous surfaces like clay or brick and become permanent on ceramics when baked. They can be wiped off glass with a damp cloth or made permanent by baking. POSCA markers also write on any type of fabric and become resistant when ironed.
- sold individually, starting at $3.99
- sets, starting at $29.99
---
The New Montana GOLD Fluorescent Color: DISCO WHITE
The new Montana GOLD Fluorescent spray paint in DISCO WHITE appears as a neutral white by day, and becomes a haunting fluorescent like glow by night under UV light. Single elements or objects can appear tastefully white in daylight, but by night stunning features under UV light. As with all colors in the Montana GOLD range, this spray can comes with a low pressure valve system for easy application and control.
- $10.75 each 400ml can
---
ABC Oakland, pictures and words by Michael Wertz
Brimming with hidden surprises, ABC Oakland is pure celebration, from Aviary to Zoo. Michael Wertz's bold, whimsical prints and jaunty text reflect the city's energetic and wonderfully diverse atmosphere. Bursting with civic pride, ABC Oakland encourages children and adults to explore the possibilities that "the Town" has to offer.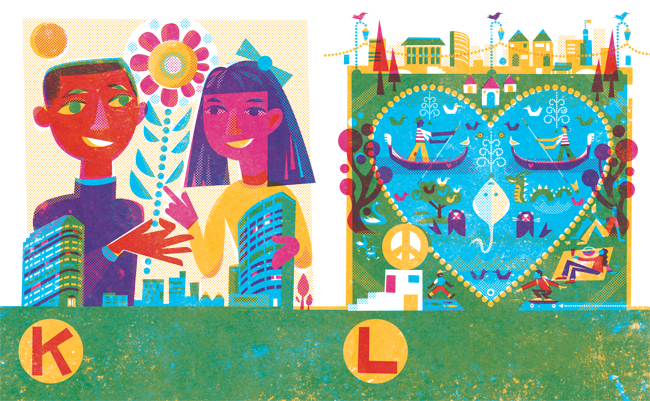 - $17.00
---
WAFF Journals
WAFF Journals are so much fun for kids age 6 and up to personalize, create pixelated images, and play games! These Lego-like silicone creative and interactive journals are inspired from the grid of a waffle. Spend hours of fun spelling out words, creating pixelated art, and even forming math equations. Teacher recommended, WAFF educational toys enhance child development and promote early learning via play principals of art, math and word creation.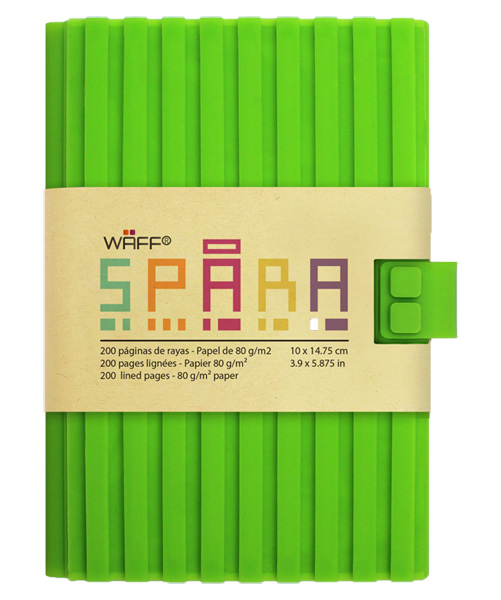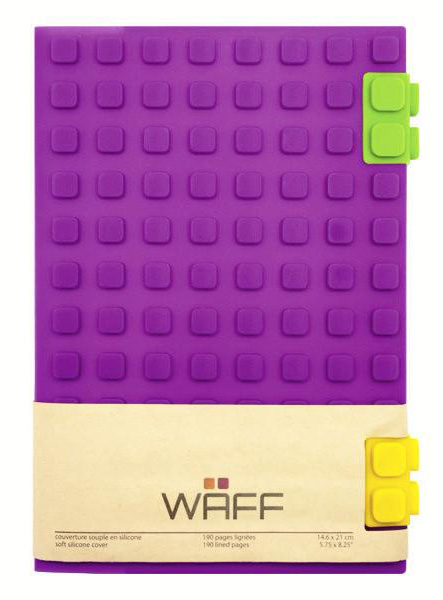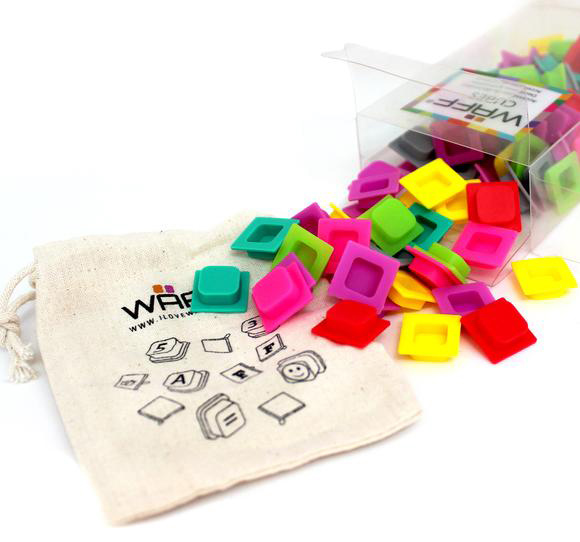 -WAFF Journals starting at $21.95
---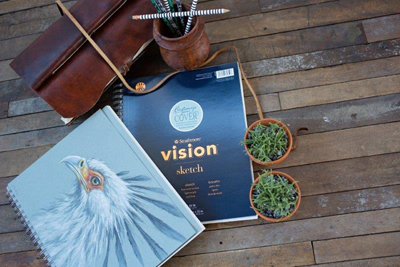 Strathmore Vision Pads
For the first time ever, Strathmore is introducing customizable covers for their new line of Vision Pads! Now artists can show their own work on their sketchbook cover. These pads feature extra high sheet counts, a heavy-duty chipboard backing, and durable binding. Paper types include Sketch, Drawing, Mixed Media and Watercolor. These sketch books are truly designed with the artist in mind.
SKETCH: Weight: 50 lb. (500 sheets) 74 g/m2 Surface: Fine tooth A lightly textured sketch paper that is ideal for quick, dry media sketches. Use with pencil, charcoal, sketching stick, and pastel. Wire bound pads are micro-perforated. Tear-off top sheet with a blank, permanent mixed media cover underneath that can be customized with your own artwork.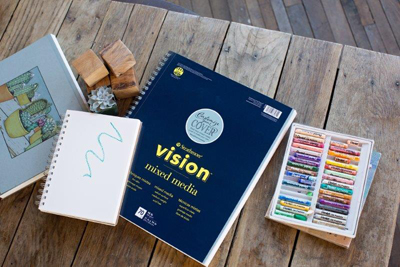 MIXED MEDIA: Weight: 98 lb. (500 sheets) 160 g/m2 Surface: Medium A medium weight, all-purpose paper in a sketching format. This versatile paper is a good choice for dry and light, wet media sketching. Wire bound pads are micro-perforated. Tear-off top sheet with a blank, permanent mixed media cover underneath that can be customized with your own artwork.
WATERCOLOR: Weight: 140 lb. (500 sheets) 300 g/m2 Surface: Medium An economic heavyweight watercolor paper with a cold press surface. This paper provides even washes and good lifts with wet media techniques. Tape bound pads feature sheets that stay in the pad yet tear out cleanly. Tear-off top sheet with a blank, permanent mixed media cover underneath that can be customized with your own artwork.
- Watercolor Pads: 6x9 $5.91; 9x12 $8.55; 11x15 $12.99
- Sketch Pads: 9x12 $7.67; 11x14 $11.96
- Mixed Media Pads: 5.5x8.5 $6.47; 7x10 $8.55; 11x14 $17.27
---
Crazy Aaron's Thinking Putty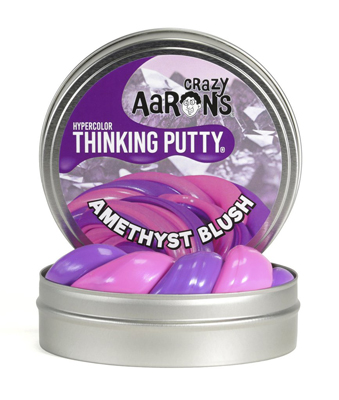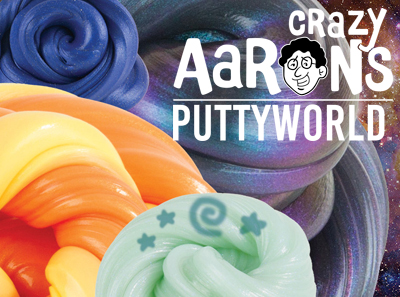 Thinking Putty is a high-quality, silicone-based putty that is safe, nontoxic, and will never dry out! Sculptable, stretchable, and bounceable, each putty has its own special properties. Some can glow in the dark or shimmer like precious metals and gems. Hypercolors are heat sensitive putties that change color in your hands. Strange Attractor Putty is magnetic and comes with a magnet which makes your putty dance. Thinking Putty will never leave a sticky residue on your hands making it easy to clean up. It is 100% Made in the USA!
- starting at $11.95
---
The Grey Book
120 g/m² - light grey sketch paper
The smooth sketch paper is well suited for working with Indian ink, fountain pens and acrylic markers as well as other water-based pens with minimum abrasion. Colors stand well on the light-grey, non absorbing surface. Subjects can be laid out from bright to dark and completed by setting white accents.With its unobtrusive figure, the anthracite colored cover provides the impression of precious wood and touching it feels great.Bound in several layers and thread stitched, all the pages seat solidly and allow the artist to work on two pages, across the centre seam. A red bookmark ribbon completes the premium-quality features.
With 40 sheets / 80 pages featuring 120gsm, The Grey Book is slim and an ideal companion if you are on the road or travelling. At the same time, it comes with enough reserves for many subjects. Available in A4 and A5, acid-free and with a high level of longevity.
- $14.95 (size: 5.65 x 8.27)
- $19.95 (size: 8.27 x 11.70)
---
Hahnemühle Sketch & Note
With its hard wearing stitched binding, the 40-page Sketch & Note makes the ideal travel companion.
The full-grain natural-white 125 gsm paper is perfectly suited for drawings and notes with pens of any kind.
Sketch & Note is available in two-copy bundles in a variety of sizes - A4 for your briefcase, A5 for your backpack or pocket-sized A6.
Four trendy cover colours are available: Cerise/Paprika in the 'Red Bundle', and Delphinium/Menthe in the 'Blue Bundle'.
Each booklet comes with a lined sticker for the owner's individual labelling.
- $2.45 2/pk (size: A6)
- $4.50 2/pk (size: A5)

- $7.50 2/pk (size: A4)
---
BLACKWING VOLUMES 73
The Tahoe pencil.
You cannot fully understand a place or the people living in it without understanding the paintings, writings and songs created on its soil. Our local natural wonder of Lake Tahoe is a perfect example. The works of countless artists tell of a place of both breathtaking natural beauty and perilous unpredictability; a place that stands at the front line of the age-old conflict between the natural world and the encroachment of civilization.
As a result of human ambition, the lake's signature blue color began to disappear in the 1960s, and its Secchi depth (a unit used to measure clarity) plummeted to 66.6 feet by 1997. Fortunately, through aggressive conservation efforts, the lake has begun to regain its remarkable clarity.
Blackwing 73 celebrates Lake Tahoe and other landmarks that have had a comparable impact on arts and society. Each pencil features a Tahoe blue finish and raised texture that mimics the lake's topography. The number 73 references Lake Tahoe's last measured Secchi depth of 73 feet.
Each set contains 12 limited edition pencils.
- $24.95 box of 12
---
Hand Lettering with Royal Talens Ecoline Watercolor Ink
Dipping the Ecoline Brushpen in a jar of liquid watercolor ink creates magical hand lettering effects!

Ecoline Liquid Watercolor
A liquid non-waterproof ink that can be re-wetted and reworked. Comes in 46 brilliant yet transparent colors and 2 opaque colors (white and gold) in 30ml bottles.
$4.99 each

Ecoline Brush Pen
Highly concentrated liquid watercolor ink in a versatile brush marker format, perfect for designers and calligraphers! Available in a range of 29 vibrant, transparent colors.
$3.35 each
$14.95 set of 5
$31.95 set of 10

---
Jack Richeson CLEAR CARVE Linoleum Blocks
Linoleum blocks are printmaking blocks with an easy-to-carve linolium surface. The clear surface of these blocks eliminates the need for transferring an image making the block printing process easier and more enjoyable. Virtually any previously printed image can be used.
Clear Cut linoleum blocks are made of a flexible, durable material that will not dry out or crack. It can be easily cut using linoleum cutters. Linoleum blocks can be warmed up on a low heat hotplate to make them easier to carve if you are using tools that are dull.
Available in a variety of sizes, small linoleum blocks can be used as stamps and are easy to print with stamp pads as well as other block printing ink.
- starting at $3.95
---
Carve-A-Stamp Kit
This Ultimate DIY kit contains everything you need to carve and print your own custom rubber stamps.
Includes:
• Easy to follow instructions
• 25 original templates
• Carve-A-Stamp block with two sides for carving
• Carving tool with multiple blades
• Muslin keepsake bag
• All purpose ink pad for printing on paper, fabric and more
- $28.00
---
Conklin Minigraph Collection
The Minigraph Collection provides big performance in a diminutive package that begs to be carried everywhere you go. When capped, the fountain pen is small enough to fit discreetly in a front pocket or small bag compartment, but when posted, feels full size for an effortless grip and perfect balance. Turned from solid bars of acrylic resin, Minigraph is available in three distinctive colors and is adorned with bright chrome accents. The Minigraph fountain pen features Conklin's famous Cushion Point nib in fine, medium, broad and 1.1mm stub sizes and fills via standard international cartridge.
Available in fountain pen only at our flagship Oakland store location, $50.00 each
*Have you heard about our semi-anual Pen Faire & Sale? This one-of-a-kind event is the best way to sample a variety of pens and find the one that is just right for you, and at a special price. All fine pens (including special orders) will be discounted at 20% off! Learn more here...
---
Conklin Stylograph Collection
The Stylograph collection is based upon the original and timeless Conklin models from the 1930's but brings it firmly into the 21st century with bright colors and unique finishes. Each pen is crafted by hand from rods of solid resin, and then buffed to a beautiful matte finish that only gets better with age.
Each Stylograph features Conklin's original 1916 patented spring loaded rocker clip. This perfectly balanced clip fits easily and holds firmly to thin or thick pocket materials with just a simple touch of one hand. All accents are finished in highly polished chrome for a luxurious look and long life.
Available in a choice of Fine, Medium or Stub nib grades, the Stylograph collection offers the ideal choice for your individual handwriting style. Ink is delivered through the modern converter cartridge system.
Available in fountain pen only at our flagship Oakland store location, $85.00 each
*Have you heard about our semi-anual Pen Faire & Sale? This one-of-a-kind event is the best way to sample a variety of pens and find the one that is just right for you, and at a special price. All fine pens (including special orders) will be discounted at 20% off! Learn more here...
---
Yellow Owl: Greeting Cards
A stellar choice for those looking for a card and gift combo! These Risograph cards are printed in brilliant color and have a 22-karat gold gilt magnetic lapel pin. The magnetic backing is flat so you can drop them in the mail using a standard letter postage stamp. Made in San Francisco!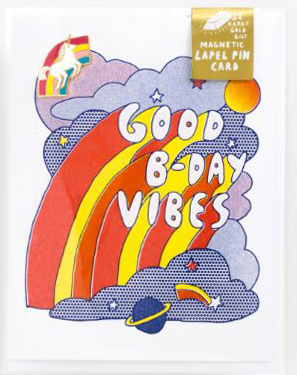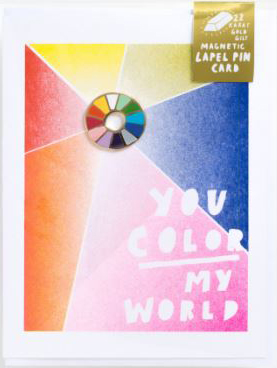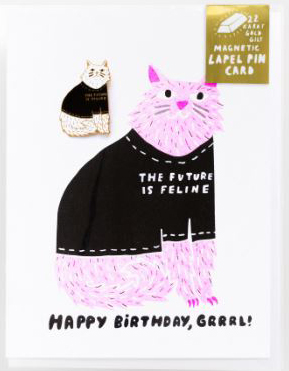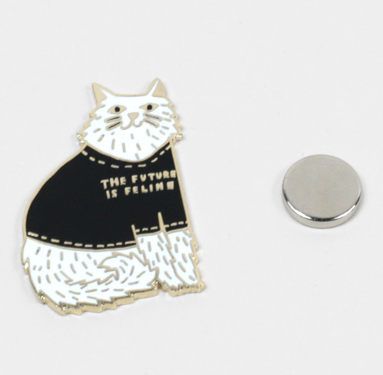 - $11.95 card + 22 karat gold gilt lapel magnetic pin
---
My Town Fan Club: Greeting Cards
Featuring artwork and designs based on favorite places, My Town Fan Club has created beautiful 5x7 greeting cards of iconic Oakland landmark buildings and signs. Based on photos, these designs are created using the best inks and heavy duty art paper that retains the bold colors of the prints. These blank greeting cards look great framed and make great gifts!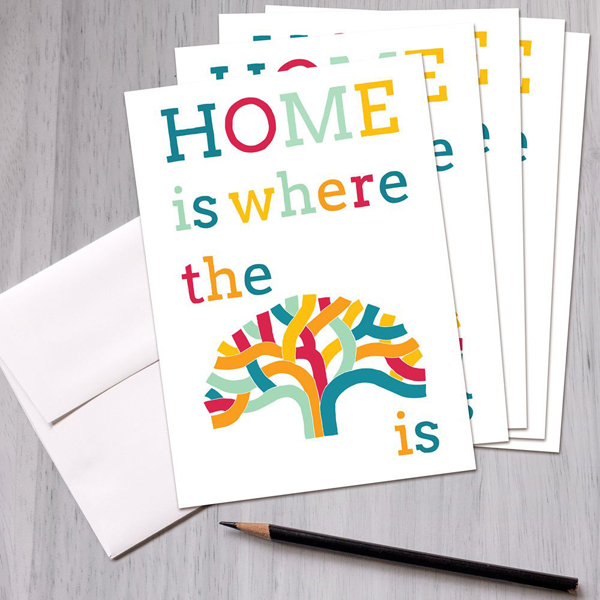 - $5.40 each
---
Yeppie Paper: Greeting Cards
Yeppie Paper is a Los Angeles based design studio co-founded by sister-brother team, Jennifer Lee Gregoire and Jim Lee, offering a range of greeting cards that feature hand-painted illustrations.
- $5.40 each
---
Chase and Wonder: Greeting Cards
David and Faye Aspinall and is based in a converted cowshed in the heart of rural England. Where possible they use traditional techniques to print and produce their products, many of which require hand finishing. All of their designs find inspiration from a variety of placed, including; past Victorian splendor, antique curiosities, unique finds and even their characterful dog, Ruby.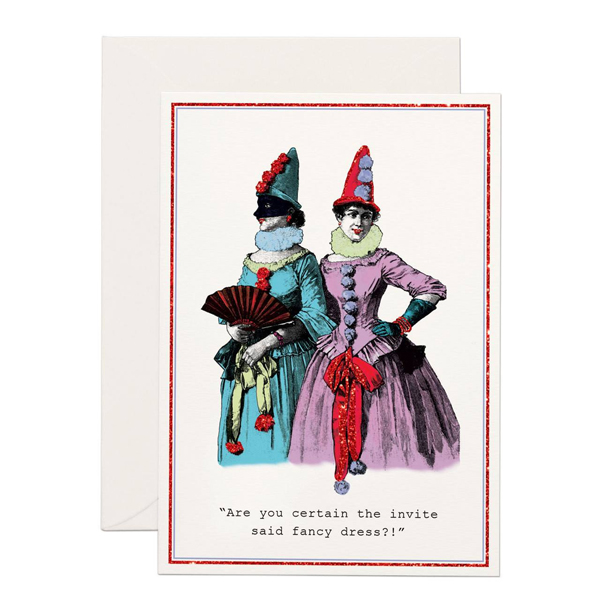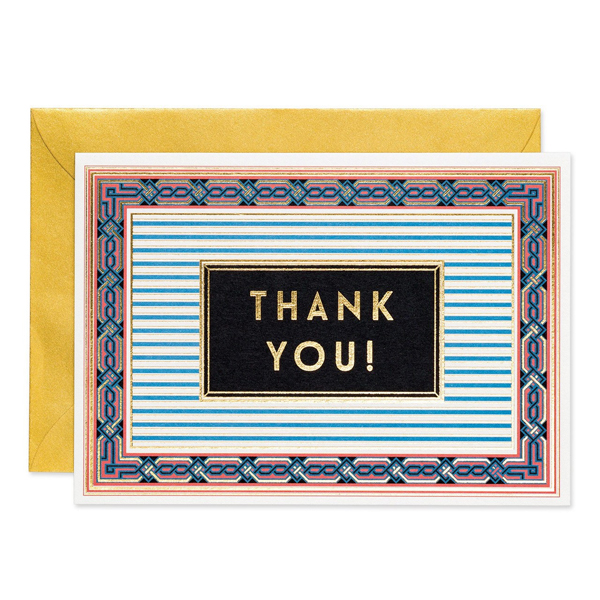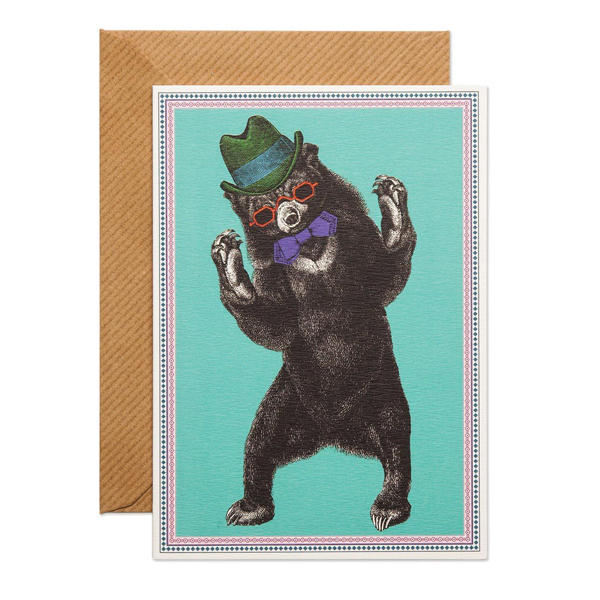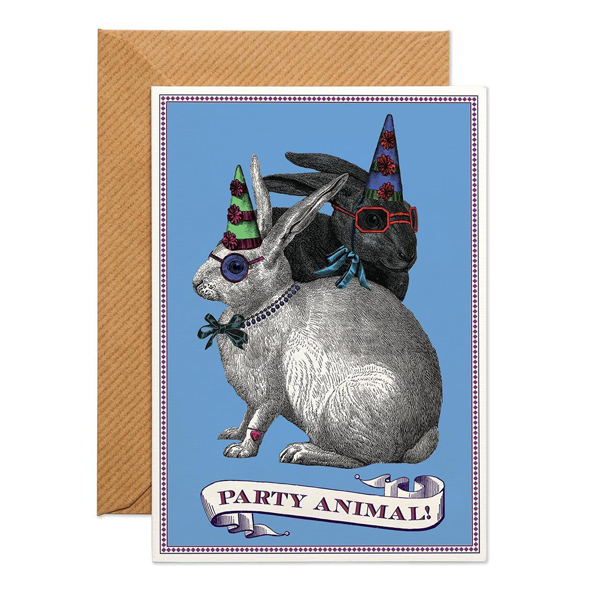 - starting at $4.35 each
---
Legion Artist Pads
All of Legion's brands are now connected under one umbrella making it simple to explore, compare, and discover high quality artists paper in a new way! The bold, design-savvy covers make it easier to find exactly what paper you need on the shelf.
Stonehenge Colors: five neutral colors to choose from, Natural Fawn, Cream, Pearl Grey, and Warm White
Stonehenge Kraft: all-cotton, earth-toned leaf, perfect for printmaking, drawing or experimentation.
Stonehenge Light: silky lightweight surface, perfect for delicate fine drawing techniques.
Stonehenge Warm White: strong and versatile paper with warm white tones and a smooth supple surface.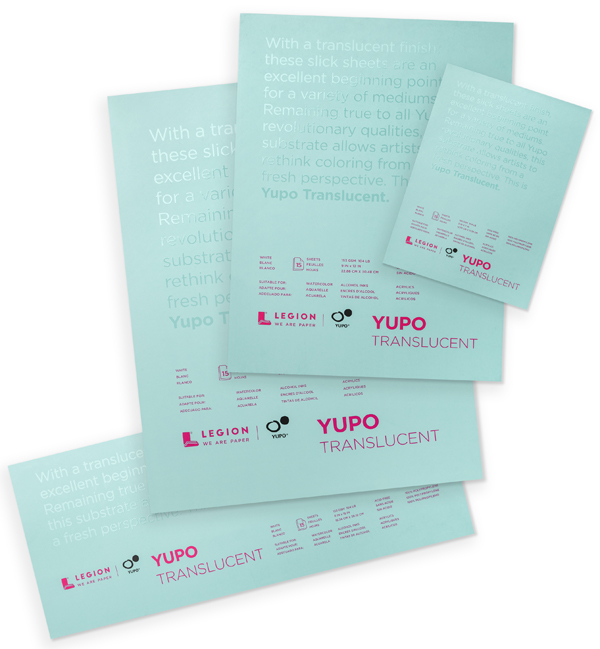 Stonehenge White: supple surface created for printmakers. Good for all drawing techniques, especially colored pencils.
Stonehenge Aqua Coldpress: hand-crafted, rugged and textured, ideal for blending and lifting watercolor.
Stonehenge Aqua Hotpress: smooth and silky for fine details and subtle color gradations. Watercolor pigments tint bright and radiant.
YUPO Translucent: sleek, translucent finish. Excellent for variety of mediums. Allows artists to rethink coloring from a fresh perspective.
YUPO Medium: synthetic tree-free paper. Resists buckling with wet media and can be wiped clean.
LENOX Cotton: 100% cotton paper with soft textured finish, ideal for graphite, pastel, colored pencil and charcoal.
- Available in a variety of sizes, starting at $8.85
---
Crayola x kidrobot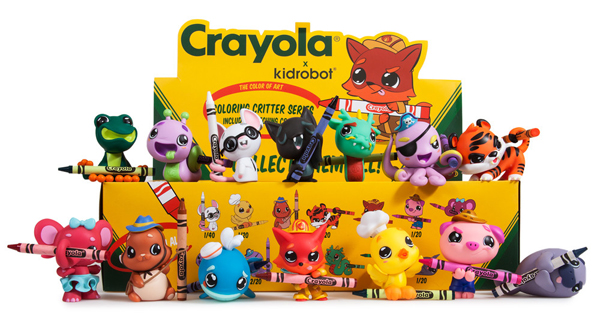 Kidrobot and Crayola have collaborated to bring you a brand new blank Munny. The DIY vinyl toys come packaged with a set of Crayola markers, which can be washed off for never ending creative fun! Also new to FLAX is the Coloring Critters Blind Box series. Each critter comes with an authentic Crayola crayon. Collect all 14 colorful critters!
- Crayola 4" Munny with washable markers: $10.95 each
- Crayola Blind Box Coloring Critters: $10.95 each
---
Montana Acrylic Paint Markers
High quality acrylic paint markers that can be applied to almost any surface including wood, canvas, plastic and even sneakers. They are refillable with any type of drawing ink, which enables you to blend your own colors! With a wide variety of replacement nibs available from calligraphy to chisel to broad nibs, these markers are extremely versatile.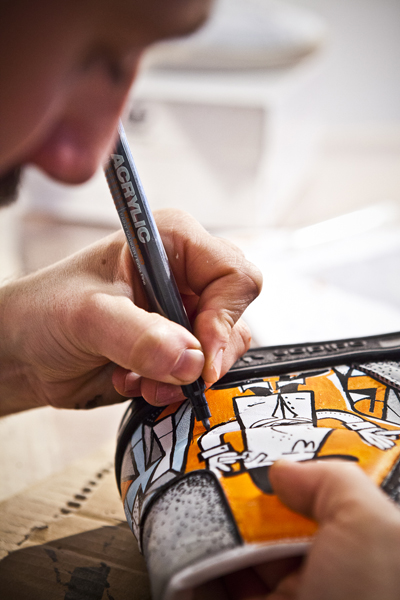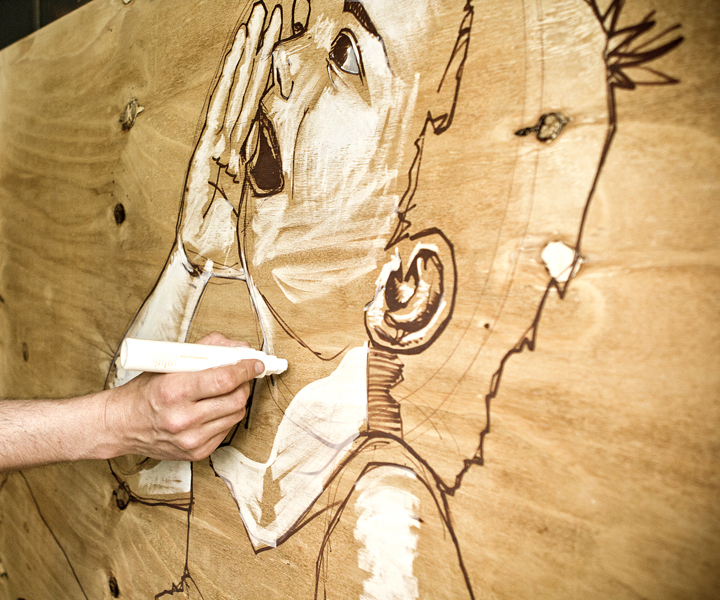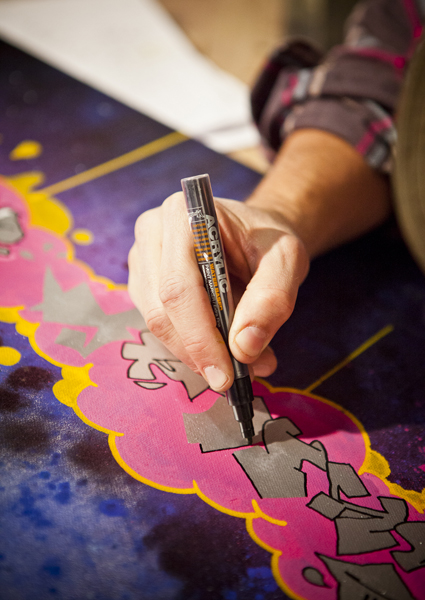 - Fine/XF: $5.95 each
- Broad: $8.95 each
- 25ml RFL $9.25
- Set of 12: $64.95
---
Kuretake BIMOJI Brush Pen
Traditional Japanese brushes with a modern twist; Bimoji brush pens are a water-based pigment ink, lightfast, permanent, and water/alcohol proof when dry. Plastic bodies were designed to resemble lightweight bamboo brushes, featuring rubber grips for comfort. Available in four felt tip sizes and a nylon bristle brush tip.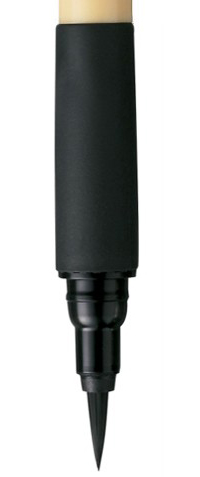 Extra Fine: Hard tip for fine line and detailed work. Produces 0.18mm to 1mm lines.
Fine: Hard tip for fine lines yet with more pressure applied, the tip flexes for a broad line. Produces 0.25mm to 1.5mm lines.
Medium: Firm brush tip for fine line and detailed work. Ideal for heavy broad lines and medium coverage. Produces 0.25mm to 3mm lines.
Large: Flexible brush tip with good elasticity yet firm enough to allow thin to thick lines with ease. Ideal for covering large areas. Produces 0.35mm to 7mm lines. Bimoji
Medium Polyester Bristle: Individual fiber brush tip, was designed to be used slowly to create smooth black strokes, if used rapidly it will create a dry-brush effect. Brush tip is soft yet elastic enough for creating fine strokes to broad strokes. Produces 0.35mm to 10mm lines.
- $3.95 each
---
Gamvar Picture Varnish
Gamvar Picture Varnish saturates colors in your painting and gives your work a unified and protective surface. Developed in collaboration with the National Gallery of Art, Gamvar goes on water-clear, stays water-clear and can be easily and safely removed with Gamsol. Gamvar is virtually odorless and ready to apply. Brush apply. Do not spray. All Gamvar can be applied when the thickest areas of your painting are thoroughly dry and firm to the touch.
Gamvar is now available in three finishes, matte, satin and gloss!
- 4oz bottle $13.56 each
- 8oz bottle $21.56 each
---
TATTLY - Designy Temporary Tattoos
Temporary tattoos for design-minded kids and kids-at-heart. These safe and non-toxic, tattoos are printed with vegetable based ink and are FDA-compliant and fun for all ages. They are designed to last 2-4 days.
Each set of Tattly Tattoos contains 8 tattoos designed by professional artists from around the world. With every Tattly bought, a substantial cut goes to the artist.
$16.95 per set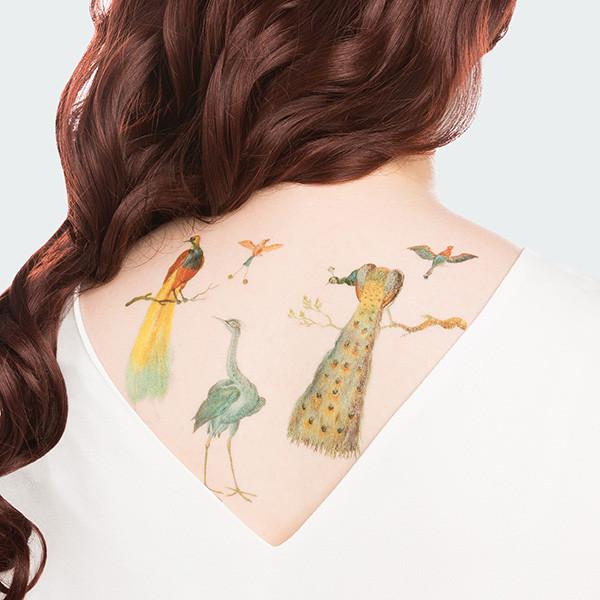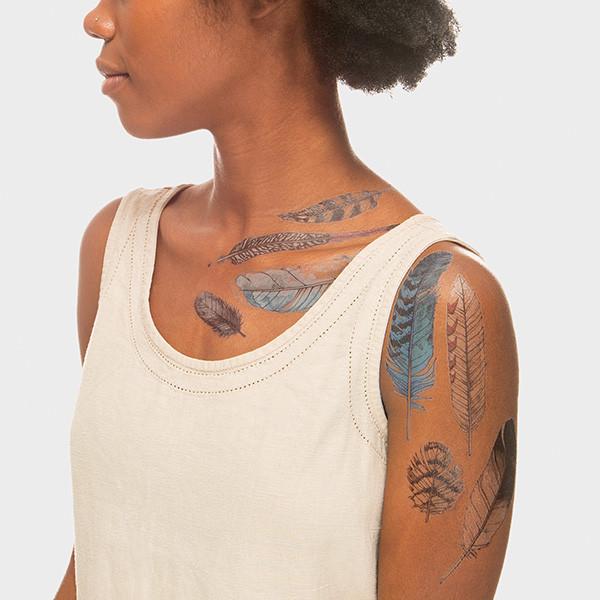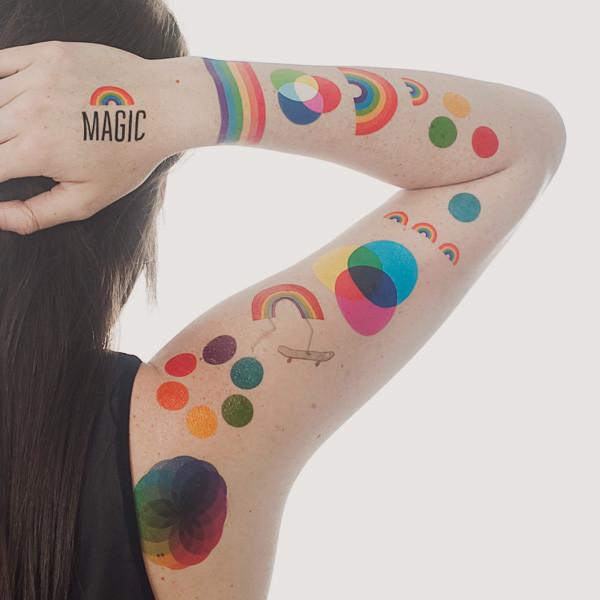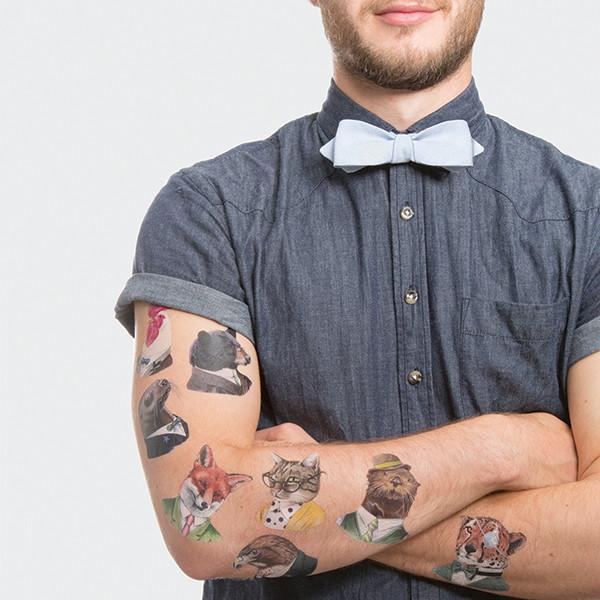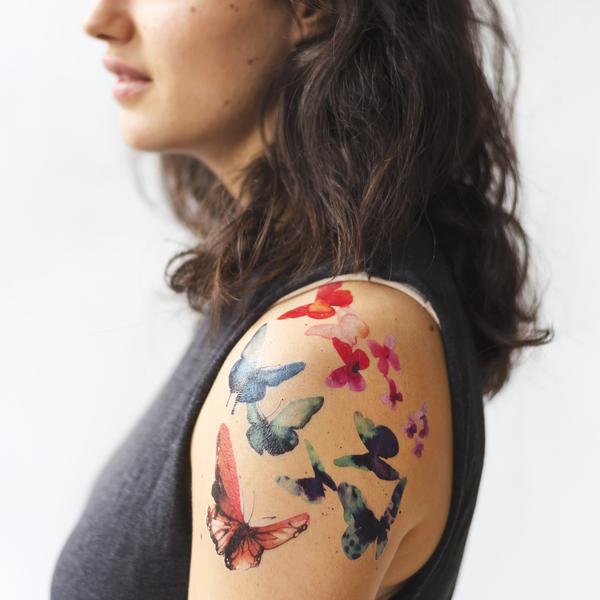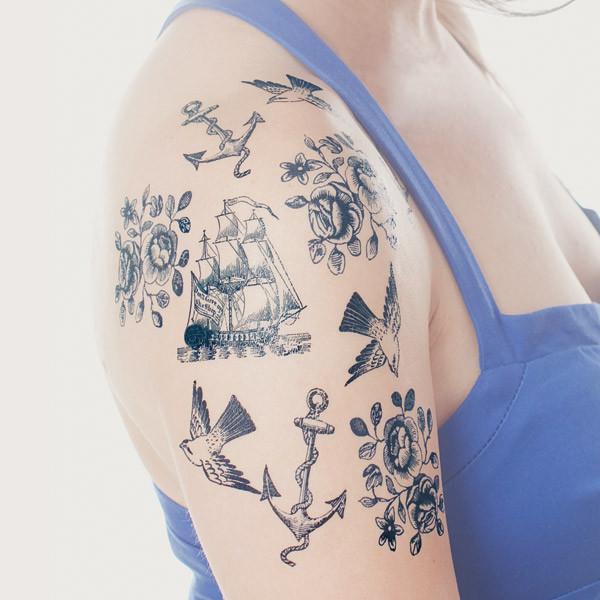 ---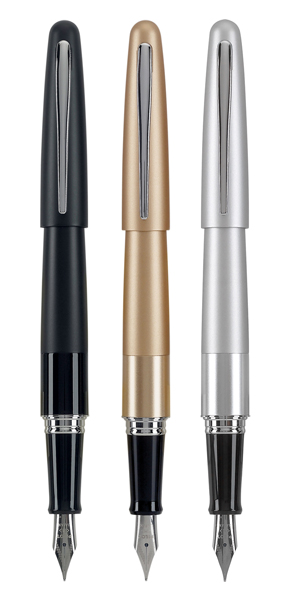 Pilot Metropolitan Fountain Pen
A great starter pen for those just getting into fountain pens, the Pilot MR Metropolitan is the perfect gift of affordable luxury. Designed with a brass barrel and stainless accents and nib, the pen comes with a converter for using bottled inks but can be used with ink cartridges as well. These are quality pens at an affordable price!
Available in three sophisticated colors; black, burnished silver and champagne gold.
- $18.75 each
---
FRAMATIC fineline frames, with and without mats
Minimalist framing at it's most elegant, the exceptionally thin face of the Fineline aluminum frame neatly defines an image but never overwhelms it. Installing art-work takes only a few seconds. Fineline is available without matting, or with a wide range of both single and double "Shadow" mats.
Available in black, silver or white aluminum molding. Call or visit our Oakland store location for more info. (510) 867-2324
Starting at $15.95

---
Itoya Profolio ANYWHERE JOURNAL
These journals have a flexible spine that allows them to be opened 360°. Hand crafted with high quality paper and smooth sanded edges, they are built for travel!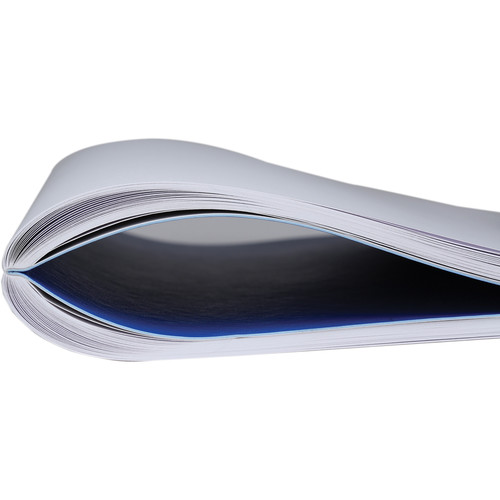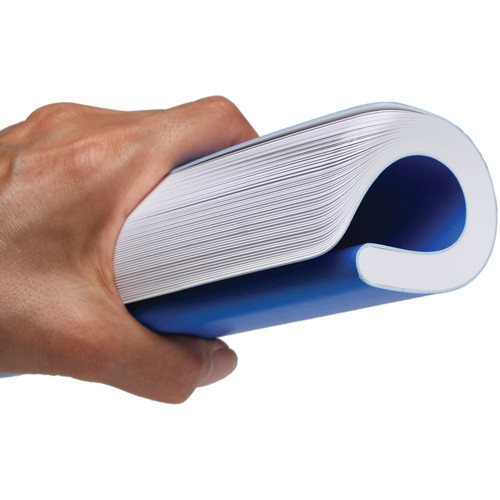 5" x 7" (list $17.99) FLAX $15.99
5.8" x 8.25" (list $19.99) FLAX $17.99
7.5" x 10" (list $22.99) FLAX $19.99
---
MTN Water Based Paint Markers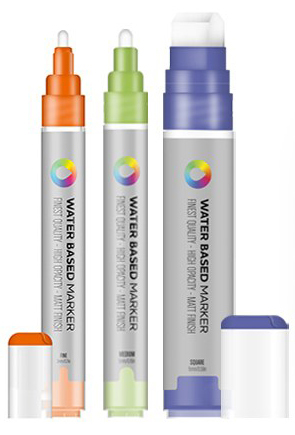 It's the perfect marker for refilling, painting, drawing, decorating, and outlining on surfaces as varied as canvas, plastic, metal, glass, and heavyweight paper. These new refillable markers can be used in combination with the rest of the Water Based products developed by Montana Colors. They may also be used on fine art acrylic paints and are compatible with the MTN 94 and Hardcore spray paints! You can use different techniques to achieve a variety of finishes. They come in a range of 18 colors in an Extra Fine, Fine and Broad nib.
- Extra Fine (3mm) $3.95
- Fine (5mm) $4.50
- Broad (15mm) $7.45
---
Speedball Gel Printing Plates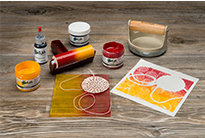 Speedball Gel Printing Plates make creating monoprints easy and fun. Durable, reusable and easy to clean, these plates are great for mixed media art, card-making, journaling, scrapbooking, home décor projects and more!
The plates clean up easily with soap and water or baby wipes. The tacky surface clings very well to both water and oil based paints. The flexibility and give of the gel plates makes printing by hand extremely easy and the clear nature of the plates is conducive to printing in multiple colors . Whether a beginner, crafter or fine artists, monoprinting with Speedball Gel Printing Plates can add the most spontaneous and wonderful marks to any project!
- Gel Plates starting at: $14.99
---
Sennelier Watercolor Sets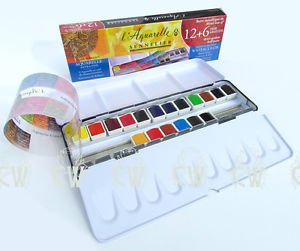 Sennelier celebrates 125 years of producing the finest artist materials with a new line of watercolors, a bright and lively palette in the tradition of French Impressionists. These watercolor sets evoke the timeless beauty and vibrancy of Southern France, all reformulated with increased honey content for enhanced brilliance and luminosity. The honey also acts as a preservative to extend longevity.
An outstanding value, the set pictured right comes with 12 colors + 6 free colors along with 6 blank color well spots for the artists to add any colors they wish. This travelling watercolor set makes a beautiful gift. We can't recommend it enough!
- List $120.95
- FLAX $99.95
---
Girl of All Work Office Accessories
For work, school, travel, and home, Girl of All Work office products and accessories bring joy and whimsy to everyday tasks.
- Page Flags/Page Pals $5.75/pack
- Fabric Tacks $8.95/pack
- Point Tabs $7.50/pack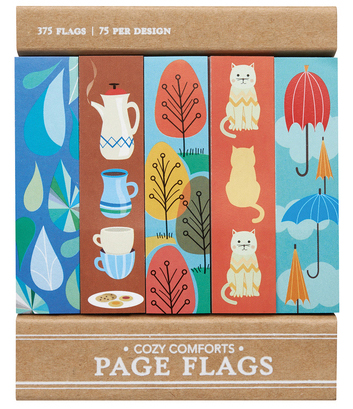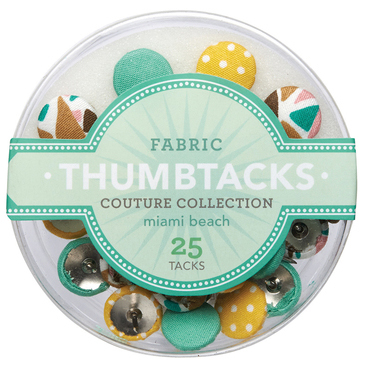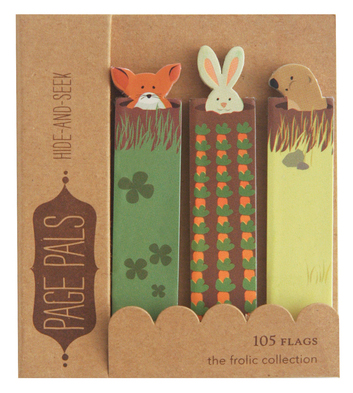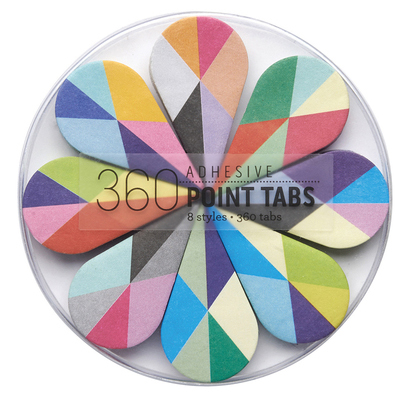 ---
Noodler's Konrad Piston Fill Brush Pens
Introducing the newest member of the Noodler's Pen Family, this rollerball pen has a piston-fill mechanism that uses fountain pen ink and converts easily into a brush pen!
Available in two colors, black and black/tortoise
- $27.95 each
---
Vintage Edison Light Bulbs
These Edison bulbs were inspired by the original bulb invented by Thomas Edison. Made with a tungsten filament, like the original, these bulbs create a unique ambient glow.
- $11.95 - $44.95 each
---
Marabu Glass Paint
Marabu glass paint is a high-gloss, transparent paint for glass, ceramics, porcelain and acrylic plastic. The paints are dishwasher-safe without firing. Simply paint, leave to dry - and you're done!
The bright, transparent colors have excellent flow properties allowing colors to blend creating a fascinating interplay of color and light. Rich to delicate shades can be achieved depending on the thickness of the paint coat.
- 15ml jar $2.99 each

- 50ml jar $5.99 each
---

Fudegokochi Brush Pens
Kuretake's Fudegokochi brush pens contain a deep black, water-based pigment ink, ideal for illustration work, lettering and creating expressive sketches.
The firm yet flexible tips allow for good controlled lines, while the ink consistently glides out smooth and easily.
- Extra Fine or Fine, $3.48 each
---
Talens Ecoline Brush Pens
The new Talens Ecoline Brush Pen is a versatile tool for artists, designers, calligraphers and kids! The pens contain concentrated, transparent water color paint in brilliant colors that will bring any piece of art to life.
- Set of 5: $14.95
- Set of 10: $31.95
---
COBRA Water Mixable Oil colors
A fantastic line of water mixable colours for which hazardous solvents are no longer needed. Not only is this healthier but it allows for the freedom to paint anywhere.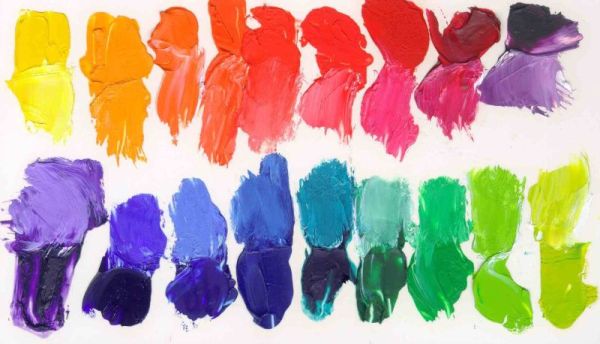 Painting with Cobra water mixable oil colours is the same as painting with traditional oil paint, and provides a perfect oil paint result with a uniform drying time and degree of gloss. The paint can be applied using all the usual oil paint techniques. The colour as well as the brush stroke or applied texture retains its full expression after the paint has dried.
- 10 color set $116.49

- 5 color set $21.49
- starter INTRO 6 color set $17.99
---
XIEM TOOLS
Xiem Studio Tools are the new essentials in clay tools and are the premier choice for clay artists.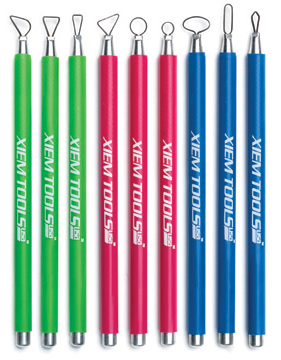 High-grade stainless steel tools are hand-crafted to ensure a precise cutting edge and set in a rubber handle for firm gripping and comfort. They are easy to clean and rust free.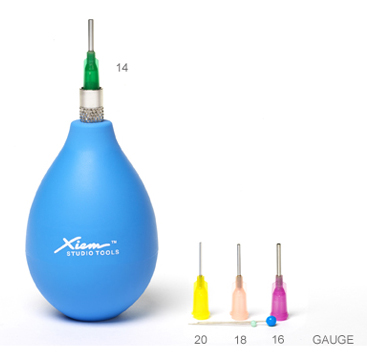 - Sculpting Tools from $6.95 - $28.95 set/9
Precision Applicator tools write and decorate like no other. These tools are a true innovation for glazing, slip-trailing, fine detailing, writing, wax-resisting, painting and any other liquid decorating technique you can dream up!
- 3oz Precision Applicator Set $19.95
---
Moleskine 18 Month Planner
It's never too early nor too late to get organized. The Moleskine 2016 - 2017, 18 Monthly Planners have just landed! These 18-Month Weekly Planner run from July - December.
Laid out in a horizontal format to show each week on a two-page spread (Monday, Tuesday and Wednesday on the left; Thursday, Friday and Saturday/Sunday on the right), this planner style is perfect for viewing the week at a glance.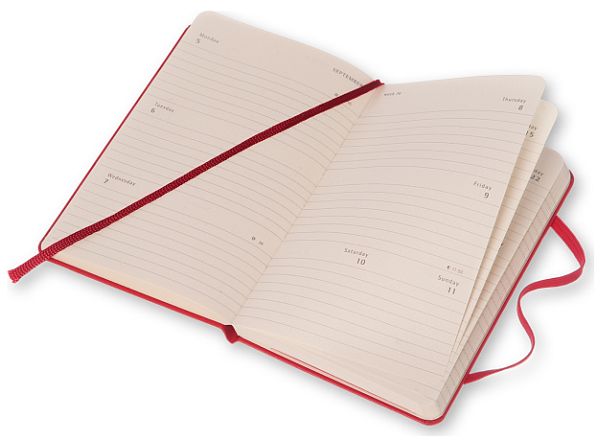 The planners are hard cover, allowing for a comfortable writing experience and they lie flat, or 180 degrees when open. The planners come with an elastic closure to keep everything together along with an expandable inner pocket and ribbon bookmark. Moleskine paper is ivory colored 70gms and super smooth to write on. The planners contain userful tools such as time zones, international measurements, dialing codes and flight durations.
These 18 month planners are perfect if you have a busy summer ahead or are preparing for the first day of the new school year.
- starting at $22.50
---
Daler Rowney FW Artists' Acrylic Ink
FW Artist Acrylic Ink offer almost limitless creative potential in areas not normally associated with inks – including applications to wood and leather (and to a limited degree, glass and ceramics) as well as to paper, board and canvas.
These acrylic-based inks are water-soluble when wet, but dry to a water-resistant film on most surfaces. All colors are very to extremely lightfast, intermixable, permanent and translucent.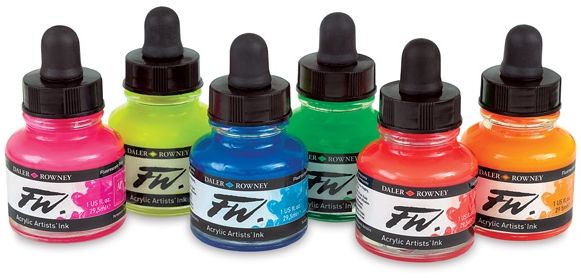 The inks can be substantially diluted to achieve the most subtle tones and washes that can closely resemble watercolor. Also compatible with acrylics, FW inks are excellent for use with technical pens, airbrushes, dip pens and traditional brushes on any surface.
- Available in 1oz bottles
- $6.37 each
---
Sennelier Extra-Fine Soft Pastels
These extra-fine soft pastels have an unparalleled depth, luminosity and intensity; they are made of 100% pure pigments, with no clay, binders or fillers, so that even a gentle stroke delivers a solid, powerful line of brilliant color. They are lightfast enough to hold color for centuries!
- Available Individually, (List $6.60) FLAX $5.61
- Set of 40 Pastels, (List $112.95) FLAX $95.95
---
Lascaux Artists' Acrylics
Lascaux Artists' Acrylics are quite simply the premier professional artists' quality acrylic paints. These have an exceptional pigment load, texture and feel normally reserved for oil paints. All colors dry to a uniformly matte satin-sheen.
They have a smooth, rich and buttery feel and are never sticky. The Artists' Acrylics are archival, extraordinarily lightfast and resistant to aging, suitable for exterior use and compatible with all Lascaux painting system colors and mediums. The colors do not oxidize, shrink, yellow or crack.
- Available in 45ml tubes, starting at: $14.08
(Only available at our Fort Mason store location)
---
Charbonnel Etching Inks
Since 1862, Charbonnel has been providing the highest-quality inks and grounds for intaglio and lithography to the most renowned artists of all time: from Renoir, Degas, Lautrec and Picasso to present day masters such as Rauschenberg, Hockney, Diebenkorn and Thiebaud. Aside from a few improvements over the years, the recipe remains unchanged.
The pigments are chosen for their excellent light fastness and low acidity. They are then blended with top-quality oils and finely milled to ensure trouble-free printing and a lasting work of art.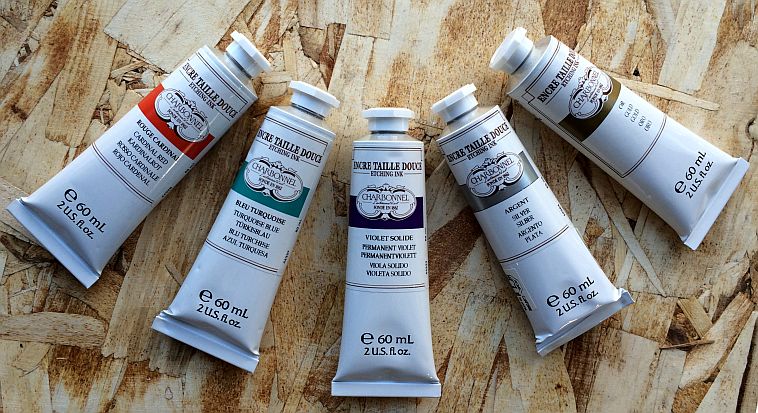 - Available in 60ml tubes, starting at: $11.72
---
S'well Bottles
S'well bottles are beautifully crafted, composed of non-leaching and non-toxic 18/8 stainless steel that keeps drinks cold for 24 hours and hot for 12, while giving back to those in need. S'well is a proud partner of many charitable organizations and is a sponsor of UNICEF, which works to provide water to the world's most vulnerable.
-Starting at: $35.00
(sold at our Fort Mason store location)
---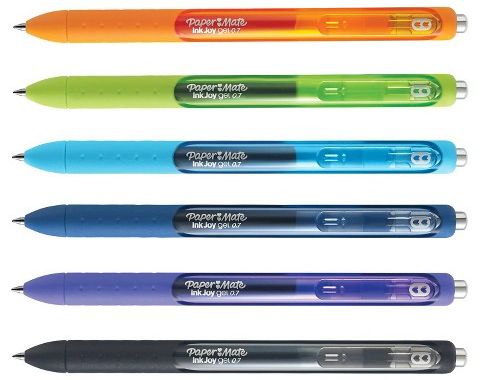 Papermate Inkjoy Pens
With 14 brilliant colors to choose from, these pens make drawings, notes, and doodles pop off the page! They contain smear-free gel ink which dries quickly. The ergonomic comfort grip wraps around the entire pen and the ink writes super smoothly for an enjoyable writing experience. These pens pair beautifully with any of the dozens of styles of coloring books we offer.
- $2.79 each
---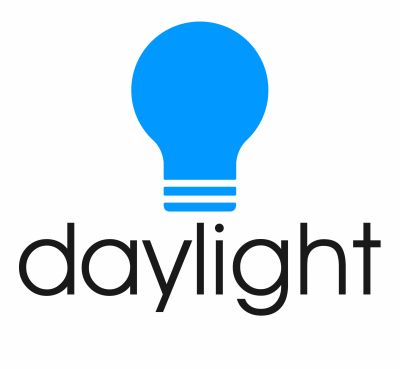 Daylight Smart Lamps

Daylight full spectrum light technology is kind to your eyes, reducing glare and increasing contrast, which helps reduce eye strain and headaches.
Perfect for artists, full spectrum lighting ensures true color matching.
Smart lamps can change color temperature from warm white to daylight to suit your preference throughout the day. The lamp is dimmable to 5 settings. It is lightweight and portable making it an ideal companion to take to classes or when travelling. The twistable shade allows you to direct the light where you need it.
-Smart Lamp R10- $32.00
-Smart Lamp D20 (pictured)- $79.95
---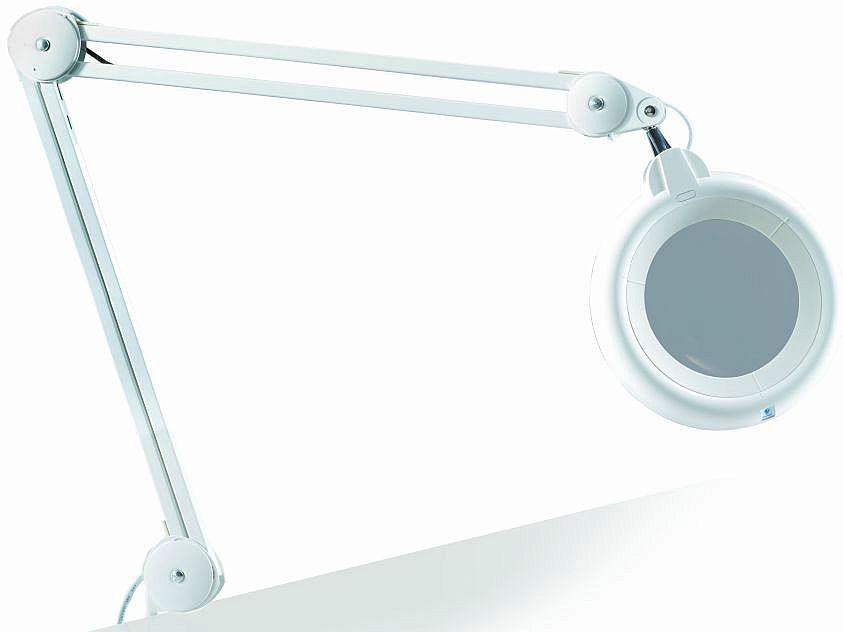 Slimline Magnifying Lamp
The slimline magnifier is ideal for detailed work.
The bright Daylight LED's are low heat technology so they are comfortable and safe to work with. With a slimline head and adjustable internal spring arm, the lamp can easily be positioned to direct light where needed. Two easily changeable 5" glass lenses (1.75X and 2.25X) ensure that intricate details can be seen clearly, no matter how small or fine the work. The lamp can be clamped onto any table or work space.
- $200.00
---
Slimline LED Lamps

Light up large work areas with this flexible, brushed chrome lamp. Light can be directed exactly where needed with 2 unique flex points. Energy saving, bright daylight LED's are low heat and reduce eye strain. Perfect for artists, daylight full spectrum lighting ensures true color matching.
-Table Lamp- $144.00
-Floor Lamp- $183.00
---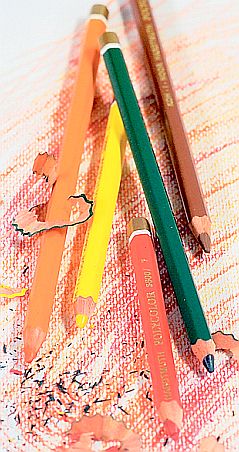 Polycolor Artists' Colored Pencils

Quickly becoming a new staff favorite, these colored pencils blend beautifully and create dense, even strokes without the use of heavy pressure. They contain a broad 3.8 mm lead diameter, excellent for shading. Color can be layered and blended without a waxy buildup. These leads are encased in California Cedar for easy sharpening.
- $1.75 each
- $17.80 Set of 12
- $34.50 Set of 24
---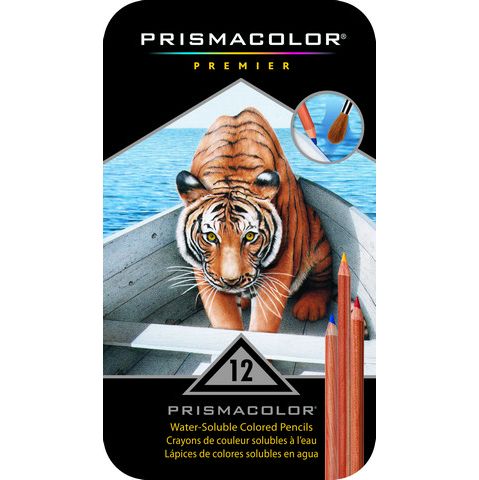 Prismacolor Watercolor Pencils

These professional quality, water-soluble colored pencils have superior lightfastness and match the Prismacolor palette of colors perfectly. They are designed to be used wet or dry, with stunning results achieved with each techniques.
Upon applying water to the pencil markings with a brush, the pigment immediately becomes fluid and creates distinct watercolor effects. The high quality pigments allow for rich color saturation. When used for the colored pencil look, the soft yet thick cores make for smooth color laydown and easy blending.
-12, 24, and 36-piece sets available in reusable storage tins
---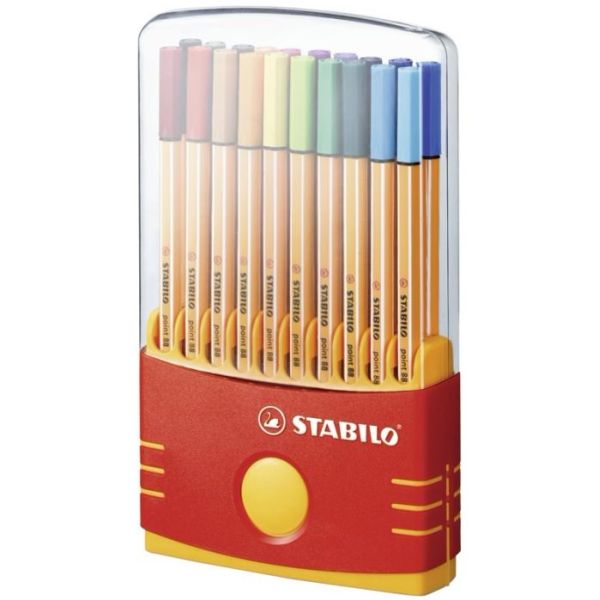 STABILO point 88

These universal fineliner pens are known by children, students and professionals all over the world for their hexagonal striped design.The non-smudging, water-based ink is formulated to sustain long cap-off time – perfect for coloring indoors on long, cold winter days.
The long-wearing .4mm tips are encased in metal allowing for hours of writing, drawing, sketching , and use with rulers and stencils. Available in 30 brilliant colors including 5 neon colors.
- sold both separately and in sets
---
Splendid Cities - Color Your Way to Calm
By Rosie Goodwin, Alice Chadwick
A coloring book that will relax and inspire--all the while transporting you to the world's most wonderful cities.
The most splendid cities in the world--some real, others imagined--come alive under your hand. Open this book and let yourself be drawn into a world tour dotted with floating kingdoms in the sky and spooky cities, and taking you from the domes of Moscow to the top of the Eiffel Tower. This journey knows no limits!
Safe travels!
- $16.00
---
Secret Garden / Enchanted Forest
Treasure Hunt and Coloring Books,
By Johanna Basford
Tumble down the rabbit hole and find yourself in an inky black and white wonderland of Johanna Basford.
These interactive coloring books contain beautifully detailed pen-and-ink illustrations - all waiting to be brought to life through coloring and hidden with all kinds of curious creatures waiting to be sought.
Each book contains a list of things to be found throughout the books which unlock castle doors and reveal hidden secrets within.
- $15.95
---
Color Your Year – Mindful Coloring through the Seasons
2016 Calendar
The hottest trend in books is now a calendar!
Now, Color Your Year: Mindful Coloring through the Seasons, captures the creativity-fulfilling, stress-relieving quality of adult coloring in a calendar. With its gorgeously intricate art and seasonal theme—hearts in February, dragonflies in June, leaves in October and snowflakes in December—Color Your Year is an invitation every month to unplug, pick up a pencil, and refresh your mind and spirit through the meditative act of coloring in the beautiful lines.
- $13.99
---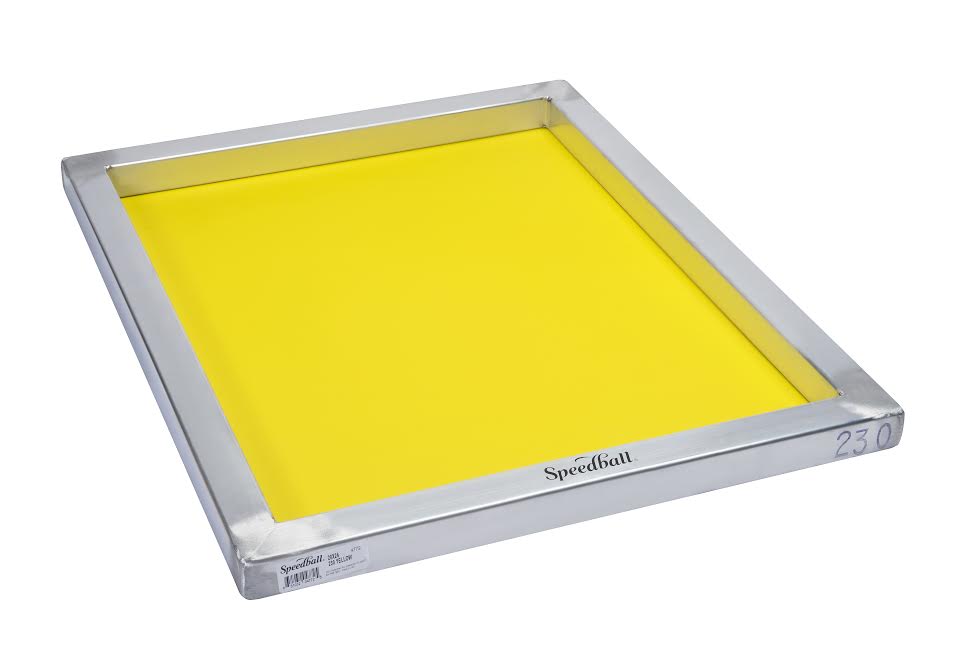 Speedball - Aluminum Frames

Made from the highest grade hand cut aluminum, these screen printing frames are welded and ground smooth for flawless edges and a watertight seal. The high precision woven mesh is pneumatically stretched to industry standard tension and can be stretched and re-stretched many times. These frames are designed for durability and longevity.
starting at $35.91
---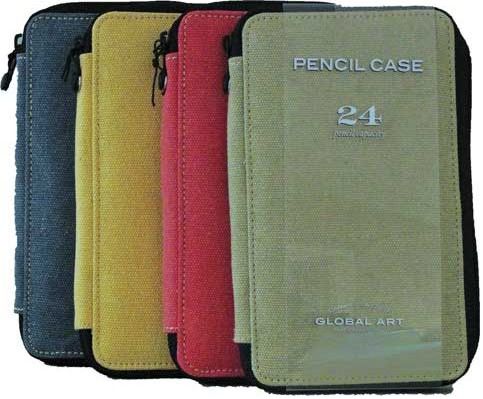 Global Art Canvas Pencil Cases

These handcrafted panel style pencil cases are made of a finely woven 16 oz. canvas making them durable yet modern and streamline. The versatile cases work well for storing and organizing pencils and provide ease and security when accompanying the artist on-the-go. A three-sided zipper seals the case, while inside are rows of strong, thick elastic loops that can hold up to four pencils or even two markers.
- Available in Denim, Wheat, Rose, Olive and Black, in 24 and 48 space counts: starting at $15.95
---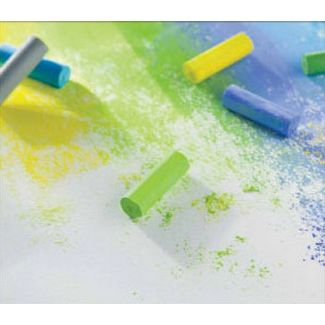 Pastel Premier Sanded Paper
A truly 100% Cotton/Archival Quality pastel paper, it is double primed and coated with an aluminum oxide created for Pastel Premier to produce an ideal surface for pastel painting. A final seal coat makes this paper extremely durable and able to withstand almost any measure of scrubbing or reworking. The paper works with a wide range of media as an under painting and accepts as many as 25 layers of pastel.
- Available in 9"x12", 8 sheet pack, $32.99
---
Derwent Line and Wash Sketching Set
Perfect for artists on the go, this 14 piece Wash Sketching Set contains an expansive range of sketching materials in a durable double layered tin. The first layer contains a collection of 4B-2H graphite pencils for creating detailed lines and shading. The top layer contains water soluble graphite pencils which dissolve into subtle tones and washes when used with the waterbrush. The kit also includes a paper stump for shading, eraser and sharpener, and an eraser shield, which allows areas of graphite to be removed for highlights and effects. "
-$29.70
---

Blackwing Vol. 211 - The Natural Pencil
This limited edition pencil series pays tribute to writer, poet, artist, and environmentalist, John Muir, and his impact on creativity and the environment. The John Muir Trail, the premier hiking trail in the United States, starts in Yosemite and continues 211 miles through the Ansel Adams Wilderness, ending at the highest peak in continental United States, Mount Whitney.
The Blackwing 211 features a natural, clear coat finish, brown imprint and brown eraser. The 211 not only pays tribute to John Muir and the hiking trails of Yosemite in form, its function was also designed with the outdoors in mind. It features a firm graphite core designed for long walks spent sketching in nature.
Limited Edition Box Sets of 12 - $24.95
---
SMITH Extra Fine Watercolors
Extra Fine Watercolors are highly pigmented and vibrant paints with excellent brushing properties and color strength, even when mixed with Titanium White. This line of unique colors spans the spectrum from historical and natural earth tones to bold Quinacridones.
Included in this range are PrimaTek colors made exclusively by Daniel Smith. These colors are handmade with authentic, naturally occurring mineral pigments. The subtle earth tones and vivid jewel colors like Hematite and Malachite recall the tradition of making paints by the ancient Egyptians, Mayans and other ancient cultures. For over 30 years, Daniel Smith watercolors have been formulated in their Seattle facility with the utmost care, using fine pigments to create a consistent and inspiring range.
Available in 88 colors - starting at $7.32
---
Zip & Flip Travel Pillows
Great for kids or anyone young at heart, these Travel Pillows by Kikkerland are delightful and functional. The already popular Travel Logs are now joined by new zip and flip Bears and Penguins that transform from a u-shaped neck pillow to a fun character. Custom contouring micro-bead filling and stretchy spandex cover. $31.25
---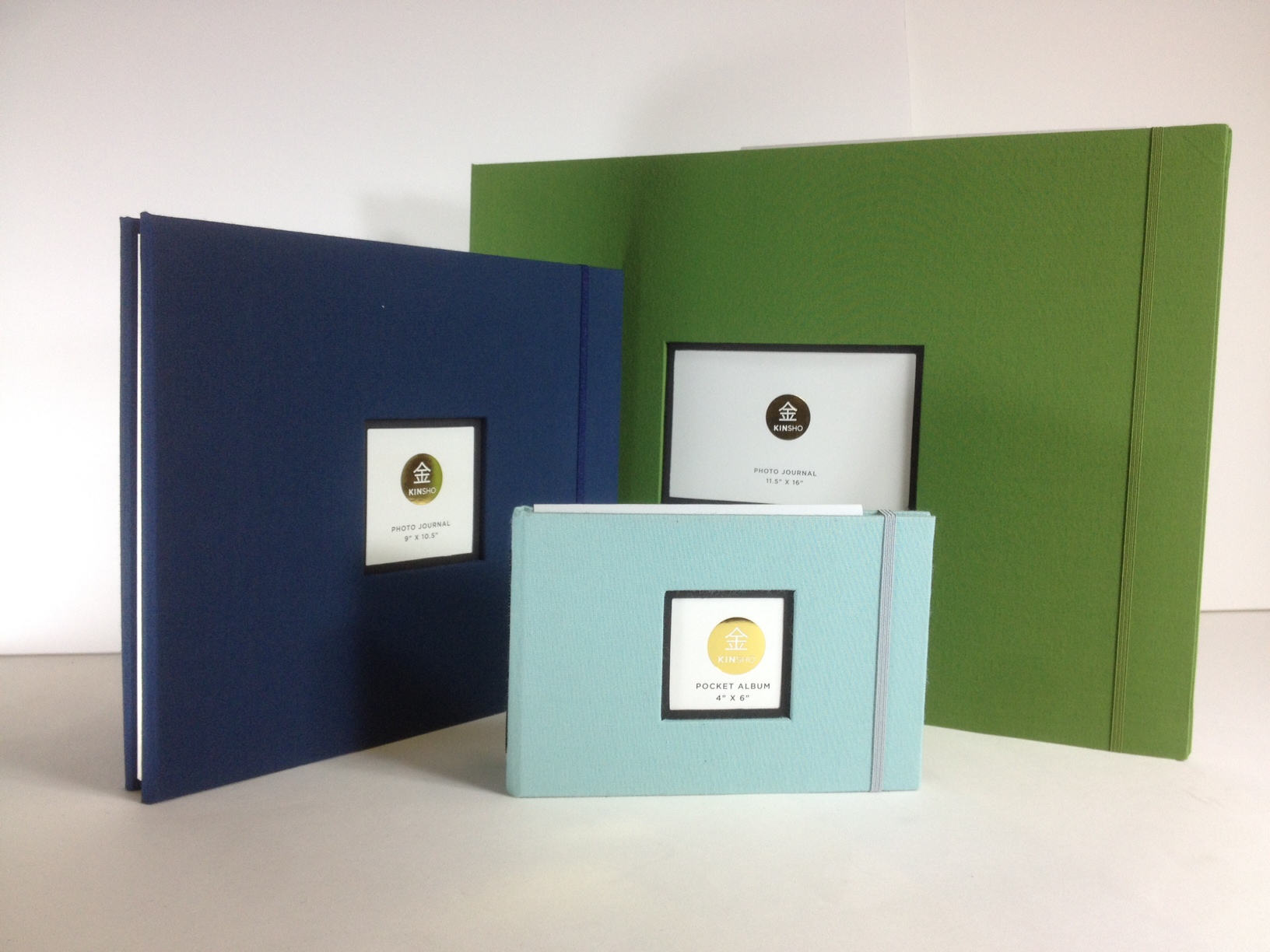 KINSHO Photo Journals
KINSHO honors the Japanese tradition of hand made books using archival papers, distinctive cloth covers, and colors inspired by nature. KINSHO Photo Journals are expandable post-bound, scrapbooks that allow you to arrange photographs in the way you like. The Photo Journals are available in three sizes and seven colors. Along with Photo Journals, we also carry a wide assortment of KINSHO Pocket Journals, Bound Albums and refill packs, for all your presentation and scrap-booking needs.
Assorted Styles - $15.95-$44.95
---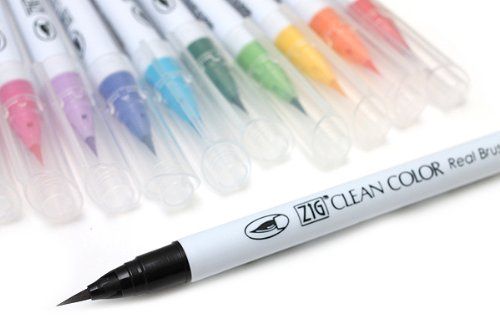 ZIG Clean Color Real Brush
Clean Color brush pens have a soft brush tip and water-based, mixable, dye ink that makes them perfect for quick illustrating, sketching, designing and cartooning.
Available in 80 colors - $3.48 each
---
J. HERBIN "1670" Inks Collection
The 1670 Collection celebrates the rich life and adventures of J. Herbin, an enterprising French sailor of the mid-17th century. He made a number of voyages to India, collecting ingredients and formulas for his sealing wax and inks. He began making pen inks in his Paris workshop beginning in 1700 with the "Ink of Ships" and the "Jewel of Inks." Today, Herbin inks are widely used and internationally renown.
Available in Stormy Grey, Rouge Hematite and Deep Blue: 50ml Bottles - $26.00 each
---
Blackwing Volumes Limited Edition
A limited edition pencil series celebrating the iconic stories that define a creative culture. Music is a big part of Blackwing's past, present and future. The 725 pencil's unique lacquer is inspired by the sunburst finish on the Fender Stratocaster that fueled what Rolling Stone called one of "50 Moments that Changed Rock n' Roll."
Limited Edition Box Sets of 12 - $24.95
---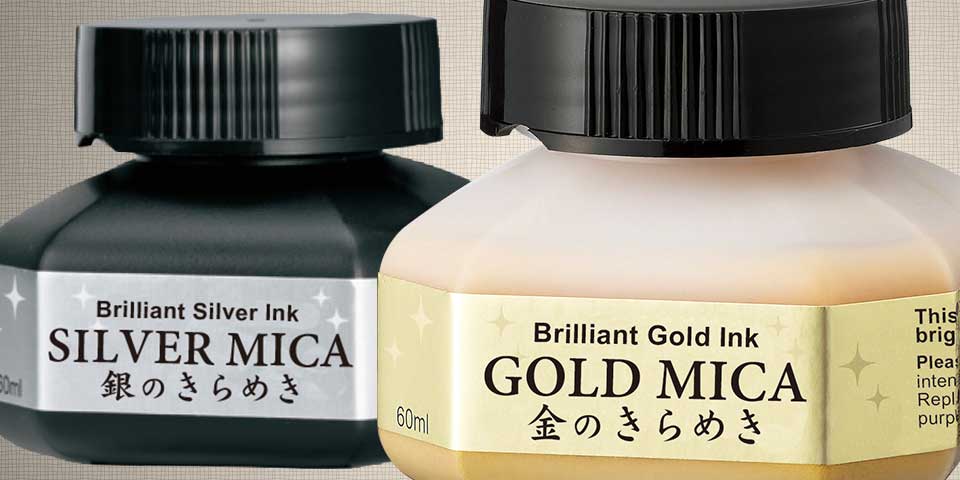 Kuretake Mica Inks
Luminous Gold & Silver ink that contains dazzling Mica particles. Great for use with a Menso brush or dip-pen nibs, they are perfect for drawing, Zentangle, crafting and calligraphy. Water-based pigment, they are highly effective on dark coloured paper and card, adn even suitable for drawing on fabrics.
60ml bottles - $29.88
---
Gamblin 1980 Oil Colors
Gamblin 1980 Oil Colors are made with the same dedication and pure pigments that go into their Artist's Oils. In addition, they use the same process of mixing, milling, filling, and hand labeling.
In order to reduce the cost of oil colors, some manufacturers use gels and waxes to stiffen colors and replace traditional pigments with less expensive ones. Gamblin's approach is different. 1980 colors are formulated with pure pigments, the finest refined linseed oil and marble dust (calcium carbonate). More affordable colors have been made with these three ingredients since oil painting began. With 1980 colors, artists experience colors that are true, without homogenized texture or muddy color mixtures. Gamblin's approach of using both traditional raw materials and processes ensures that artists experience the luscious working properties that they expect from their oil colors.
- 37ml Tubes - $6.25 - $8.95
---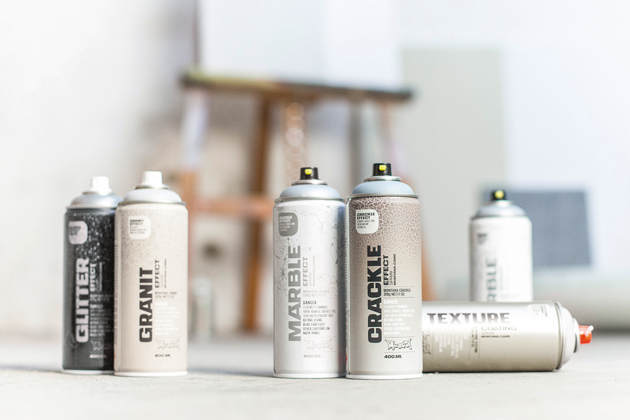 Montana Effect Sprays
New Montana EFFECT sprays add a whole new dimension to being creative. Six new effect cans have been introduced to enable an even wider array of effects and surfaces to be possible. The EFFECT series features the Montana GLITTER effect, MARBLE effect, GRANIT effect, CRACKLE effect, TEXTURE effect and NIGHTGLOW effect sprays. From the futuristic optically illusive GLITTER spray, with it's enchanting galactic sparkle, to the historically distressed look of the CRACKLE spray, the Montana EFFECT series is ideal for indoor or outdoor creative work and is to use in conjunction with the Montana GOLD and Montana ACRYLIC marker product ranges. Every surface can be transformed into a whole new visual landscape. With further EFFECT products being developed, this series is destined to please. Check out these how-to videos from Montana...
-Assorted Effect Cans - $10.75 - $19.95
---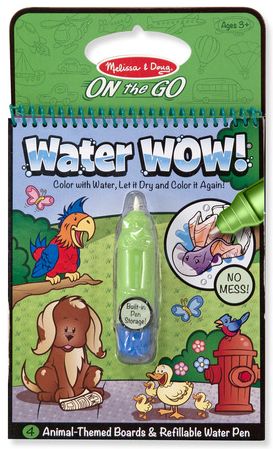 WATER WOW! Activity Books
No-mess painting for kids! This exciting paint-with-water coloring book includes four reusable pages and a refillable water pen. Simply use the pen to color in each scene--details and vibrant color appear with every stroke! Then let the page dry to erase the pictures and fill it in again and again. The chunky-sized water pen is easy for kids to hold and stores neatly right in the front cover. Water WOW! make ideal travel activity books and travel toys for kids!
4 themes - $5.95
---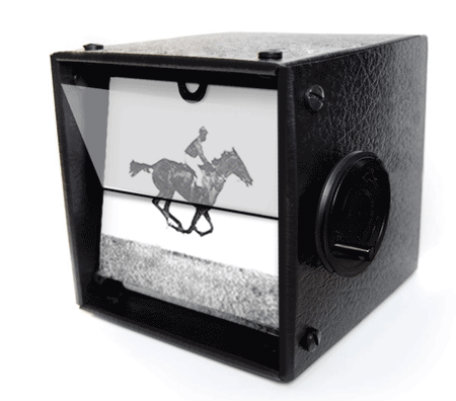 FLIPBOOKIT
Did you ever draw in the corners of a book to create images that animated as you "flipped" through the pages? Flipbookit is a rotating mechanical flip-book-kit that looks and feels like an olde-tyme box camera. It's easy to assemble, and you can easily load ready-made animated art onto it, or create your own 24-frame animation by uploading your own video or images to their online flip-maker tool!
Comes with the Galloping Horse animation cards. Blank Cards NOT included. This hand-cranked FlipBooKit can also be upgraded to a motorized unit with their MOTO Upgrade Kit.
Black Box Kit - $39.95, Craft Box Kit - $29.95, Blank DIY Card Kit - $12.95
---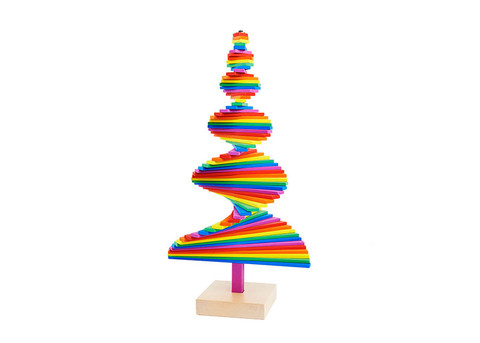 Infinite Tree by Areaware
Areaware does it again. Johannes Molin created the Infinite Tree out of his love and memory of the Scandinavian forest as seen through the lens of his degree in mathematics. This tree is designed using measurements from the Golden Ratio, a universal proportional system that is thought to play a role in the human perception of beauty.
- $49.50

---
Golden A-Z Arylics Sets
The new A-Z Acrylics Sets from GOLDEN offer artists a self-guided workshop experience in a box! By following the instruction guide provided in each set, artists can easily execute several exercises while gaining an understanding of the materials and a foundation for translating the experience into their unique creative process. The exercises in the set provide hands-on experience in how easily all GOLDEN Acrylics can be used together successfully.
- The A-Z Starter Set - $38.99, The A-Z Full Set - $79.99
---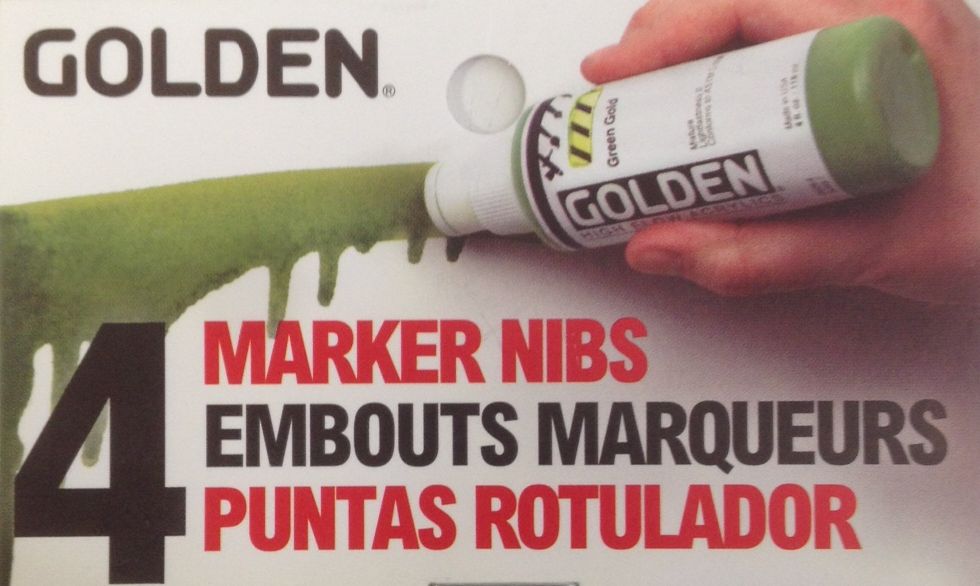 Golden High Flow Marker Nibs
Convert your Golden High Flow and Fluid Acrylic 4oz. & 8oz. bottles into fat markers with these easy screw on marker nibs. Protective caps included.
Set of four - $10.79

---
Pepin Artists' Colouring Books & Postcard Books
PEPIN Artists' Colouring Books contain 16 superior sheets of acid-free drawing paper, printed with exceptional design motifs in very light lines. The printing is done in such a way that, depending on the techniques used, the original outline will hardly be visible after colouring.
The 180 gsm drawing paper is suitable for a wide range of colouring applications, including pencil, crayon, pastel, felt marker, gouache, watercolours and liquid inks. The first-rate paper has a long life and can be framed and displayed without the risk of rapid deterioration. PEPIN Postcard Colouring Books are made of the finest 250 gsm acid-free watercolour paper.
- Colouring Books - $16.99, Postcard Books - $9.99
---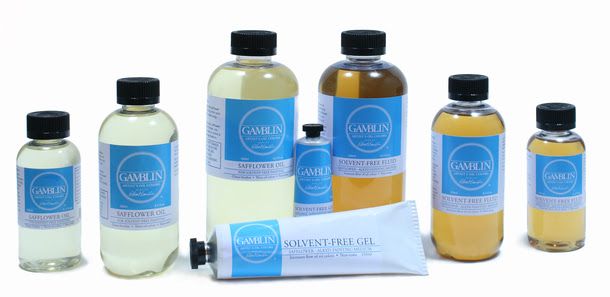 Gamblin expanded family of Solvent-Free Painting materials
Building on the tremendous response to Gamblin's Solvent-Free Gel medium, we're pleased to announce the expansion of their solvent-free offering with Solvent-Free Fluid medium and Safflower Oil. Since Gamblin's founding, they have handcrafted materials with the well-being of artists, their work and the environment in mind.
Gamblin's Solvent-Free Gel and Solvent-Free Fluid painting mediums, both crafted from American-grown soybean and safflower oils, increase the flow of oil colors and moderately speed drying. With Gamblin oil colors and solvent-free painting materials, artists can work with the most natural and enduring of materials, access the broadest range of solvent-free oil painting possibilities, and clean-up with soap and water or Gamsol.
Fluid Medium - 4oz-$9.85, 8oz-$15.26
Safflower Oil - 4oz-$8.05, 8oz-$11.65

---
Americana DuraClear Varnishes
DuraClear brush-on polyurethane, non-yellowing varnishes form a tough, flexible, clear finish that dries quickly. Durable and non-toxic, DuraClear Varnish forms a weatherproof, protective seal on both indoor and outdoor surfaces and protects surfaces from chemicals such as alcohol. It also won't puddle and brush strokes won't show. There are no smelly fumes and cleans up is easy with soap and water.
Available in satin, gloss and matte varnishes: 2 oz.- $2.30, 8 oz.- $8.78

---
MTN Water Based 100 Spray Paint
With the same quality and performance as their Water Based 300, but in a more manageable 3.1 oz capacity, MTN's Water Based aerosol spray paint is formulated with low odor, water soluble resins and high quality pigments, making it suitable for Fine Arts, Graffiti, and other professional work both indoors and outdoors.
A logical evolution of MTN's most artistic and "eco friendly" product, it's a far more manageable aerosol that even makes it possible to be used in activities and workshops involving children. - $5.84
---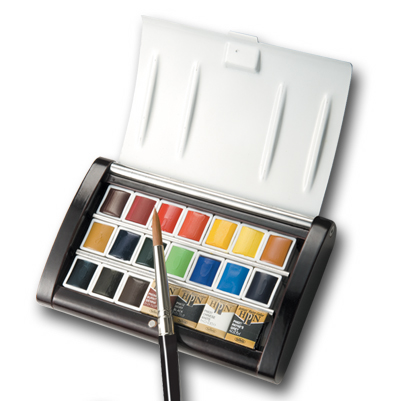 Holbein Watercolor Sets
Brilliant and beautiful, Holbein Artist Half Pan Watercolor has been produced for all those who enjoy watercolor portability.
Holbein uses a combination of both traditional and modern pigments, ensuring that Holbein Half Pan Watercolor offer exceptional brilliance, excellent lightfast ratings and crisp, clean results without muddiness!
Each open stock pan contains a magnetic strip to secure placement and hold onto any steel folding travel palette.
Available in 8 count Karakuri Box - $114.00, 12 count Palm Box - $210.00 and 21 count Urushi set - $495.00

---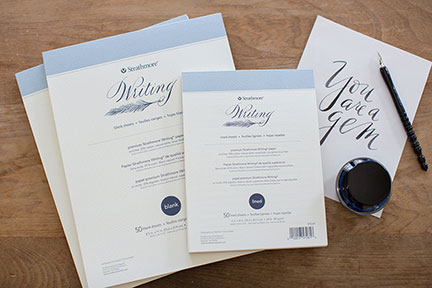 Strathmore Writing
To celebrate thoughtful communication, the timeless art of calligraphy, and the physical act of putting tangible ink to beautiful paper, Strathmore introduces a new paper specifically designed for writing. We've tested it, and Strathmore Writing paper is nice!
The paper performs beautifully with a broad range of ink varieties and writing instruments, including fountain pens, and the wide range of formats allow you to share special and meaningful communication with others or keep your own personal chronicles.
Available formats include - Blank & Lined Writing Pads, Flat & Folded Correspondence Cards, Envelopes and Softcover Journals - $6.36 - $16.39
---
Areaware Stacking Block Sets
With Areaware games, the sky's the limit. Create your own sculpture with Balancing Blocks. These ten faceted stone-size shapes are tumbled in a water-based paint, and provide hours of creative fun. Or build the world you want to see with Blockitecture, a set of architectural building blocks to create towers, cities and dwellings. Multiple sets can be combined to create large, unique environments.
Balancing Blocks - $57.50, Blockitecture - $29.00
---

Nikko G Nibs
Loved by calligraphers and comic book inkers alike, the Nikko G Nibs are extremely smooth, high quality, hand cut, chrome plated Japanese nibs that provide smooth flexability and exceptional line variation.
- $1.33 each
---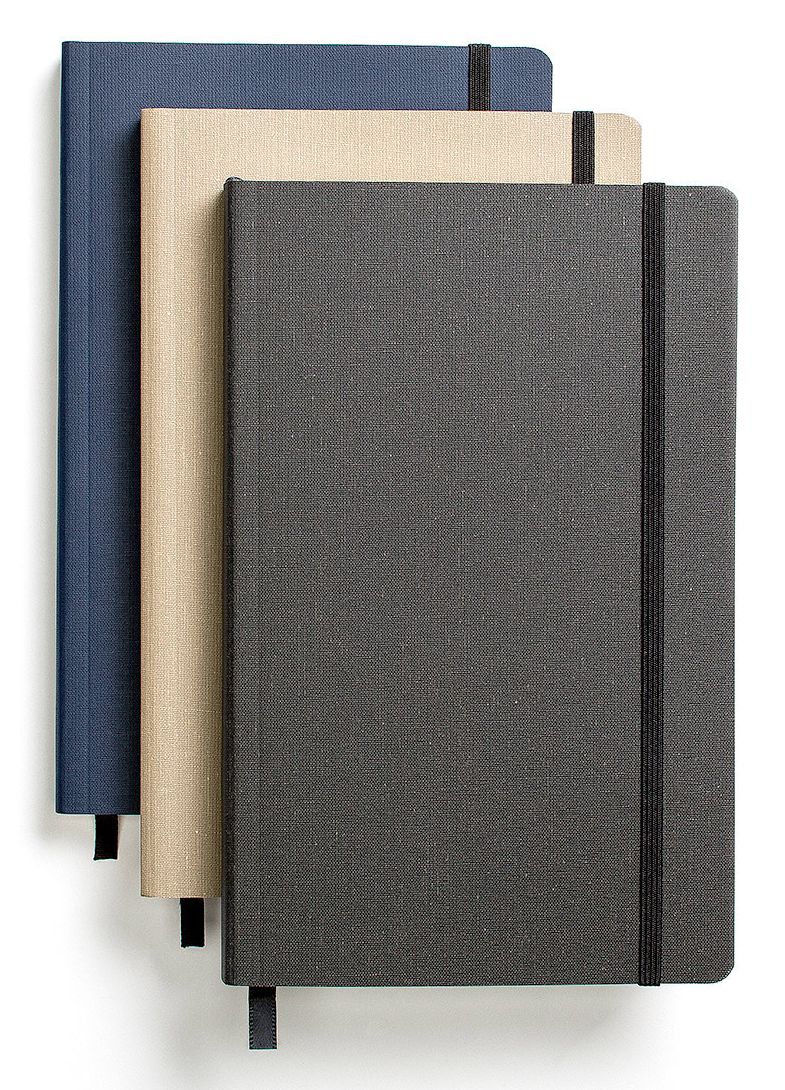 Shinola Journals
Shinola, making an investment in skill, at scale. Creating a community that will thrive through excellence of craft and pride of work. Reclaiming the making of things that are made well. And defining American luxury through American quality.
FLAX is proud to carry Shinola's line of linen hard & soft cover American-made journals featuring smyth sewn binding—a superior binding technique that greatly improves overall durability and extends the lifespan of the journal, while enabling the pages to lie perfectly flat. Handcrafted in Ann Arbor, MI, from all US-sourced components, including acid-free paper from sustainably-managed American forests. Includes elastic closure and bookmark ribbon.
Available in soft, hard and paper covers, in sizes 3.75x5.5, 5.25x8.25 and 7x9 - $6.75 - $19.95
---
Rickshaw DigiPrint Totes
There's no better way to show your love for beautiful California than with Rickshaw Totes. Available in new stylish Digiprints and classic cotton canvas styles, they feature two wide nylon straps making them perfect for daily errands and trips to the grocery store. Each bag is printed, cut and sewn right here in San Francisco!
Several California and Bay Area themed designs to choose from - Canvas styles-$25, DigiPrints-$40
---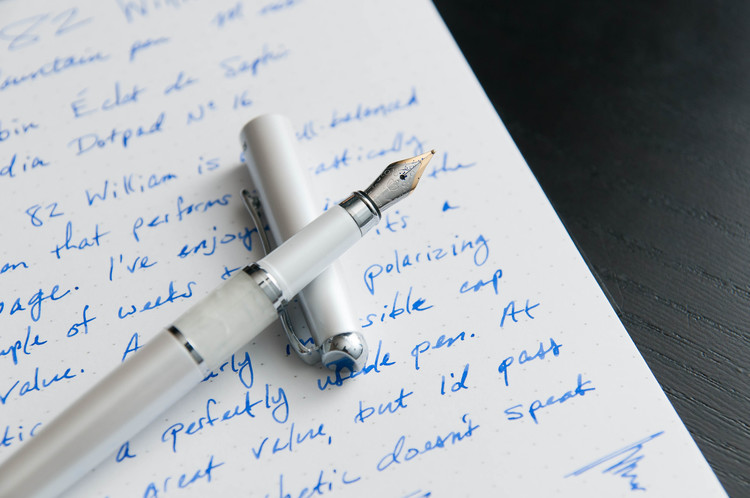 Regal Fine Pens
Regal Curio provides fountain pens, roller pens, and ballpoint pens made from the highest quality materials. With over 35 years of research and development, Regal is a tool for inspiration. Their pens reignite the enthusiasm for penmanship in a world where handwriting is almost obsolete. Drawing from designers across the globe, each series features astonishing attention to detail and eye-catching designs.
Regal Curio was originally created by Andy Chen in 1979. While studying design and business management in London, Andy became inspired by the building architecture of the city. Passionate about writing and reading, he became inspired to develop his own writing instruments. Regal Curio was born.
Available in Ballpoint, Rollerball, and Fountain Pen styles - $18.75 - $62.50
---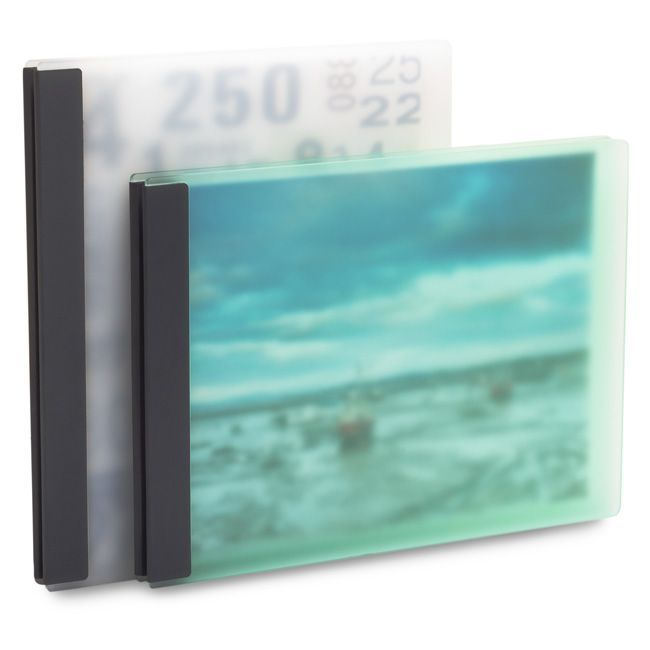 Lumen Presentation Books by Pina Zangaro
Pina's newest line of presentation books is here. Made of a new matte-both-sides acrylic in two colors (Glacier & Polar) with nylon sailcloth binding and no metal rivets or hinges, Lumen has a subtle, sophisticated, urban look. We think it's going to become one of Pina's best-selling signature styles and are thrilled to be introducing it.
Available in several sizes, both portrait and landscape - $72.00 - $96.00
---
Rainbow Makers
Fill your room with a swirl of dazzling rainbows! Solar powered, simply stick the Rainbow Maker to a window that receives direct sunlight. The crystal will rotate and create beautiful rainbows that move around the room. Brings good Chi into your home according to Feng Shui.
Available with single and double crystals - $39.00 - $49.95
---
Critter Windups
Essentially a no form follows no function object designed by Chico Bicalho, Critters were conceived by chance at a studio in NYC using vintage Japanese gearboxes from the 1950's. As Chico continued to travel around the world, more and more Critters have been spawned along the way, growing into a collection of over 16 unique, fun and entertaining windup robots. Find a critter that fits your whimsy at FLAX. $13 - $18
---
The Log Pillows
Saw some logs with The Log Pillow. It looks like a log, but is actually a comfortable pillow for resting your head with its custom-contouring microbead fill. Lightweight and great for travel and home use, it's available in pine and birch. $19.85
---
The One Dollar Paper Sale
Passionate about beautiful paper? Paper lovers can rejoice because FLAX is having a huge $1.00 sale going on now, with over 150 styles of decorative papers to choose from.
Our sweeping collection of papers come from around the globe - from fine Italian Florentine prints to exotic Thai Batiks, delicate Japanese Lace papers to ornate Filigree & Embroidered designs handmade in India. The selection is a visual, tactile delight.
Not only are these select papers a steal at $1, they can be used for a variety of projects. Ideal for collage, mixed media, card making, book arts or for wrapping up that special gift, you are certain to find a paper that suits your needs.
This inventory reduction sale on select papers is ongoing and always changing - don't miss it!
---
Gelli Arts Gel Printing Plates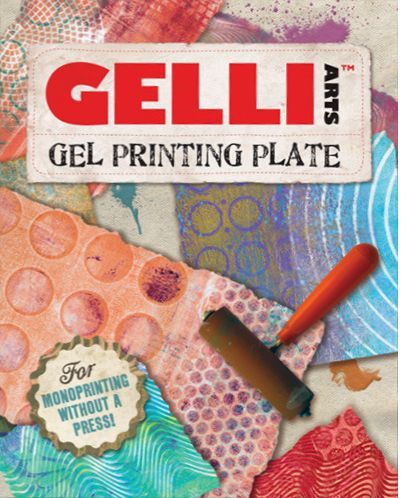 For monoprinting without a press! These gel plates are always ready to print. They are easy to clean, easy to care for, and will last for years when used and stored properly.
Best for use with acrylic paints, Gelli Arts plates are great for kids too (though the process can be messy!)
1) Remove clear film and apply paint to the plate
2) Roll paint into a this layer with a brayer
3) Create designs by pressing textured objects into wet paint
4) Lay paper onto painted surface
5) Gently rub paper with hands to transfer paint
6) Pull paper from printing plate to reveal print
Violà!
3"x5" - $14.95
5"x7" - 22.95
8"x10" - $34.50
---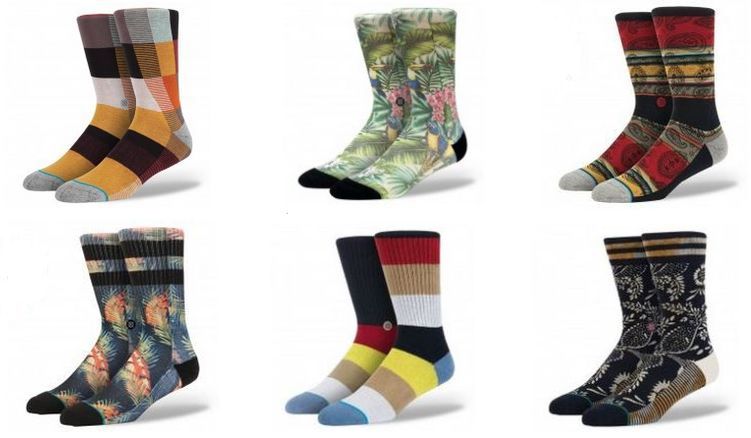 Stance Designer Socks
Hip, creative, original, artistic, mercurial and effortlessly cool, we have dozens of styles of Stance socks for both men and women. The Stance design philosophy believes in expression and function. Expression that creates an emotional visual connection and function that also provides comfort and performance. The result - outstanding socks!
$14.00 - $18.00 each
---
Fiber Arts Department!
We are thrilled to present to our customers a new Fiber Arts department here at Flax! Just in time for the holidays, the Fiber Arts department has everything you need to create woven or textile treasures. Featuring all things fiber, you'll find items for knitting, felting, crossstitching and more.
Find your ideal yarn from an array of colors and thickness that range from comfy Shetland Chunky to sleek Silk Bamboo Yarn. We carry a variety of fibers including wool, acrylic, cotton blend, and silk. For bright multicolored yarn check out Red Heart's which are great for kids!
Originating in Japan, Clover's top quality notions include bamboo Takumi Knitting Needles, Takumi Crochet Hooks, and many more innovative tools. Knitting and crocheting sets are also available and make great gifts!
Buy sturdy felts from Dimensions in bulk, rolls, or create your own felt artwork with Dimension's roving packs felting foam and needles. Our Needle Felting Animal Kits are an excellent introduction to Fiber Arts and at a great value, too!
Embroidery Floss packs from Prism features a spectrum of dazzling colors that will add flair to any project. Use them with our Wood Embroidery Hoops, that come in 2 different sizes, and Aida Cloth for traditional cross stitch. For something different, try stistching into our bright and colorful Fat Quarters.
Whether dyeing natural or synthetic fibers, Jacquard will surely have the right dye for your project. We have Lumiere, Neopaque, iDye, Procion, and more, all designed to give artists more color options on a variety of materials. Our Indigo Dye Kits make easy work of an ancient process.
Kids can create, too! We have many engaging kits that have everything you need to inspire young artists including Jacquard Tie Dye Kits, Klutz knitting kits, and Keppi Crochet Hat Kit. Melissa and Doug's Weaving Loom is perfect for beginners!
Discover all the possibilities of Fiber Arts in our store or buy online.
Come see our new department for yourself in our Market St. store!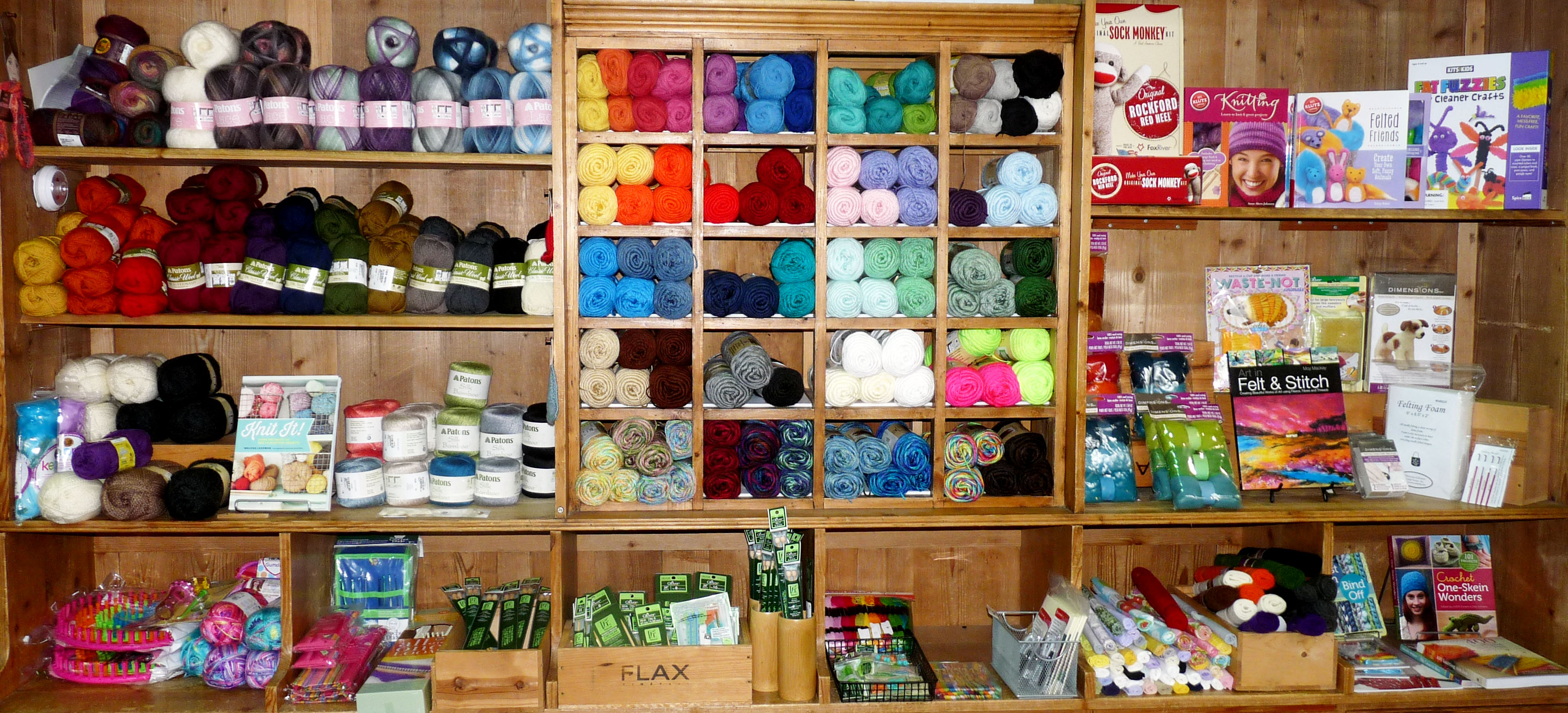 ---
Gelly Roll Pens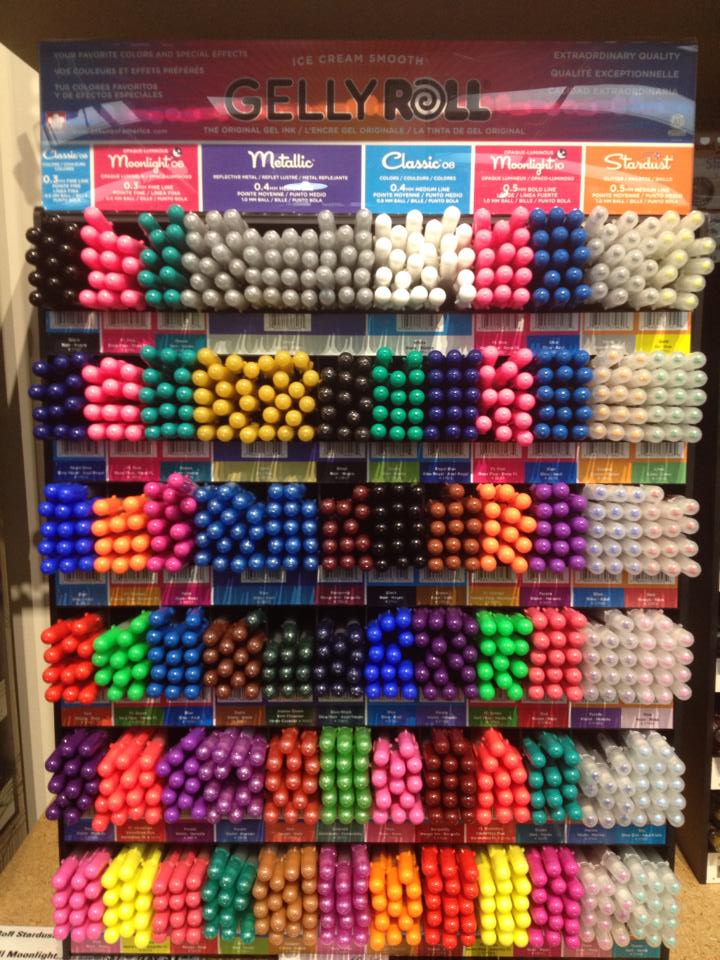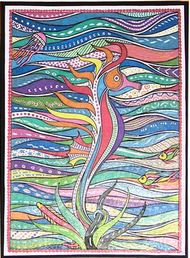 Just in time for holiday card making, we've brought in a brand new display of Gelly Roll pens. As they say, ice cream smooth, in 67 flavors!
Now celebrating 30 years, the Gelly Roll was the first gel ink pen to hit the market in 1984. They've mastered gel ink technology to offer a variety of colors, opaqueness and special effects, including medium and fine point Classic gel ink, Metallic, sparkly Stardust, dual color Silver Shadow and Gold Shadow, and bright and creamy Moonlight.
Come in and try them. Fun awaits! $1.27 - $1.49 each Buy Online
Looking for some inpsiration? At gellyroll.com, any of their 12 DIY videos will get you excited.
Click here
---
Wafer LED Lightboxes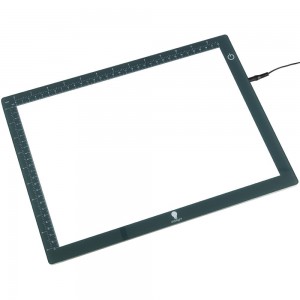 The most portable and lightweight lightbox on the market, the Wafer is only 3/8″ thick! It features dimmable LEDs and provides an even spread of light from edge to edge. The Wafer is powered by an AC adapter and is very low heat making it safe to use on virtually any surface. This versatile lightbox is ideal for calligraphy, stenciling, embossing, embroidery, and so much more.
Available in two sizes, and each has an integrated black border that is flush with the work surface and graduated on two sides. AC adapter included.
Wafer 1 – tracing area 9″ x 12.5″, weight 1.95 lbs, $149.99
Wafer 2 – tracing area 12.5″ x 17″, weight 3.5 lbs, $249.99