Posted by Ellen Reilly on 12th Oct 2016
SF Open Studios is a great way to discover art: to see the vast array of art forms—painting, printmaking, photography, sculpture, glass, and more—created right here in San Francisco, and to meet the artists. SF Open Studios helps artists build their mailing lists, gain new admirers, and ultimately sustain a living making art. Each weekend presents a different group of artists. Pick up a program guide and enjoy an art adventure. Studios are open on weekends, 11 am to 6 pm.
Following are a few recommendations on who to see; you may have caught their interviews here on this blog.
Bob Armstrong Oct. 15 and 16, at Hunters Point, Building 101, Studio 1211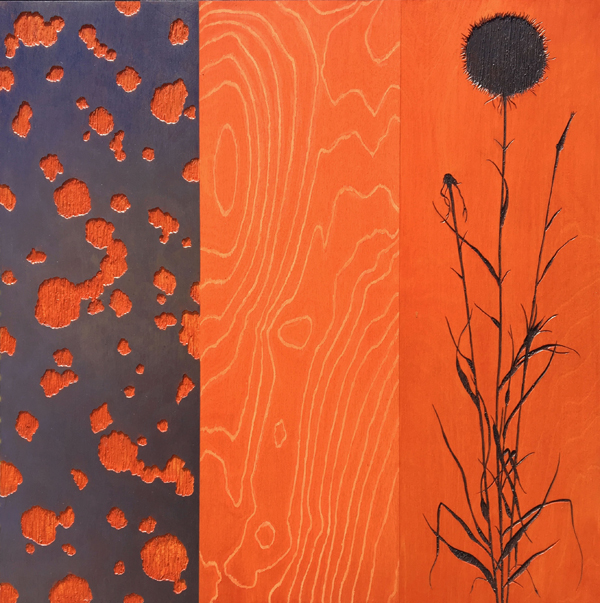 Bob Armstrong celebrates the beauty of the world through hand carving on wood panels, finished with graphite and monochromatic color. Shown here is a recent work, "Yosemite: Grand Dandelion and Lichen on Granite", inspired by a visit to Yosemite. "For twenty years, I have been visiting Camp Mather in Yosemite with my family and friends. There are many lovely hikes nearby, and the carving below is taken from one of them. I spotted the huge dandelions in a meadow, and saw the lichen on a granite wall just below the O'Shaughnessy dam spillway at the edge of the reservoir. The dandelions are outsized and muscular, but simultaneously very delicate. The lichen is disc-shaped and flat, with scalloped edges. Lichen, unlike dandelions, can live for over a hundred years, and grows very slowly. It has to be very hardy to survive on a sheer granite face during the severe Sierra Nevada winters and hot summers. These are very different but very lovely shapes, and offer compelling visual textures. A great combination from a sub-alpine paradise, and a really challenging, enjoyable piece to carve."
Yosemite: Grand Dandelion and Lichen on Granite,
Bob Armstrong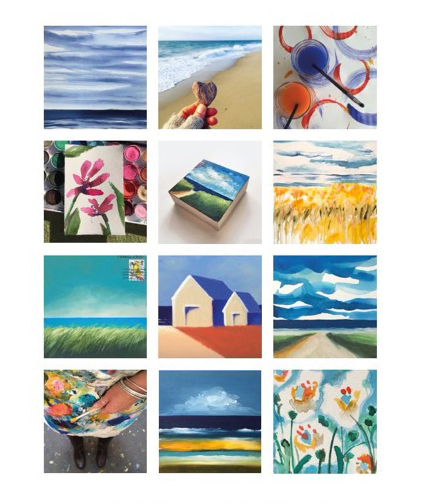 Tjasa Owen Oct. 22 and 23, at 1850 Union St., Studio #5 (between Laguna and Octavia streets)
Tjasa Owen is a bicoastal landscape artist living and painting from her studios in San Francisco and on Cape Cod. Her paintings are inspired by her international travels, her love for coastal and inland landscapes and by the colorful sketchbooks and written correspondence she works on daily. Having grown up by the Atlantic seashore, she is drawn to the ever-changing skies and coastal scenes. Her work has been shown extensively in the US and Internationally. Now living a bicoastal life with her family, Tjasa paints from her San Francisco and Cape Cod studios. If she is not with a paintbrush in hand, Tjasa is usually found abroad posting photos and stories on Instagram and on her Blog. Tjasa's Studio is on Union Street in San Francisco and her work is represented by galleries on both the East and West Coasts.
Jennifer Ewing Nov. 5 and 6, at Developing Environments, 540 Alabama St. (at Mariposa), Studio 307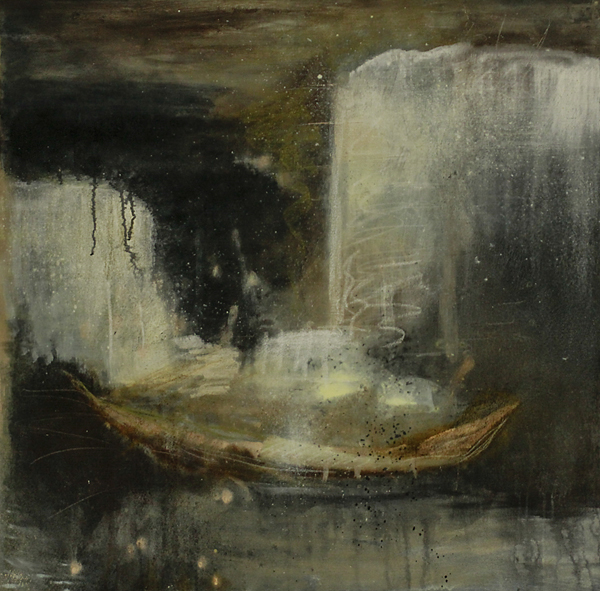 Jennifer Ewing will be showing a retrospective of the Spirit Boat series-a theme she has worked with for the past eleven years. "From the beginning, when I used my father's notes collaged into my first Spirit Boat paintings, to today when I use a great variety of wet media in my paintings with touches of dry media on top, I continue to explore the realm of the unseen and mystical in a solo vessel that represents one's soul on a journey to navigate the unknown. Recently, I have begun to paint and construct ladders that also represent movement and transcendence. If I had three more lifetimes, I would not run out of ideas and ways to work with these cross cultural symbols for they are rich in layers of meaning that invite the viewer to travel and go deeper into their own psyche. The boat and the ladder are ancient and yet timeless, both made by hand and immediately recognized by everyone as an invitation to go further."
Painting by Jennifer Ewing
2016 SF Open Studio weekends: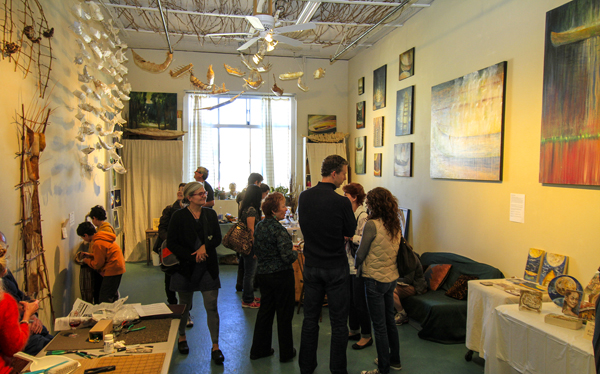 Weekend 1: Oct. 15 & 16: Hunters Point Shipyard & Islais Creek Studios
Weekend 2: Oct. 22 & 23: Fort Mason, Marina, Pacific Heights, Russian Hill, North Beach, Downtown, Tenderloin, MIDMA, SOMA, Western Addition, NOPA, Hayes Valley, Lower Haight, Potrero Hill, Dogpatch, Bayview
Weekend 3: Oct. 29 & 30: Presidio, Richmond, Upper Haight, Buena Vista, Cole Valley, Sunset, Ocean View, West Portal, Portola, Excelsior, Balboa Park
Weekend 4: Nov. 5 & 6: Mission, Castro, Bernal Heights, Noe Valley, Upper Market, Glen Park