Posted by Ellen Reilly on 21st Sep 2015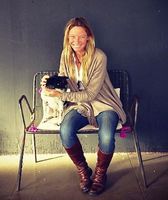 FLAX Interviews local artist Tjasa Owen
Tjasa Owen's work is inspired by her travels, her love for coastal and inland landscapes and by her colorful sketchbooks and written correspondence. Having grown up by the Atlantic seashore, she is drawn to the ever-changing skies and coastal scenes. During foreign travels and time away from the studio, she photographs, sketches and captures landscape details and textures to bring home to her studio. Back in her San Francisco and Cape Cod studios she integrates the themes of rural and coastal landscape as well as correspondence to create her well-recognized larger format paintings. The artist employs acrylic, oil pastel, and collage media in her canvases.
Tjasa Owen has studied fine arts, art history, and interior architecture. She attended and received her BA at the University of Virginia and studied at the National Academy of Art in New York, the Academy of Art in San Francisco and Coupa in Paris. Her work has been shown and collected extensively in the U.S. and internationally. Currently Tjasa lives and paints out of both her studios in San Francisco and Cape Cod. Please come visit her paintings in the studio and galleries that are open year around and preview the work on her website: tjasaowen.com.
How did you first come to being an artist?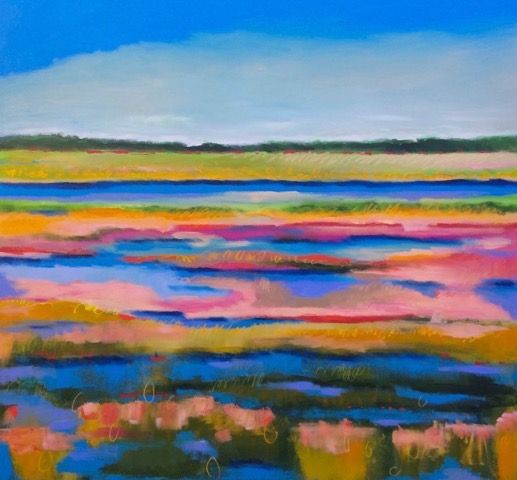 I have sketched and painted ever since I can remember…growing up in New York City, I think my first art classes as a child were at the Metropolitan Museum! Having both my parents in the Architecture field, I was surrounded by constant inspiration and exposure to the arts both in the City and on our many travels abroad as a family. My parents are avid travelers and lovers of foreign cultures giving me the incredible opportunity to travel through Asia, India, Africa and Europe at a very young age. On all these trips, I had a sketchbook and watercolor set in my backpack….it hasn't changed much since then! Every day I don't leave home without a sketchbook and all sorts of art supplies in my bag!
What artists (or others) have inspired or influenced you in your work?
I love many artists for different reasons. I feel as if I am drawn to color and strong horizon lines, I find myself exploring many ocean painters…I love the millions of ways to painting the sea and the sky. I love artists who incorporate collage into their landscapes to add dimensionality. I am drawn to the written word and find it beautiful to see quietly in a piece. I love certain children's book authors whose illustrations make me want to continue buying the series despite the fact that my kids have outgrown them…I am inspired by landscape artists who paint loosely and more abstractly but leave a larger picture to see…I could go on and on, but rather than any specific painter, it's more of a feeling that I am left with when seeing a specific painting and how it moves me into pushing my own work. Spending more time on Cape Cod now, I am discovering so many talented artists out there—there is nothing quite like discovering an artist you didn't know about—and how that can effect your next day in the studio.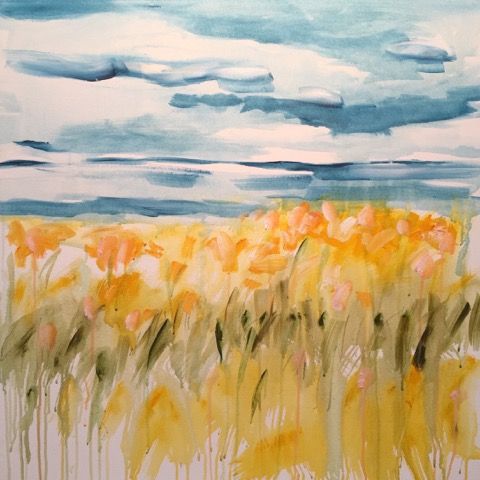 Your paintings have the quality of journals—sketchbooks and scrapbooks—more like reminiscence than an actual place, and imagery that appeals broadly. Tell us about the process of creating your work.
I sketch in paint a loose image on my canvas before I begin…the final piece never has anything to do with that initial sketch, but it's a beginning point, and gets the paintbrush going…The horizon line is established and I begin the journey. I play with color endlessly and mix it both on the canvas and my apron. My sketchbooks, watercolors, and the written word, have always been very important to me and I feel as though my paintings are like postcards that I send back out in the world. I love writing letters/ sketching on them and sending them out to friends…I have shelves full of sketchbooks and painted journals—I guess it's always been a form of expression and it reflects in my work. The new series I am working on is based on a sky ocean series that is very loose—with a watercolor feel. This new series is deeply influenced by my summer on the Cape and our month in Africa.
Cape Cod has such amazing, unique light. Your driftwood paintings look straight out of Cape Cod, yet they began as found driftwood pieces on walks by the Golden Gate Bridge. You work in both places, does the imagery merge into one?
As an artist, I think we all love to explore different mediums when inspired to do so. When I first started showing in galleries, I was painting landscapes on envelopes that had been postmarked. I was incorporating my love of written correspondence, travel and coastal landscapes. Then I moved onto watercolor paper and canvas and the pieces grew larger with the written word and bits of letters incorporated. I have always loved painting directly on wood because there is something about the texture of the grain coming through. One day while walking the beach after a very big storm, I kept stumbling across these beautiful weathered pieces of driftwood washed ashore. I started collecting them day after day and bringing them to the studio knowing I would find something to do with them. Sure enough seascapes with postal imagery emerged on these pieces of wood that washed ashore from the ocean.
I work both out of my studio here in San Francisco (very close to your new store!) and out of my cottage on Cape Cod. I am very influenced and inspired by my love of the East Coast where I grew up spending years on Block Island where we had a home - and now out of my 600 square foot cottage by the sea on Cape Cod. My seascapes reflect these places very much. They are never copied from a photograph, but pulled up from memories and inspired in general by my bicoastal life.
You recently went to Africa. What made you decide to go there, and how did your experience effect you creatively? Has Africa begun to show up in your paintings?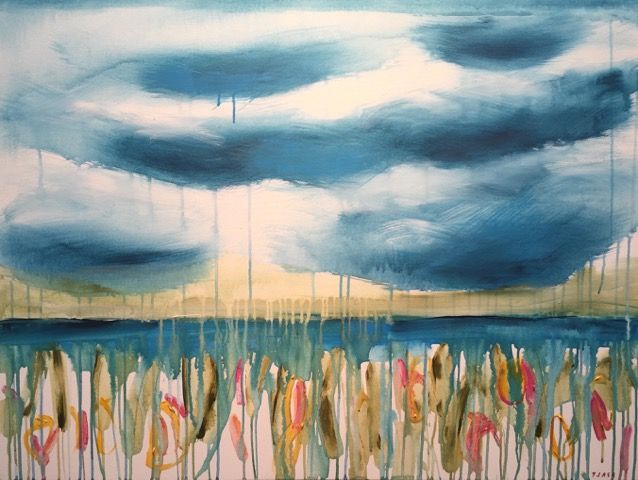 I spent half the summer with our children on Cape Cod and then we traveled as a family to Kenya and Tanzania as well as the Island of Zanzibar. The Africa part was inspired by years of talking about doing a safari with the children, but also waiting until they were the "right" age where they would appreciate it…well, that time came sooner than we thought when friends planned an incredible itinerary we just couldn't turn down. The entire summer on the road has affected my work immensely and I can't get enough time in the studio these days. My ocean/ seascapes have loosened immensely taking on a more abstract feel. They look like giant watercolors to me now. I am not sure if Africa scenes will play into the work but living on the Masai Mara deeply influenced this shift. There is no place more physically and spiritually vast that I have ever experienced—than the Masai Mara.
When you are back home at the studio, do you work as a full-time artist? Is there a typical day?
Yes, I have been a full time artist for 18 years now working out of my studio on Union Street in San Francisco and now on the Cape as of a few years ago. Every morning after the kids are at school, I head straight to the beach with our dog and walk for an hour, listening to the waves, taking time to be quiet and collecting beautiful ocean pieces that wash ashore. Once I have gotten the sand off me and the pup, I head straight into the studio with tea in hand and paint all day.
Every few months or so, a series of landscapes are completed, they are crated and shipped to the galleries who represent me. Most of these galleries are on the East Coast, but in San Francisco, I sell both directly out of my studio here on Union Street and show at Hang Art Gallery downtown on Sutter Street.
Do have any upcoming exhibits or open studio events, where we can see your work, in person?
I just wrapped up a few solo shows on both Coasts and am now looking forward to Open Studios here in San Francisco next month!
October 24 & 25, 11–6 p.m.
1850 Union Street, Studio #5
(between Laguna & Octavia streets)
You can find all my work and news on my website: tjasaowen.com, on Facebook (Tjasa Owen), Instagram (@tjasaowen) and to see works in progress, sketchbooks, travel photos, please visit my blog:
You're a Flax customer. Tell us what you like about Flax.
I'm rendered speechless every time I walk in there. It's just the most colorful, inspiring and fulfilling way to experience art supplies. No more words needed!
All images: © 2015 Tjasa Owen - All Rights Reserved