Posted by Ellen Reilly on 24th Mar 2016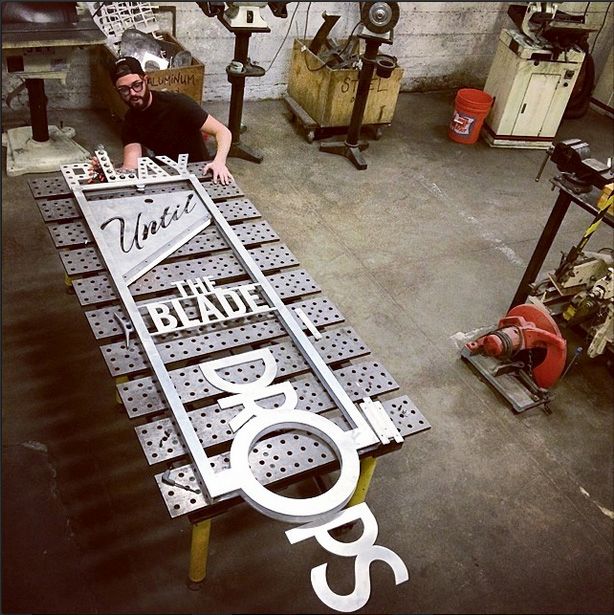 FLAX interviews artist Sam Lamott
You might recognize Sam Lamott from a painting by Ingrid Lockowandt (Ingrid was interviewed on this blog) "Father and Son," that won the 2015 Marin Magazine Cover Contest. That's Sam climbing the Marin hillside with his son. Or you might recognize his name, Lamott, as in the novelist and writer of the same name. However, after reading this blog, you will come to recognize Sam Lamott as a unique Bay Area artist, who creates large, kinetic, metal and mixed media sculptures. His work stems from a bold experimentation that crosses the industrial with the surreal, and is imbued with a dark sense of humor. A San Francisco native, Sam studied industrial design at Academy of Art College. He has shown his work at the Drop Gallery, Barber Lounge, Ian Ross Gallery, and Gauntlet Galley, while also doing private commissions.
What artists have inspired your work?
My good friends Eddie Colla and David Young (DYOUNGV) have been a huge source of guidance and support. I wouldn't actually be an artist without them in my life. When I was about one year into sobriety and really just itching for excitement and adrenaline, these two guys came into my life. We would go wheat pasting in the middle of the night; they took me to art events, and let me help out with their installations.
Among the thousands of artists that have influenced my work, Dr. Seuss, Arthur Gansen, Marcel Duchamp, and Desire Obtain Cherish created aesthetics that especially excited and inspired me.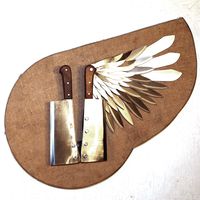 Tell us about your interest in sacred geometry; how have you used it in your work?
I have always had OCD related issues, but these days I'm outright fanatical when it comes to numbers and angles. I took a sacred geometry class as an electorate while studying product design, and it changed my life dramatically. My instructor, Mark Reynolds, not only gave me a great understanding on the concepts of sacred geometry, but actually got my midterm project into a gallery show before the class was even finished.
All my works make use of occult centers, golden ratios, and Fibonacci numbers. When I'm designing the piece and trying to figure out the ratios and proportions, sacred geometry concepts make a great foundation to guide me.
Tell us about your ideas behind the use of San Francisco street signs.
When I make pieces from raw materials, my obsessive-compulsive tendencies take over and I can't help but make everything as perfect and precise as possible. I've actually received criticism from curators looking at my work, that some pieces are too flawless and lack "human" elements. My last pieces, "If you only...., you could love yourself" looked like real lipsticks with syringes sticking out of them, and every single person I spoke to assumed they were just used lipsticks, instead of being machined down from raw aluminum. It was frustrating, but when I got the chance to show people the process that each tube went through to become the finished piece in front of them, the reactions and looks on their faces was well worth having to explain it.
Working with found objects like the street signs takes away some of those neuroses and lets me work a little more free-form. It also lets the object direct where the work is going. When I use found objects, I love to think about all the places that these objects have been. I even come up with fictitious possible pasts. The street signs were fun because I thought about all the places in San Francisco they had been, the San Franciscans that handled them (or in some cases damaged them) and the ways in which they were a physical part of the city I love so much. Of course like all my other work I draft out a design, using numbers and angles.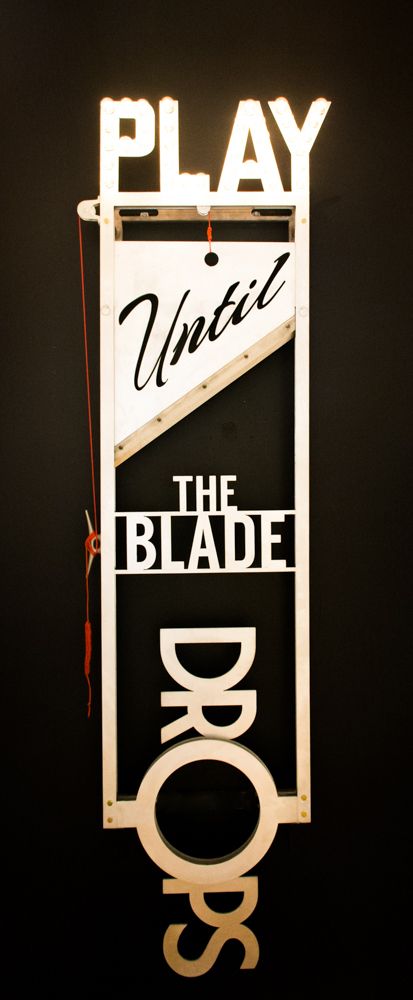 You've shown at Gauntlet, Goodmother, Barber Lounge (which sadly had to close), among other maverick galleries. Tell us about your experience, as an up-and-coming artist, finding galleries in which to show your work.
It's tricky, I don't have a formula. The art scene is so community driven, the Bay Area is very small. I showed up to openings of other artists that I loved, stayed connected, volunteered to help, and asked for guidance from more seasoned artists.
For some of your kinetic pieces, like "Playtime," are they interactive for the gallery audience?
Well "Playtime" was a functional guillotine—an engineer helped me calculate that the blade comes down with over 15,000 pounds of force. It was a very interactive opening as we cut watermelons with the guillotine. People loved it, because it had this ability to make you feel like a child again, but I couldn't put the gallery at risk by letting people use it themselves. Generally, whether the work is kinetic or not, I don't plan on onlookers handing or touching the art piece. But I have never had an opening where they honored that. Because I'm such a nervous and worried person, all of these pieces are built like tanks. They will outlive me, so I don't worry too much about them being handled.
One of the greatest rewards about making "controversial" artwork is hanging out by your piece at the opening, pretending to be another observer, while listening to the conversations they start. I wish I could secretly record them. "Loved, liquored, and lusted" caused huge philosophical distress and debates amongst close groups of friends and couples. Not one person could agree in what order the individual pieces should go. I took various positions that night at various times in the evening. The goal of having a roomful of unsuspecting people have to examine their habits and rituals of dating and mating and mingling was something I will never forget.
What new pieces, or projects, are you currently working on? Do you have any upcoming shows where people can see your work?
I've really been feeling some inner changes and I've taken a few months off to pay attention too my own imaginings, impressions, and desires. I don't know what my future work will even look like, so It's hard to find a place to show work that I haven't even conceived of yet. The only certainty I have about my future work is that it will be meticulously designed, impeccably built to last, and weird as hell.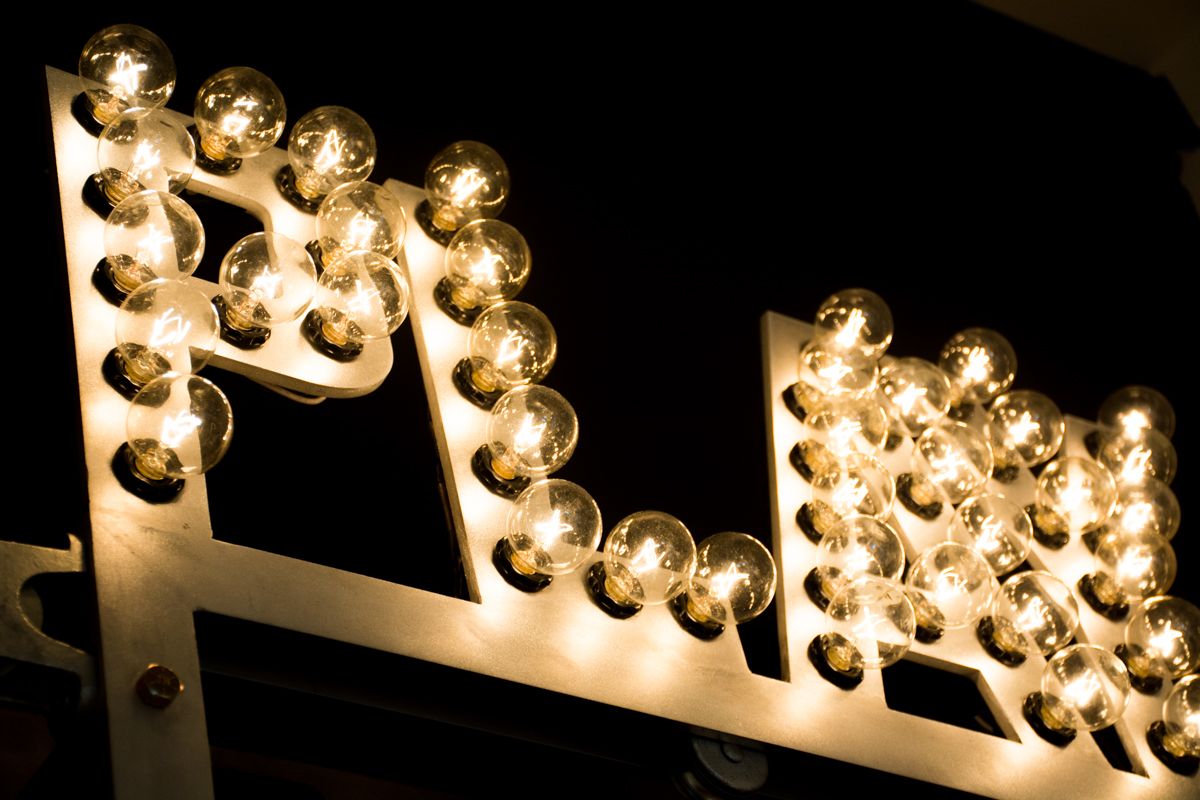 You are a Flax customer. Tell us what you like about Flax.
Flax has such a wide selection of truly unique objects and supplies. It has always been a sacred place to go to for inspiration, It's like church. The fine pen salespeople probably know me by name—I'm a huge fan of Caran D'ache pens. I have probably purchased 1,000 sketchbooks there, each one different from the last. While I don't actually even use paper in my artwork, the giant assortment of papers, with every color and texture imaginable, always calls to me and my wallet.
Images
Repurposed Scars. Stainless steel kitchen knives, mild steel, plywood, & burlap. 28"x40"
Playtime. Aluminum, stainless steel, & high carbon steel. 24" x 96".