Posted by Ellen Reilly on 8th Apr 2014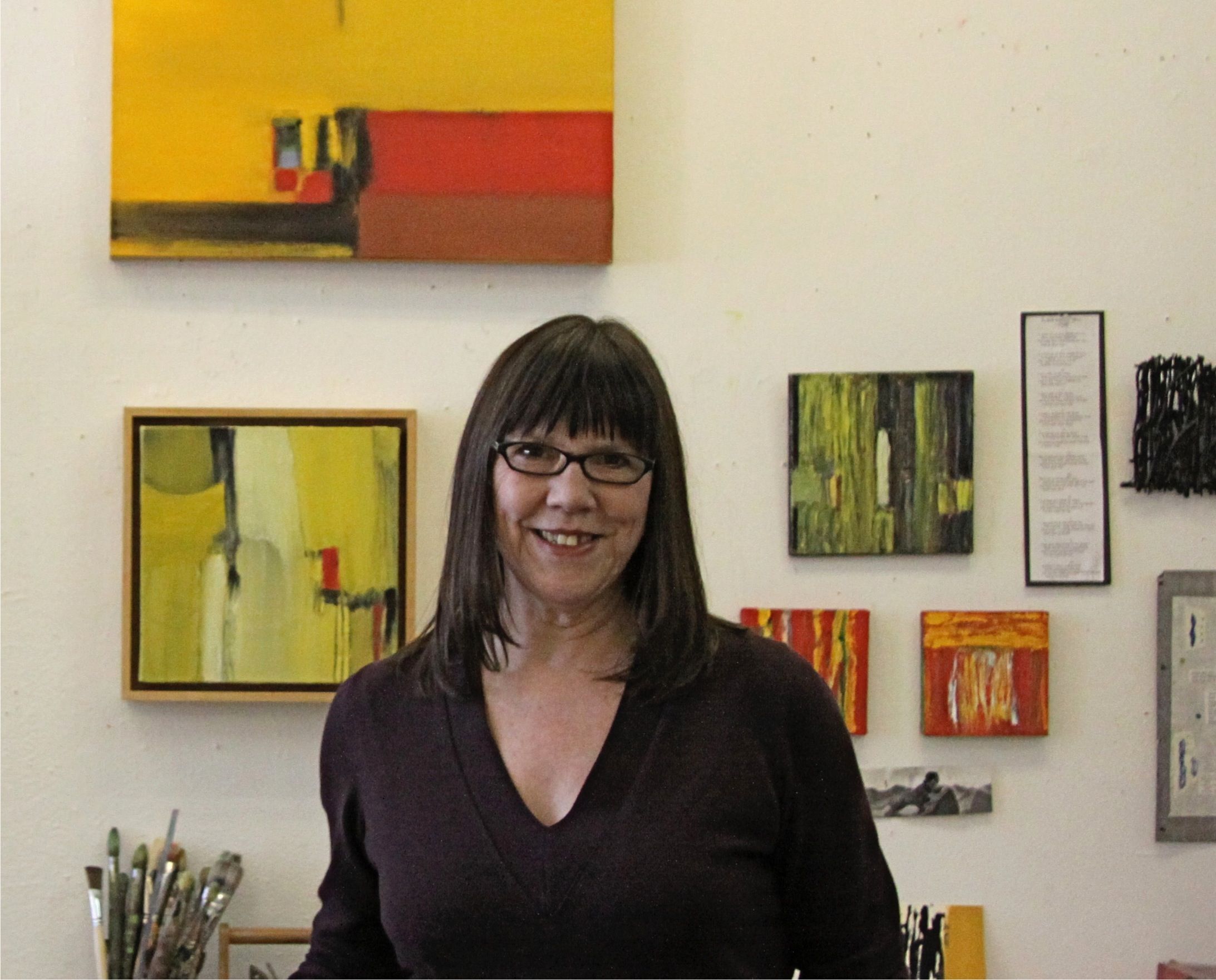 Marc Ellen Hamel works as an abstract painter, printmaker (monotype and Print Gocco), and—when the necessity arises—collage and mixed media. Her art involves the interaction of color, the physical feel and look of paint, and working in an intuitive creative process—developing a work by going back and forth between the immediate physicality of the process and her own subconscious place-memory.
Marc Ellen is widely exhibited and has also been involved in the arts community through teaching, volunteering and memberships. She was on the Board of Directors of Shipyard Trust for the Arts (S.T.A.R.) for several years (including being Board President). Shipyard Trust for the Arts is one of the groups that has worked very hard to ensure the survival of the community of arts professionals at Hunters Point Shipyard.
Flax Interviews local artist Marc Ellen Hamel
How did you find your chosen media and style of working—with painting, monotypes, color and abstraction. What, or who, inspired you?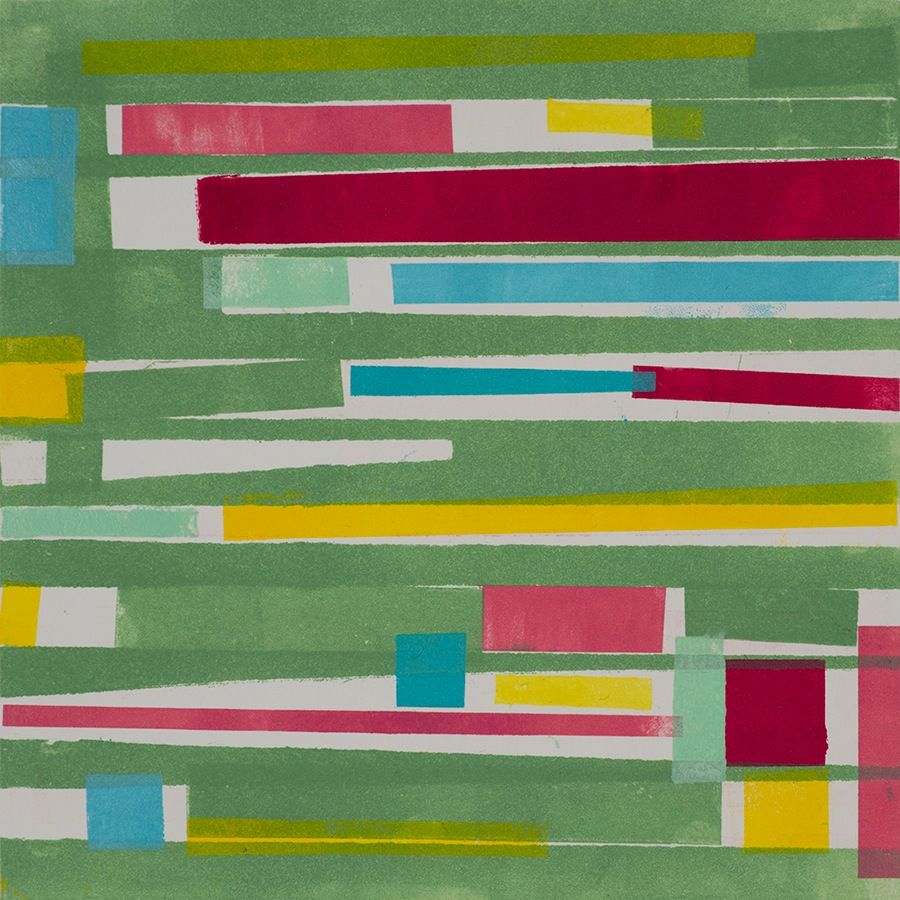 First and foremost it has always been Matisse (via books). But I think my first WOW moment was in high school seeing a large Conrad Marca-Relli collage in yellow and black. I was blown away by its power and I eventually realized I wanted to make big powerful work like that. Attending the art program at the University of Washington I had access to a great art library, and spent a lot of time perusing the books and visiting the on-campus Henry Gallery. Through the years I have been drawn to and influenced by countless artists. Joan Mitchell is "who I want to paint like" but I know I can't do that, I have to go my own way, but mentally she is a starting point. Gorky, Bischoff, Lobdell, Kandinsky, Guston, Frankenthaler, Tapies, de Kooning… I could go on and on about which artists influenced my painting.
Why abstract painting? It's very uncharted; there is a great freedom to explore with the paint, let the paint lead you out of the thinking mode for a while, then return and reassess and that's a fascinating activity for me. It helps me figure myself out. Monotype printmaking I started doing in 2006, because I often would see artwork that grabbed me and I would find out it was a monotype. So I decided I needed to learn that and have now taken numerous workshops, learning from different teachers, each of whom has their own particular way of working. I adore the prints (and painting) of Gustavo Ramos Rivera, but I also admire Jenny Robinson, Kathryn Kain, and Ellen Markoff, who have studios at the Shipyard. Monotype is quite different from painting, yet I still focus on strong color. My approach to this process is spontaneous and surprising. The number of steps in the process requires a different way of thinking than painting, which is rather more serious; it's immediate and deliberate, yet I'll work many days or weeks on it before a painting is finished.
In your work, you emphasize the intuitive and subconscious; also memory and an internal sense of place. Tell us about that.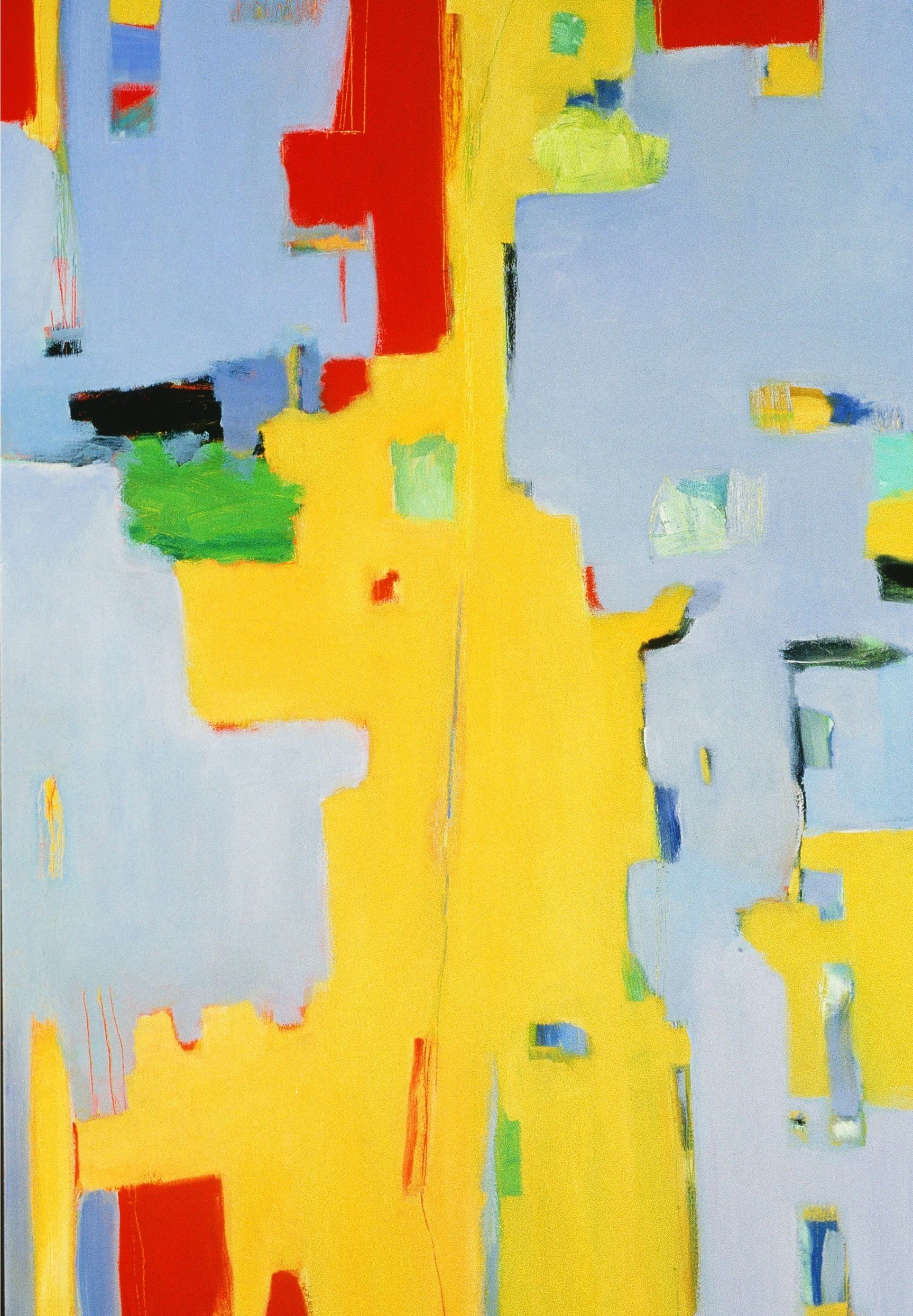 First off, I am in love with color and the texture of oil paint, so it's simply a place I want to be. It is visceral and immediate and get absorbed into the middle of it, both with my hands and when my eyes are interacting with the canvas that I am working on. I will start with a paint color chosen that day and sort of calligraphically write all over the canvas in a reflective way (that's the intuitive part; I try not to overthink). Then I add another color, then another and all the while hints, memories, stories surface in my mind. Eventually I see I start to recognize a territory, a place or a topic that's been situated in my consciousness, so I begin to emphasize that. When I am finished, the painting is a manifestation of the moments that surfaced during the making of the painting. When I paint I sink into another somewhat subconscious world, though the act of painting keeps me in the physical world at the same time. It often seems that I am figuring out a puzzle at the same time I am making it. Seeing what I made on the canvas is satisfying (when it finally gets worked out) and confirms my existence. It's the thing I have to say, to show the world.
You have a studio at Hunters Point Shipyard. For how long have you worked there? How has that location been conducive for doing your artwork?
My studio has been at the Shipyard since 1993, so it's 20 years now I have been in the same space. It's quiet, no urban hustle-bustle, a lot of sky and open space surrounding me. It provides plenty of room for pondering, an essential element for art-making. The old abandoned buildings there provide a timelessness—it could be 1955 or 2014. Also, there is that sense of creative industry: behind each door an artist is working out their creations. Having one's own quiet space to focus on personal reflection and creating something out of that is a rare and valuable gift. And the cost of my space is low, hence conducive to staying there. It's also great to get to know so many wonderful artists.
I am deeply grateful to Jacques Terzian for starting this art community in 1984 and to the many people who have worked through the years to prevent the artist studios from getting the boot.
Tell us about your experience as an advocate for the community of arts professionals at Hunters Point Shipyard while on the Board of Shipyard Trust for the Arts. What advice can you pass on?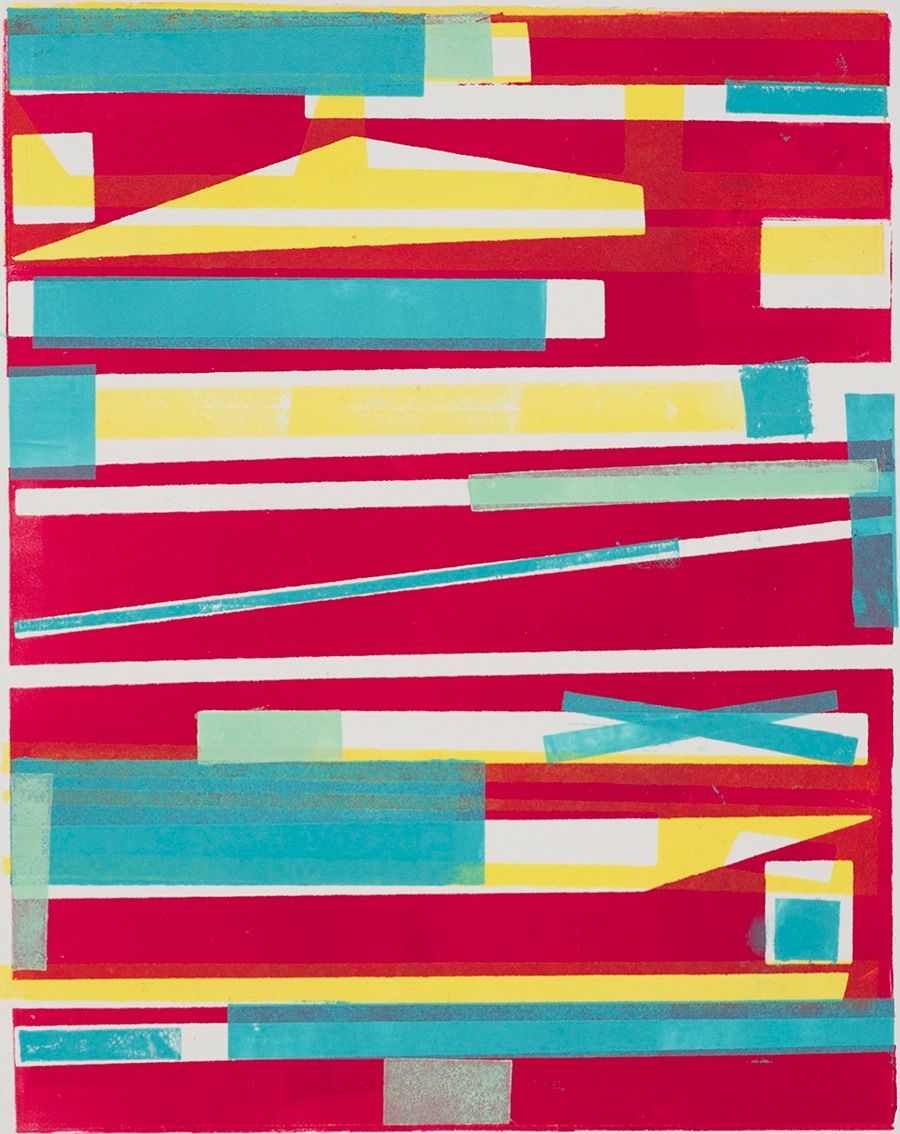 It was a challenge and a learning experience. It's often the case that a Board has too much work to be done by too few people. But it is extremely important for this Board to remain active as a rallying place for artists' needs at the Shipyard. My advice to artists is to be active on some kind of organization that supports the arts in their city. Each of us needs to provide some small contribution from our own skill set to stand up for the Arts (no one else is going to do it for us). It's also educational to see what goes on inside an organization, because it is easy to criticize from the outside. It was often frustrating to face the crossfire of 100 opinions on a subject and figure out what steps to take, but that's life….and it creates liveliness.
You'll be doing SF Open Studios at Hunters Point Shipyard, the first weekend of May: what do you have in store for those who visit your open studio?
I focused more on printmaking in 2013, because I had acquired a new (used) press in December 2012. Since January this year, I renewed my focus on painting and have loosened up my painting style, so that's exciting—I'll show a couple of the new ones. I am figuring out how to move back and forth between painting and monotype. In monotype, I have been working for a few months on an "Urban Series" with a lot of vertical lines that look like cities, neighborhoods, construction sites, that I am still intrigued with. So there will be quite a few of those, plus my "Leaf Series" monotypes. Also, I'll do a one-hour demonstration each day, so the public can see how a monotype is made.
Tell us what you like about shopping at FLAX.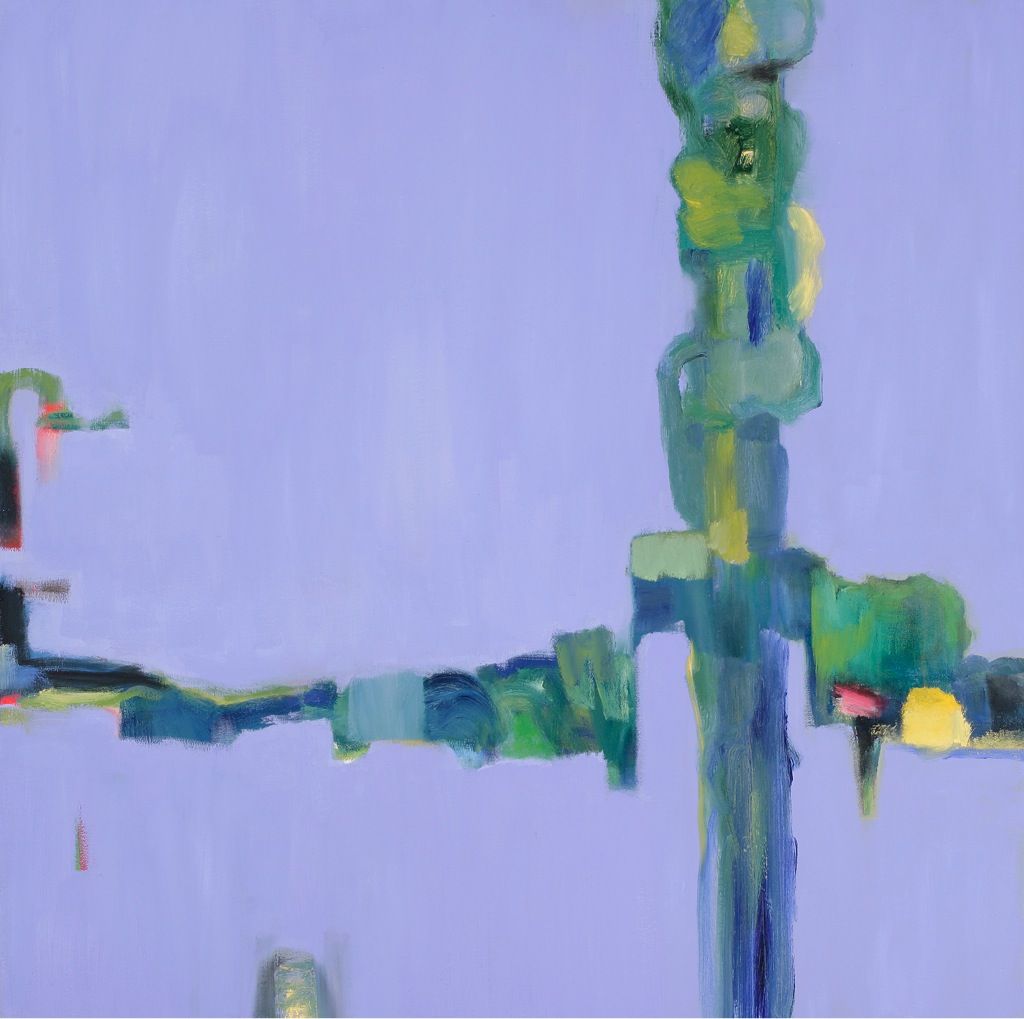 The staff is friendly and knows their products and the place is so big with high ceilings so it is very pleasant to be there. But I have to say that I am TOTALLY IN LOVE with the fabulous paper department. Of course, I buy my printmaking papers there (BFK Rives), but I always have to wander up and down the many paper aisles and see what's there. So many! It is also my favorite place to buy gifts for the kids. I buy the usual painting supplies because FLAX always has what I need.
&nbsp
&nbsp
&nbsp
&nbsp
&nbsp
&nbsp
&nbsp