Posted by Carolyn Mendle-Smith on 15th Aug 2016
FLAX is honored to be the site of artist Heather Day's first public mural. Her engaging abstract mural covers the side of our building on 15th St. and wraps around the front of our store on Martin Luther King Jr Way. Heather's mural challenges the traditional boundaries of mural painting and encourages unique conversations and interactions with the surrounding space, shadows, passersby and the bright blue Oakland sky.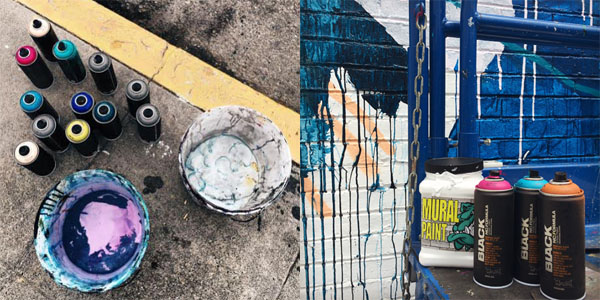 As artist Heather Day began her new site specific mural on the side of our store, she used the building as her canvas, responding to and incorporating the architectural features and textures of the building into her work in a way that pictorial murals do not often do. Instead of first planning a pre-conceived notion of the finished product, Heather began by sketching directional arrows in her notebook, and then gradually added directional lines to the building, letting one mark lead to another.
Heather used a combination of Montana Black Spray Paint, Chroma Mural Paint, and Golden Fluid Acrylics, painting with spray cans, rollers and brushes. By thinning out the paint, she created a transparency that transcends the two-dimensional space. Color is an important element in all of her work. While there are certain signature colors she is drawn to, Heather looked to her surroundings when making decisions. "For this mural I chose to balance bold colors with subdued, keeping the community's personality in mind."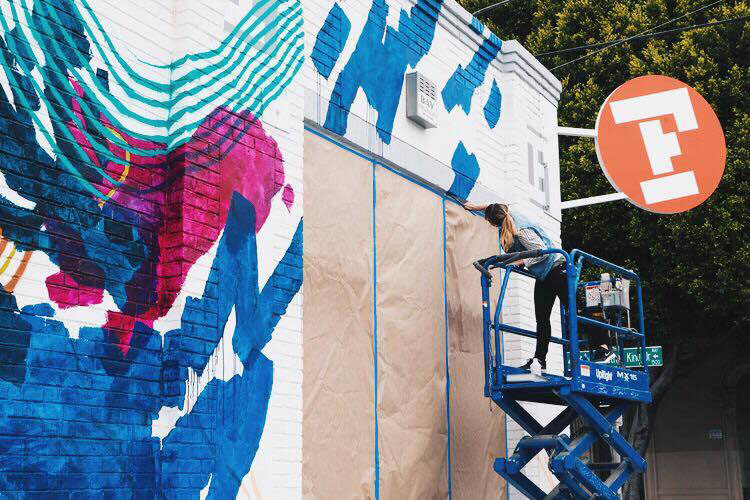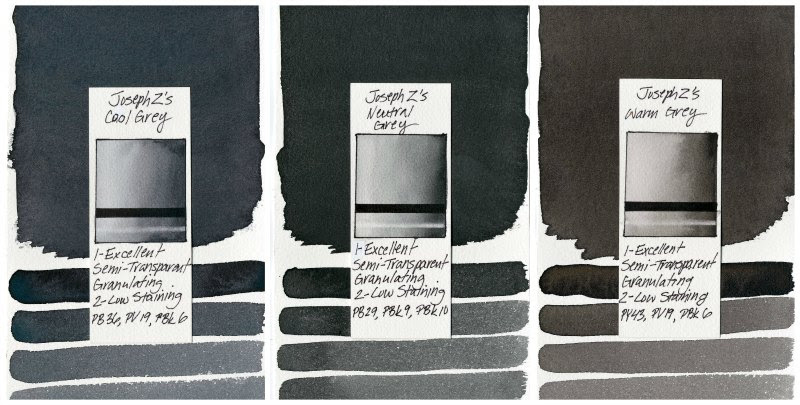 During the week it took to complete the mural, both our staff and the community watched with anticipation to see where Heather's lines would lead next. Large sweeping brush strokes seem to lift the building upwards, erasing the line between building and sky. Lines play with shadows from telephone wires and poles, moving across the building throughout the day. On the very last day, encouraged by a few drips of paint that had dropped on the sidewalk, Heather extended her mural onto the sidewalk. Although she did not ask for permission first, we are thrilled that she decided to take that risk. As Heather herself points out, "Why should murals only be on walls? Why is it forbidden to paint on a sidewalk and down onto the curb? That's so limiting".
By painting past the boundaries of walls and traditional mural painting, Heather has activated the space in a way that invites the community to literally take a walk through the mural. Come by our store in downtown Oakland and experience this wonderful mural for yourself. (It makes a great instagram background!)
We thank Athen B Gallery for facilitating this mural project.