Posted by Carolyn Mendle-Smith on 10th Jan 2019
One of our top selling gifts this holiday season was the Munny Blank Art Toy by Kidrobot. This blank vinyl figure is designed to be customized by painting, drawing, sculpting, or wherever your imagination takes you. Here is what happened when we put a blank Munny in the hands of Keith Stanley, artist and Manager at our FLAX Oakland store!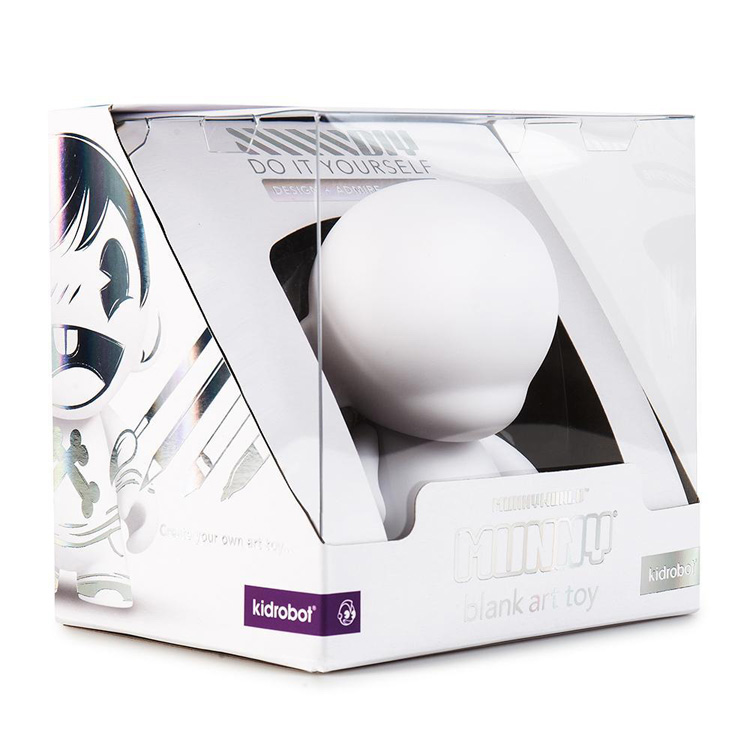 Keith has always been a fan of Kidrobot's blank figures. "They were one of the first to produce blank toys with a standardized shape that's easily customizable" he explains, " I'm interested in what people do with that basic shape - how they manipulate it in certain ways. As a sculptor it's like a 3 dimensional blank canvas. It's a nice object from which to start with multiple possibilities and ways you can approach it".
Keith describes himself as a found object sculptor approaching his work with whatever he has on hand. He holds a BFA with an emphasis on sculpture from the Hartford Art School at University of Hartford. You can see his handy work throughout our store, particularly during our annual Kidsfest event where he designs and builds the large scale props and sets that transform our store into a creative world of exploration for kids every summer.
For this project, Keith wanted to explore our selection of miniature palm trees and moss used for architectural models and miniatures. Along with Montana cans Granit Effect spray paint, another product he was eager to try out, the Indiana Jones Temple of Doom theme really suggested itself.
The stone texture is what gives this piece its sense of scale. Though the vinyl Munny figure only measures 7" tall, you get a sense that this Munny was carved out of the side of a mountain. Keith found that the best way to get this realistic boulder like effect was to first cover the figure in a base coat of grey Montana Black spray paint creating a mid-tone. He then went over this with the Montana Granit Effects spray using a heavier coverage in some areas and lighter in others to get his desired effect.
It's all in the details - and in this case the details are tiny! Keith used an AD Marker to stain balsa wood pieces he cut using an exacto knife to form the ladder and bridges. All of the trees, moss, and wooden fixtures were glued on to the vinyl with Krazy Glue Gel. Keith recommends the gel specifically because it doesn't run and it works with just about everything. He used watered down acrylic paint to create shadows, moss, rust and to create a feeling of age. The "F" was carved out of foam core and given the same Montana Cans Granit Effects spray paint treatment as the rest of the figure.
Carve it! Going one step further Keith carved into the vinyl to give it more of a stone carving feeling. Munny's are hollow, and the vinyl is surprisingly soft. With a sharp X-acto blade, you can carefully carve into your Munny. Heat up the vinyl with a hair dryer and it will be even easier to cut. The eyes and rock details were caved using a Lino Cutter, a tool used traditionally in carving linoleum blocks for printmaking.
Creating Realistic Water Effects was relatively easy using Golden Gel Topcoat, a glossy gel medium which Keith mixed with blue acrylic paint. The waterfall was created by painting the gell medium into a sheet of plastic. It took about two coats that were allowed to dry overnight. Once dry, the pliable strip of gel medium was easily peeled off the plastic and formed into the waterfall shape.
Beyond blank vinyl figures, Kidrobot partners with many artists to put out limited edition collectible designer vinyl toys. As an avid collector of these, we asked Keith what he loves about the Kidrobot. He answered "I've always enjoyed them because in the same way that you can buy an inexpensive print of a painting you could never afford to own, vinyl toys are the three dimensional sculpture version of the same. They are produced in a limited number so there is value in collecting them. It's also an economical way to have a sculpture in your house of an artist you admire. Some of the artists who work with kidrobot are some of my favorite artists like Joe Ledbetter, Ron English, Frank Kozik and Tara McPherson." We of course had to ask Keith how many he owns… "a hundred or so easily, if not more. It's kind of a problem."