Why did you relocate from the Market Street store?
The building was torn down to make way for a condominium highrise. For the backstory, click here.
Are you connected to Sam Flax?
No and yes. Our company has no business connection with Sam Flax. The Flax stores across the country have always been independent of one another, but we are all family. Our cousins operate the Sam Flax stores. For the full story see Flax Art Supply Stores on Wikipedia.
Do you still have a print catalog?
No, we no longer offer the Flax Gift Catalog or The Paper Catalog and last printed them in 2007. Our products are available through our retail stores and this website. For further inquiry, call our Customer Service at 1-844-FLAXART (1-844-352-9278).
Why can't I find the product I'm looking for online when I have seen it in your stores?
Because our retail stores have much more than we can offer online. Our online store offers a great variety of product and the convenience of online ordering, though its current focus is core arts and crafts supplies. Stay tuned, we are working to expand our online offering!
Do you ship items from your stores that are not available online?
Of course! Anything you want, anywhere in the U.S. Give us a call at 1-510-867-2324.
Do you honor your online prices in the store?
Yes.
Can I use my online gift certificate in the store?
At this time gift cards or certificates can be redeemed only via the same shopping channel at which it was purchased.
How do your color swatches work?
We've worked hard to build a website designed for how artists like to shop, so many pages include a color chart. The colors match to the best of our ability, but please keep in mind that colors rendered digitally can appear differently depending on the computer or device you are using.
To order, move your cursor over the desired color, adjust your quantity and click Add To Cart: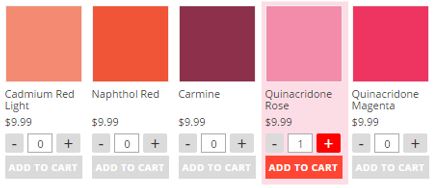 Do you offer Open Accounts?
Businesses and Schools may apply for open credit terms for store purchases only. Benefits include personalized service, terms of net 30, convenient ordering, delivery throughout the Bay Area, and eligibility for additional discounts based on quantity and volume. Submit a FLAX Credit Application (link to pdf) and we will contact you upon approval.
Can I buy items for resale?
For those with a seller's permit who wish to purchase items for resale, FLAX must have on file a copy of your California Resale Certificate (link to pdf). Please submit a copy prior to your first purchase.
Do Student and Teachers get an extra discount?
Because arts education is essential to the continuity and growth of the arts, we offer an extra 10% discount to students and teachers on in-store purchases. Please have a valid school ID at the time of purchase.